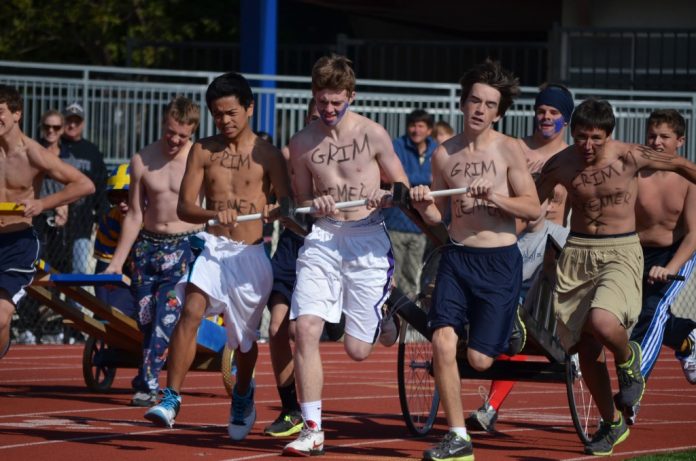 Last Friday, October 28, 2011, the Jesuit student body participated in its annual Ranger Day. This year's senior class, ready to top the convoluted entrances in past years, went with a 300-themed walk up. Two by two, seniors followed longtime teacher Ms. Kay Frigo into the packed gym with a slow walk to "Requiem of a Dream."
The seniors began their skit with Assistant Principal Fred Donahue yelling, "Seniors, what is your profession?" to which the class of 2012 responded with a Spartan war chant straight out of 300: "Awoo!  Awoo!  Awoo!" "It was great that the seniors honored Ms. Frigo, while also representing and bringing back the gladiator theme," commented student body president Tim Nguyen '12.
The day started out in the gym with an assortment of class-on-class sporting events. Competitions included a three-point contest, the gladiator event, and the two-on-two basketball game. After these events, everyone participated in a student body wide "yell" led by energetic vice president Chris Wallace, '12.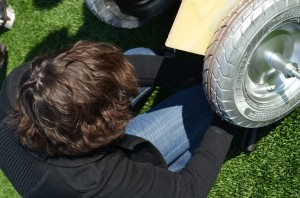 After processing out of the gym, students were able to participate in the numerous events offered, including kickball, Frisbee, and poker. As morning turned to afternoon, the chariot race, Ranger Day's most anticipated activity, was on. The chariots were built out of everyday items by the freshmen homerooms along with their big brothers. The freshman chariot race has been a longtime tradition of Ranger Day, taking place in recent years after the Ursuline powder puff football game.
Each chariot was pulled by four freshmen around roughly half of the track. Homerooms match up head-to-head in heats, with winners advancing to the next round of races. "The chariot race is a fantastic event to show the freshmen what Ranger Day is all about," senior Cole Enmon said. "The chariot races are about having fun, clean competition, but in the end everyone wants to be on top."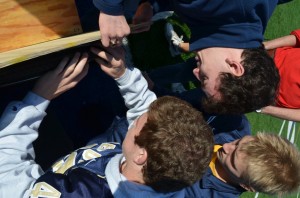 This year, the chariot race was dominated by the homeroom of biology teacher Mrs. Jan Jones. When asked how she felt about her homeroom winning this year, the concise Mrs. Jones simply said that "it's fantastic."
Ranger Day is a great symbol of what it means to be a Jesuit Ranger. The student body's togetherness on a day so steeped in tradition shows once again that being a student at Jesuit is a brotherhood.