It's Friday, October 25, 2019, and you're excited about what Ranger Day 2019 is to bring. You may be thinking to yourself, I wonder what the chariot races will be like? I hope that Powder Puff will be fun to watch? I bet the outdoor activities will be better than last year's. Only to get an email at 7:59 that all outdoor activities, Powder Puff and chariot races, are delayed until the next available day. 
Fortunately, many indoor activities like video games, ping pong, and chess were able to entertain students from Freshmen to Seniors.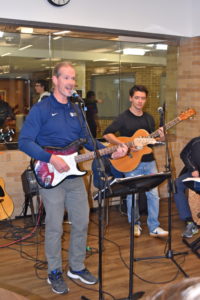 Video Games
A popular game played at Ranger Day was Super Smash Bros Ultimate. Three or four rooms were filled with students competing in a tournament for the top spot. Victor Martinez won the tournament for his room and defeated a dreaded opponent. A level nine CPU Sans. Many competitors lost to the CPU, but Victor Martinez triumphed over the CPU with grace, humiliating his classmates in the process. Despite Victor's rigorous quest for victory, a lot of the video game activities were laid back and easy to get into.
Collin Crisco '22 said, "I mostly did the smash tournament and I thought it was a lot of fun because it wasn't really very competitive but just fun among all grade levels and there were 4 different rooms playing smash for my room Zane won."  However, Smash Bros was not the only game played at Ranger Day. Some rooms had Mario Kart and one room had Guitar Hero.
Ping Pong
There were only two ping pong tables in Hughes Hall for Ranger Day 2019, but many students played a few quick rounds during the event. With a winner stays on style, many students could play as many matches as they wanted. The Diamond twins won multiple rounds of table tennis. Jake Reed '22 said that "Everyone was excited, happy, eager to play. Wasn't really competitive, everyone was just there to have a good time." 
Tabletop games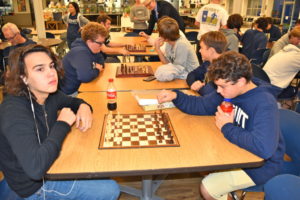 While students and teachers performed music in the cafeteria, other students could play card games and board games. Angel Guevara '22 said that " I played about 2 games (of BlackJack) until it was switched to Texas Hold'em. We played that for the remaining time of Ranger Day." 
Despite unfortunate weather, everyone still had a great time on Ranger Day!
Stay tuned to The Roundup for more on Jesuit events!