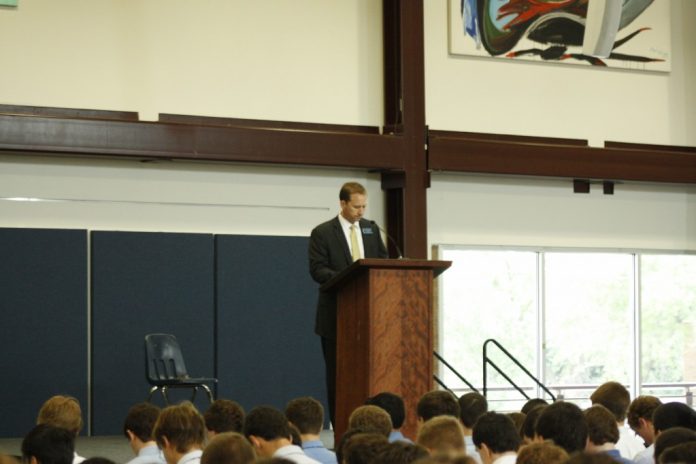 In The Roundup's end-of-year press conference with Principal Mr. Garrison on Thursday, May 23,  the newspaper staff covered various topics, ranging from iPads to future building construction to the school year's reflections. In a great 45-minute interview, Mr. Garrison provided the staff with information many people may not know. Below are a select few of the questions from yesterday's press conference.
Aaron Stonecipher '14: How was the teachers' feedback on the iPads this year? Did most seem to enjoy them?
Garrison: We cover the whole spectrum. A lot of our teachers really like them and are excited about them, and honestly, more like them than don't like them. I think that the concerns that have come up are not about the curriculum, but about how distractive the devices can be. We'll be talking about those issues over the summer and how we'll be handling them. Overall, the responses have been positive and we will certainly be using [the iPads] next year
Pierce Durham '14: Do you think [addressing the issues] will involve wifi-blocks or wifi-shaping?
Garrison: It's not generally our way to try to block you guys from doing things. If we try to block a game, you will find a new one to play. There's the trust, though, that we have with you to manage your work. Actually, at some point in the school year, some kids actually thought we blocked [Clash of Clans]. It wasn't intentional; the game was eating up bandwidth on the network, so by default, the server shut it down automatically. With that said, though, we don't want the server and network to be completely taken up because kids are watching The Masters, for example, or playing games. The purpose is for education, not entertainment, so if certain games or apps become a problem, we will take some measures to make sure we are getting work done.
Dylan Dotter '14: If not wifi-shaping, how do you plan to address the issues presented with the iPads?
Garrison: Like I said, we'll be discussing that over the summer. It's just about informing people. In fact, we are going to try to educate the incoming freshmen's parents about what these devices can and cannot do. That way, parents can help us help you to make good decisions on the iPads. If parents understand more going into the year, the conversations will be easier.
Jack Durham '16: Have any schools reached out to Jesuit about using iPads? In other words, will any schools be using iPads because of the positive feedback Jesuit had?
Garrison: Yes. I do know for a fact that several schools were watching us to see how the year went with iPads. I think they'll try it as well because [our students] did a really, really good job with them.
Dominic Iannelli '15: As the iPads go out-of-date, will Jesuit purchase new ones?
Garrison: The plan we have is a two-year replacement cycle. Incoming freshmen will receive a new iPad, and then come their junior year, they will receive new ones again. The devices will never be more than two years old.
Jason Myers '14: Once new iPads are purchased, what will the school do with the older ones?
Garrison: We will probably do something similar to what we did this year with the seniors; we'll look up a market price and see how much we can sell them off for. What I hope happens, though, is that we donate the iPads to schools like Cristo Rey, a Jesuit school in Houston, that don't have the resources that we are blessed with. Maybe some of the service sites we have could benefit as well. However, we don't have the critical mass of devices for that yet, but we should be there within the next year or two. Anything could happen, though.
Zach Bishkin '16: What would happen if the iPad were to become obsolete in the future?
Garrison: Well, I want the students to have a device. If the iPads go out-of-date, we will look into what the latest technology may be. The iPads are fairly new, though, so I can't imagine something better coming out soon.
Justin Rubenstein '14:  As your second year as principal, how do you feel this year has improved compared to last year?
Garrison: I'm more comfortable with the position. I'm more comfortable with my responsibilities and things like the admissions process this year. Admissions are hard because I'm never going to be comfortable with declining an applicant, but it's gotten better for me.
Justin Rubenstein '14:  Will the incoming freshmen class end up being as large as the current freshmen class this year?
Garrison: I think it'll be about the same size, plus or minus a few students. Our admissions numbers have been slowly creeping up, though. I think last year was the first time we broke 500 applicants, for example, and the number continues to slowly rise.
Aaron Stonecipher '14: Did you have any goals set for the school or yourself at the beginning of the school year? If so, did you meet them?
Garrison: The iPads was a big one. We really did extremely well with the iPads, and that was the goal, so I'm happy with that. I'm proud of the way [the students] responded to the iPads. At the beginning of the year, there was a small part of me that was a little nervous about what would happen. However, it worked out really well. It's not perfect, but everyone responded well.
John Michael Lucido '14: Were there any times or big events in the year that you really enjoyed?
Garrison: I enjoyed a lot of things. For example, I made it to the last 10 minutes of the robotics banquet, and it was just fun. Last night, I got to go to the crew banquet and that was fun. I always leave those events feeling just really happy. The junior retreat was great, too; I really enjoyed that. At the beginning of the school year, the football team traveled to Dublin; that was definitely fun. Having 100+ students off-campus in another country can be really nerve-racking, but what I enjoyed the most was that everyone was good-natured, well-behaved, and everyone served as great representatives of our school. In fact, after this year, I really want to travel more with the school. Having those experiences is great, as long as they're educational.
Jason Myers '14: Are there any plans to have trips similar to Dublin?
Garrison: Well, I think we'll try to keep the trips in the country for awhile. There are other things going on, though. (Math teacher) Mrs. Mattacchione is planning a field experience to gather data in Nevada for her statistics class in the next year or so. I think what they'll do is camp out on a mountain, help tag and release hawks, and then return home with real statistics to use in class. Those are real, useful stats that could help with the learning experience.
Pierce Durham '14: Just recently, Coach Molyet, the head coach of the track team, announced he's leaving for another Jesuit school in California. Is there any word on who may be the next head coach?
Garrison: We actually just had a meeting this week about it. The job has been posted, and now the process has begun. People from both inside and outside of Jesuit can apply, and we'll pick the best candidate.
Zach Bishkin '15: Will there be any new positions at Jesuit next year that we don't have this year?
Garrison: Last year, Mrs. William's job was created. She became the Educational Technologist, and we certainly did not have that last year. Next year, we will have a full-time, armed security officer on campus. He's a retired Dallas police officer that actually worked some of the events here when I was a student.
Jack Durham '16: I'm currently finishing the article on the cancellation of the bug project, but Dr. Gruninger explained to me yesterday that they aren't entirely cancelling the project, but modifying it. Has that always been the plan for the past couple of years? Or was it all of a sudden?
Garrison: The insect project is a tradition that people have strong feelings about, so you don't just lightly do away with a tradition. We are now in a position where we have the ability to do some things with genetics because of new technology, though, so what will happen now is that instead of collecting 50 or so insects and pinning them, we will collect some insects, and while they're fresh, we will look at their genetics and DNA. Like I said, we won't be collecting 50 bugs anymore. It's been considered a few times in the past year or two, but because of recent events, we decided to make that change now.
Aaron Stonecipher '14: This year, the theater department set record attendance levels and had excellent reviews on all four productions. Mr. Myers just released next year's productions last week as well. What do you think the future of the theater department looks like?
Garrison: I think Jesuit has fantastic fine arts, and I mean across the board, too. I don't know if people truly know that, though. I think we should pay closer attention to how we advertise [theater] and how great it's been doing over the past years, but Mr. Myers has already started to do that with the new summer program. Also, having actors from other schools in plays is huge for the program and for the school because it connects families who may not know Jesuit to the school. The program has been growing and spreading very, very quickly, and I'm extremely happy with it. What I believe will start to happen soon, if it's not already happening, is people will say, "I'm interested in theater and I want to go to Jesuit." That's all because of Mr. Myers and how strong the program is becoming.
John Michael Lucido '14: Has Mr. Myers asked about renovations to the Lecture Hall?
Garrison: Yes, definitely. We've talked about it and it's something I take seriously. Long story short, we've been trying to figure out what renovations are needed across the school, such as the cafeteria, parking, theater; these are all major areas that need renovations. We're trying to figure out what the next huge project will be, and I think Theater will be a part of that. We have to plan out the next five or six years before we start anything, though. We're all aware that the Lecture Hall needs renovations, so hopefully that will come in the next few years.
Zach Bishkin '16: With that said, are there any new renovations that will happen this summer?
Garrison: The science labs. We're going to try a few things with the labs and see how they work next year. Also, we'll be fixing the roofs as well so we don't have any leaks next year. That's actually a pretty big project because of how large the roofs are, so that's another thing.