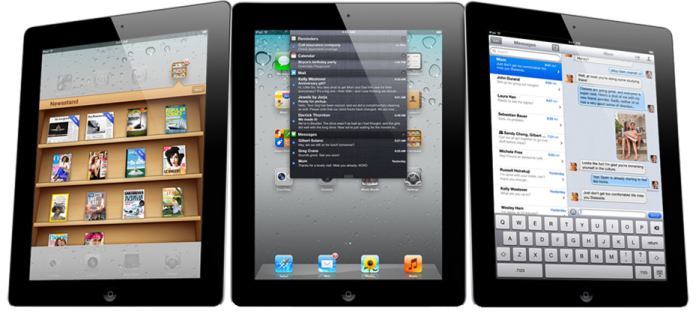 With all of the new technology that Jesuit has introduced  this year, a great deal of upkeep must be done. With new apps and firmware being released monthly, Jesuit needed a group to make suggestions about potential tools for use with the iPads. Fortunately, Jesuit formed a group of students from all grade levels that are responsible for watching over the progress of iPads. This student-led group is called the iPanel.
Despite both their many contributions to the progress of the schools iPad use, and the steps Jesuit has made in the direction toward better technology, the iPanel is somewhat unknown to the majority of the school. When asked about the role of the iPanel at Jesuit, Cameron Kerl '13, said that "essentially it's a group of students who meet with Mrs. Williams to discuss the functions of iPads in the classroom."
To expand upon his definition of the group, Cameron added specific tasks on which they collaborate during their meetings, including "whether or not students are playing too many games in class" or if the "teachers are implementing the iPads in the curriculum well enough."
The iPanel mainly focuses on the topic of applications and whether or not there are any new apps that they foresee benefiting Jesuit students in the future. The apps we were provided with this year weren't just selected by chance— this group was even in existence last year with students who already owned a personal iPad of their own.
The apps we use every day, like our note taking tools Notability and iAnnotate, were selected carefully by students and Mrs. Williams to be used by all Jesuit students and faculty this school year. Even on orientation day in August, the presentations of the basic functions of these required apps were given by students on the iPanel.
This group meets monthly to discuss apps and iPad business in the school, and they benefit the school enormously through their efforts. Williams, the moderator of the iPanel group, explained that this group works on "providing feedback on digital textbooks" as well as "providing information on emerging technologies for the classroom." However, this panel is not to be mistaken for the board of technology or any high level staff. They simply provide feedback and recommendations, but they are always open to helpful suggestions.
This group is a substantial benefactor towards the progress of the school, and according to Williams they could always use a few more dedicated students who are interested in improving Jesuit technology. If you are interested in serving on the iPanel, contact Mrs. Williams at mwilliams@jesuitcp.org.