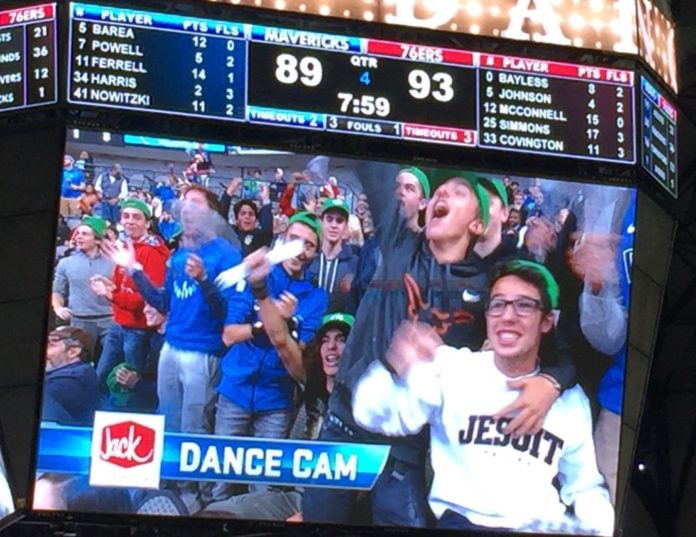 From October 22 to November 4, 11 students from Leo XIII, a Jesuit high school in Milan, Italy, stayed with 11 students from Jesuit Dallas. While they were here, they attended classes and experienced our city and our school through Ranger Day, the homecoming game against Lake Highlands, a Mavs game, and a tour of SMU.
The Italians participating in the program were: Mattia Imari, Iacopo Bassi, Pietro Cipelletti, Leonardo Bianchi, Filipino Ienci, Guido Gilli, Paolo Pallavicini, Paolo DeFrancisco, Tommaso Peroni, Andrea Perego, and Emanuel Ebreo.  The Jesuit students who hosted our visitors were: Reid Allison '18, David Reichert '19, Mac McCormick '19, Chandler Fong '19, Parker Towns 18, Mac Jordan '19, Nick Motter '18, Carson Ward '18, Carl Quist '19, Caleb Longwell '18, and Gabe Guerrero '19, respectively.
The exchange students first attended classes with their hosts for the first week and chose their classes for the second week from a short list provided to them. On one day during the first week, they went to dinner at an Italian restaurant and saw a movie at Northpark. That week they also spent some time downtown, visiting Clyde Warren Park, eating dinner from food trucks, and seeing the sights downtown.
Their classroom experience here was very different from theirs in Milan. Mattia explained how the school in Milan works. "There, the teachers come to the students, who just sit in one room all day. [The Italian] school day ends at 2, and there is no lunch break," an obviously different system from our "walking to class and spending all day at school."
On Ranger Day, the exchange students participated alongside the Jesuit students in all the different activities offered. They mostly played kickball with their hosts. That night, they attended the Homecoming game, where they cheered on Jesuit in the front of the student section.
This was Tomasso's favorite part of his time here. Tommaso noted how "well organized Jesuit sporting events are, especially the football game" which he had an up-close experience with as he watched homecoming game where he watched from the sidelines.
The next day, they went to dinner and a Mavs game. That Sunday, they spent time with their host families doing a variety of activities separately, from a trip to Six Flags to spending all day at the Stockyards in Fort Worth.
This weekend was Pietro and Filippo's favorite time here, with Pietro saying he "enjoyed spending time with [McCormick's] friends on the first weekend most of all" and Filippo saying "the trip to the Stockyards was his favorite part of the trip."
The following week they attended the classes they chose for themselves and celebrated Halloween that Tuesday with a Halloween party for them. On Thursday, they had a private tour of SMU. At SMU, they toured the campus and joined in the Italian classes, helping the college students in their native language. On Friday they attended another football game, where they again cheered the Rangers to victory from the front of the student section.
The following Saturday, they went to a farewell barbecue at Reichert's house before heading to the airport, saying their goodbyes and flying home.
Overall, the Italians enjoyed their stay here and thank the Jesuit community for welcoming them with open arms during their stay here.
For coverage of when Jesuit students go to Italy for two weeks in March and coverage of all exchange programs and all things Jesuit Dallas, stay tuned to the Roundup.