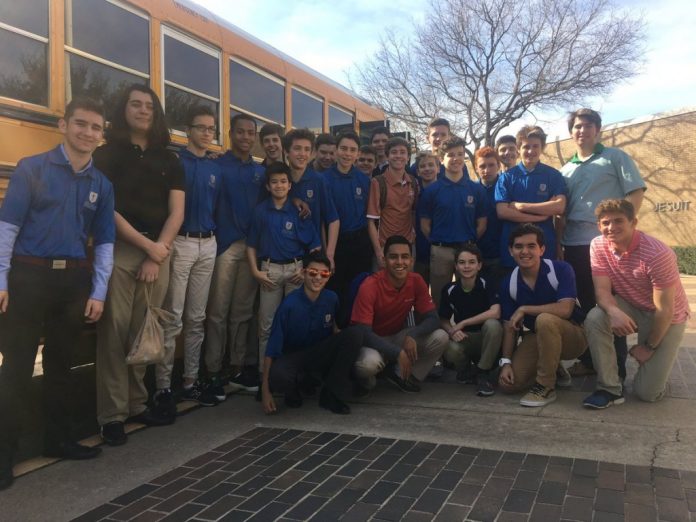 Jesuit participates in numerous international programs, but one of the most interesting of these programs–mostly because it takes place right in our own hallways–is the exchange student program.
The Peruvian exchange student program, run by Mrs. Maggard, recently invited ten students from a Jesuit school in Peru to attend Dallas Jesuit and live with a host family. It reached across borders and unites the Jesuit organization together.
The program was a cooperative effort between Dallas Jesuit and the Colegio de la Inmaculada Escuela Jesuitas. The Peruvian school sent ten students over here paired to a host family based on interviews, hobbies, and interests.
According to several Dallas Jesuit students, the matches were done quite well. "Overall the matches were the best I think they could be and my student was almost an exact copy of me and our families but from Peru," said Harrison Pope '18. For day to day activities, the exchange students would shadow their host students on the weekdays, often joining them in extracurricular activities. "Marcelo tagged along for most stuff. He practiced with the freshman soccer team and also shadowed me in robotics on Wednesday and Friday," Pope added.
During the weekends,  the host students would take their exchange students out sightseeing to experience our culture. "On the weekends we would try to fit as much into his schedule as possible… We went to museums, aquariums, etc." Pope continued, "He had a long list of stuff to do that we barely completed."
The students also got to experience the stark difference in each other's culture. For example, in a Peruvian school, "students generally don't change classrooms, but rather the professors move from room to room based on a schedule," according to Mrs. Maggard, "so passing periods must have been something of a surprise."
And as Harrison Pope discovered, "I was honestly surprised when he was [astonished] at the dishwasher. He had never heard of one and was mystified with how they work." Nick Hafertepe '19 described it perfectly: "The world is very different."
The students had the opportunity to learn a lot about Peru and its culture, but they also got to learn about themselves and gain new experiences. They got to test their language skills against a native speaker, as well as seeing their city through fresh eyes. "It has been great!" Pope exclaimed. "Not only was I able to practice my Spanish and learn about their culture, but I was also able to discover parts of Dallas I had never seen before." This experience will no doubt shape their formation into Jesuit men, giving them worthwhile experience in community building and better teaching them how to be men for others.
The exchange student program is important for three major reasons. First, it helps the language skills of both parties by being immersed in it  a foreign language and having practice in it constantly.  According to Mrs. Maggard, "In order for you to make progress in speaking any second or third language, you have to practice," and the exchange program certainly assists with this requirement. Second, the program teaches students to be kind, to welcome others into their homes, and to experience new cultures.
"When you welcome what is, for all practical purposes, a stranger into your home for 2 or 3 weeks, you accept the unknown and unpredictable, much as you do with faith. You believe in the goodness of humanity," Maggard added. As sophomore Nick Hafertepe stated, "Yes it has been a [lot of] fun learning new things."
Finally, this experience teaches students how to be a more compassionate and upstanding people and to, as Mrs. Maggard said, "participate in the care for God's creation and to build bridges between communities across oceans."
All in all, l the exchange student program is an incredibly important endeavor that will no doubt be continued in the coming years. Make sure to get involved next year!