"Let us never forget that we are loved. Let us never forget that we matter to God and one another." -Graham Bowers '21
Each and every year, Mr. Garrison sets the tone for this upcoming year in the first prayer service of the year. It was done a little differently with different first days for Blue and Gold Cohort and with underclassmen watching all live in homeroom. However, the message was the same motivating, eloquent, and impactful speech given on August 18 and August 19 of 2020 that opens up a new and adjusted 2020 school year. Here's how it went:
Theme
I wanted to discuss the theme of this first prayer service to explain how it establishes the foundation for this year. This year, Jesuit will dive deeper into its Committed to Social Justice principle for the upcoming school year. Many families across the North Texas area have been drastically affected by the coronavirus pandemic, making it difficult for people to live their lives without fear of getting the virus. Moreover, the economic recession and slowing down of economic activity puts businesses on the edge every month. It's an interesting yet powerful choice for this year.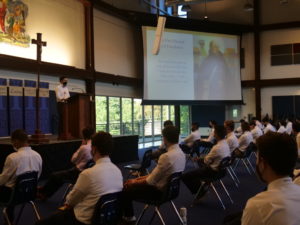 "Through this theme, Jesuit has sent a message to the world: Jesuit will put its best foot forward in serving the needs of broader communities during this unfortunate time. Despite many senior service sites canceling, seniors will spend each day once a month working at their service sites. Projects are continuing where students can become international pen pals or video teachers or tutors. Our commitment to social justice is bustling while weighing the heavy concerns of the coronavirus. The theme reinforces Jesuit's direct and active role, listening to the needs of its own students, parents, and faculty, but also families all across the North Texas community. The First Principle and Foundation states, "Our only desire and our one choice should be this: I want and I choose what better leads to God's deepening His life in me."
Reflection
Mr. Garrison opened up about his reaction after COVID-19 hit Dallas, a reaction of frustration at this sudden, unexpected change. It was a difficult time, as cases were rising and everyone was uncertain about the foreseeable future. Things felt as if they were moving at an uncontrollable lightning speed, spiraling out of control, where there's no time to cope and reflect on anything. As a result, it's panic that first starts, humans' natural reaction to uncomfortable situations, and it was panic for all of us.
Mr. Garrison said during his reflection, "This frustration manifest[ed] itself in the first several weeks in some changes in behavior that I am not proud of. I isolated myself from loved ones – I stopped communicating with family members outside of my home, and I had difficulty sleeping.  My mind was racing and I couldn't help but catastrophize whenever I thought about school and the economy and life in general. I was irritable, and had a short temper with people I cared about and worked closely with."
It was the effect of his son Will, 11 years old, who stayed quiet and didn't complain, which led him to change his ways. By spending time in activities such as riding bikes or taking walks together, Mr. Garrison began to worry less about the virus by being in the moment with his son. "In asking me to help him, Will helped me," Mr. Garrison noted.
Mr. Garrison truly inspired all listeners, physical or virtual, calling us to remember the human dignity of each person and the call to community. His willingness to share his personal struggles during this time was a consummate act of empathy, almost stepping into the shoes of each and every student. He calls for us to use the strength of human dignity to change the world around us, and we must listen and act through our theme of committing to social justice.
"We have just come off of a summer that has challenged us to re-evaluate society's disregard for human dignity. We have seen it in the treatment of people like George Floyd and Breona Taylor. We have seen it in contentious political discourse, and in the wide discrepancies across the world and across our country with regards to how the pandemic affects people from different races and socio-economic backgrounds. Our country is living it right now with regards to education – so many school-aged children continue to remain isolated from their communities because we, as a society can't get this figured out. 
To put it bluntly, there is a crisis right now facing all of us, and at stake is the basic human dignity of belonging to a community. Our call to action is to help restore community, and by extension dignity."
Check back to The Roundup for more coverage of Campus Ministry!