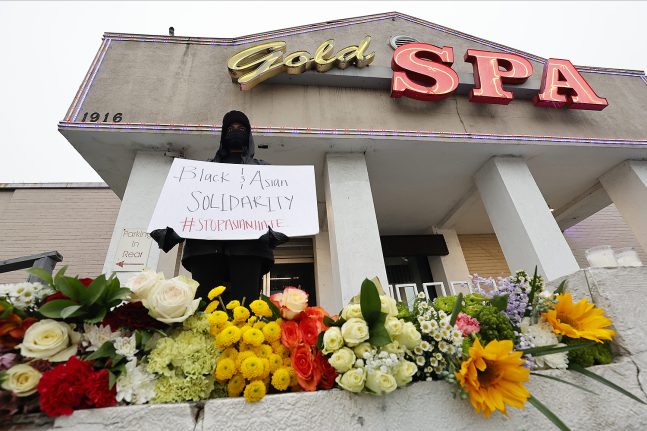 Just last week, April 8th, the Biden administration announced plans to curb and prevent gun violence. This was in response to the shootings in Georgia and Colorado. On March 16, a man killed 8 people during a shooting spree at 3 different spas in Atlanta, Georgia. 6 of Long's victims were of Asian descent, prompting allegations that Long's actions were a hate crime. Just under a week later, another shooting occurred, this time in Boulder, Colorado. Both shootings, especially the Boulder shooting, once again prompted a national and political discussion on gun control. 
The Shooting Spree
Hours before the shooting, Long purchased a 9 mm handgun. His first target was Young's Asian Massage, about 30 minutes out of downtown Atlanta. After being inside for an hour, surveillance shows Long leaving at around 5 pm. According to witness testimony, the shooting likely happened towards the end of 4 pm. When police arrived, they found 2 people killed, and 3 wounded, 2 of which later succumbed to their injuries. Of the 4 victims, 1 was the business owner, 1 was an employee, and another was a handyman working on a project at the spa. The last victim at Young Asian's was a customer, whose husband survived a gunshot wound.
Long then drove about 30 miles to 2 other spas, both of which are in northeast Atlanta and are across the street from each other. The second spa Long attacked was Gold Massage Spa, where he killed 3 more people. The victims included Gold Spa's owner, its manager, and one of its employees. Across the street, Long ended his spree in Aromatherapy Spa, killing 1 of its employees. 
After surveillance footage of Long entering Young's, the first spa Long attacked, Long's parents came forward to assist in finding him. They notified authorities of a tracking device in Long's Hyundai Tucson, helping them find and detain Long. 2 hours out of Atlanta, it is believed Long was driving to Florida to either escape or commit more shootings.
Long's Motive
Long denied that his motives were racially motivated; rather, he acted based on his sexual addiction. Police believe he had visited 2 of the spas before, leading Long to see them as places of temptation. Long argued that his motive was to eliminate these sources to help himself and others with his addiction. As a deeply religious man, he saw these sources as deep torture to him due to his condition.
Of the 8 victims, 6 were owners or workers at the spas Long attacked. 3 were employees, 2 were owners of the spas, 1 was a manager, and all 6 were women. One of the earlier victims was a handyman who had recently begun working at Young's Spa. These 7 victims were all workers at spas that Long could view as places of lust. This could prove the idea that Long's motive was towards stopping temptation rather than targeting Asian Americans. If this is Long's true motive, it would be indicative of intensely misogynist beliefs that women are objects of temptation rather than human beings.
A Potential Hate Crime
While police did not charge Long with a hate crime, many argue that his shooting spree was racially motivated. 6 of Long's 8 victims were of Asian descent. While some have argued this was coincidental, Atlanta's demographics and Long's past visits to the spas may point to a racial motive. In Atlanta, only about 4-6% of denizens are of Asian descent. This is nowhere near 75% of Long's victims being Asian American. Additionally, Georgia police believe that Long had already visited 2 of the spas he attacked, Gold and Aromatherapy Spas. 2 of the spas, Gold Spa and Young's Massage, were Asian-owned. All the people Long killed in Gold Spa were Asian American, as well as 3 of the 5 he killed in Young's. Speaking of Young's Massage, it is very close to a previous Christian ministry Long had attended to deal with his supposed addiction.
In other words, it is highly unlikely Long primarily killed Asian Americans purely out of coincidence. He probably had a lot of prior knowledge of all 3 spas that he attacked, including the ethnicities of those working there. Combined with Long's misogyny, many have pointed out the influence of American fetishization of Asian women. Many argued how this points to a more subtle and complex overlap between racism and sexism in the US.
A Rise in Anti-Asian Hate
During the stressful and chaotic COVID-19 pandemic, many systemic issues surrounding race in the US became more obvious. Due to COVID's origin, anti-Asian sentiment in the US skyrocketed. This was first visible in crazy stories of vicious beatings of Asian Americans as well as subtler stories, such as people worrying about being near Asian people or eating Asian cuisine. Recent analyses and statistics have shown a sharp increase in hate crimes towards Asian Americans. According to a study by California State University, San Bernardino, hate crimes against Asian Americans rose by 150% in 16 large US cities. This was despite a 7% decrease in hate crimes overall. This shows how a large number of hate crimes during COVID were directed specifically to Asian Americans.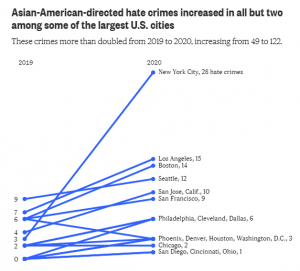 Many Democrats criticized former President Trump and prominent Republicans for their comments about COVID. Trump repeatedly called the virus the "China virus" at debates, rallies, and Twitter. One particularly inflammatory instance was when Trump called it the "kung flu" at a rally, prompting cheers from his crowd. Trump's critics argued that his racially charged rhetoric led to the rise in Anti-Asian sentiments in the US.
Fighting Gun Violence
Just under a week after the Atlanta shootings, a man in Boulder, Colorado killed 10 people. The killer used an AR-15 style pistol called the Ruger AR-556. While legally defined as a pistol, the gun the shooter used is very similar to an AR-15 rifle. In the case of the Atlanta shooting, Long acquired a 9 mm handgun the same day as his killings. Many gun reform advocates criticized how easily Long was able to acquire a gun, despite the required background check. These 2 mass shootings, having killed 18 people in total, drew the topic of gun violence to the forefront of national discussion.
As usual, prominent Republicans defended the status quo on gun laws while Democrats called for action. However, the Democrat-controlled Congress and President Biden did very little. This drew criticism from other Democrats who were hoping a united Congress would act fast.
Due to a gridlocked Congress, President Biden decided to stop waiting and act unilaterally on gun reform. On April 7th and 8th, his administration announced plans for 6 executive orders. These orders, while limited in scope, look to kickstart Biden's plans towards broad gun reform. Briefly summarized, the orders will aim to prevent the spread of "ghost guns," apply new rules to stabilizing braces that effectively turn pistols into rifles (this is in direct response to the Boulder shooter's weapon), establish "red flag" legislation for the states to prevent people in severe emotional distress from acquiring guns, invest in community violence intervention rather than continuing to use incarceration, issue annual reports on gun trafficking through the Bureau of Alcohol, Tobacco, and Firearms (ATF), and appoint a new head to the ATF.
Final Thoughts
As a Mexican-American, I felt really offended and appalled at Trump's comments when he announced his presidency. In unveiling his plans for a wall he never built, he said, "Mexico isn't sending their best … they're bringing drugs, they're bringing crime, they're rapists, and some, I assume are good people." In hearing the President refer to COVID as the "kung flu," I felt reminded of Trump's rhetoric against immigrants. It influenced events like the El Paso Walmart shooting in 2019, where a white supremacist killed 23 people, as a means of beginning to prevent a "Hispanic invasion" as warned by Trump and his allies. It's sad to see that Trump continued with his racist rhetoric, now towards Asian Americans, in 2020. In my opinion, it is both maddening and disheartening to see history repeat itself, especially when that history is only 2 years old.
In regards to history repeating itself, the epidemic of gun violence is a clear example. While I respect the 2nd Amendment and gun rights, I believe it is necessary to implement common-sense gun reform. However, every time a mass shooting occurs, very little is done to fix something that is so obviously broken.
To end in a more uplifting manner, I would like to call for a spread of awareness. Talking about these issues politely and respectfully is a great way of broadening your own perspective as well as another's perspective. If you encounter even small instances of sexism or racism, be sure to call them out in a polite way. They may not know they are being insensitive, but it can really help a lot. I know I've learned from personal experiences how to be better, and I believe that a strong and bonded community can grow very well.