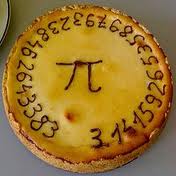 Once a year, math classes from Algebra 1 to Honors Calculus file into the Terry Center to observe the wonder that is Pi Day. Pi Day is held once a year, as close to March 14 as scheduling allows, to demonstrate how math can be used in everyday life and in careers.
All of Jesuit's math teachers pitch in to help plan fun activities and invite guest speakers to talk about how they use math at their jobs. Joyce Dominguez, a geometry teacher and co-chair of the math department, described Pi Day as "a day to bring math to everyone's attention, a chance to share some unusual math topics with a wider audience."
"I really like the total fun atmosphere of the day," Dominguez added. With all of the prep work involved, the Pi Day this Friday, March 9, sounds like an amazing time in the making.
There are many great things in store for Pi Day this year, but the highlight of the day is and always has been the contest to see who can memorize the most digits of pi, a non-real number with infinite decimal places. The memorization contest is always a memorable sight to see, and last year Grant Uy '14 made the tall order of memorizing digits seem "easy as pi."
Uy, coincidentally, recited 314 (the first three digits of the constant) digits of Pi last year, enough to win the school title. Despite high hopes for this year's memorization contest, unfortunately Uy will not be defending his title this year due to scheduling problems. The young mathematician hopes to redeem himself and break the record of 628 decimals sometime before he graduates.
While Uy will certainly be missed on competition day, on the bright side, his absence presents the opportunity for a new contender to earn the title.
In addition to the digits of pi recitation, other exciting math activities will be taking place this year, including a scavenger hunt, a return to Math Family Feud put together by the AP Stat class, a math midway and, of course, the interesting presentations by real-world users of math.
The midway will consist of a series of booths, where players use their math knowledge to play games and win prizes, while the presentations will consist of a wide range of topics, including irrational numbers to be presented by Mrs. Dominguez, robotics to be presented by the robotics team, and even martial arts to be presented by Paul Kolker '04, a calculus teacher.
It is sure to be an interesting and fun filled day. The math department has done a fantastic job of planning and organizing the event, ensuring that it will be an exciting time. So come on out to Pi Day this Friday with a hungry mind, because there will be plenty of "pi" to go around.