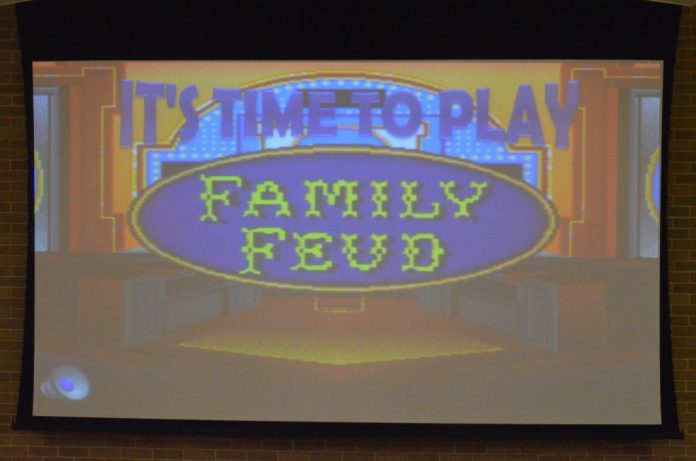 Students fill Hughes Hall and sit shoulder to shoulder on the rustic brown steps as they listen to one of the many Pi Day presentations. On the day before Spring Break, Friday, March 7, Jesuit students experienced a Pi day that was very different from the expected all day event in the Terry Center.
This year, in contrast to previous years, students could only attend Pi Day presentations during their math classes. Mrs. Anne Blackford, the Co-Chair of the Mathematics Department, explained that "the combination of retreats, sports and other activities diminished the number of mathematics instructors who would be on campus for the scheduled March 7 event." In the past, the Pi Day presentations took place in the Terry Center, but because of the circumstances surrounding the day, Hughes Hall was used instead.
Although, the audience and venue were smaller this year, most students still enjoyed the presentations. Greg Tan '17 said that "getting to see the fruits of the robotic team's labor was pretty cool." He enjoyed the upperclassmen's demonstration of the team's robot and how they programmed it. According to Greg, the robot, which could catapult balls that were three feet in diameter showed the audience that "sometimes the practical robots are coolest."
But not all of the presentations were silky smooth as Trey Berney '16 point outs. He said, "I enjoyed the presentation and how it showed that advanced math can be connected back to the real world, but I also felt that a lot of the actual math theorems and functions could only be understood by students who are in advanced math programs." For those who could keep up with the rapid pace and advanced subject matter, the presentations were both fun and intellectually stimulating.
Although Berney  had a good time despite having difficulty with understanding the presentation, other students, such as Jackson Slaughter '15, cannot say the same. According to Slaughter, "the atmosphere of Hughes Hall just doesn't compare to that of the Terry center," where the event has been held in previous years. Adding to the frustration, the presentation he witnessed was "too complicated for students who weren't experienced in the subject," and frankly, a bit on the boring side.
Of course, opinions on the presentations differ from student to student, but the Math Department seeks to address these and improve upon Pi Day next year. Mrs. Blackford stated, "Our hope is that next year, Pi Day will return in a revamped form and will be offered to all members of the JCP community during all periods of the day."  The event is at a crossroad where it can either improve  or maintain this current structure. Although, this smaller Pi Day wasn't ideal, Jesuit needed to adapt to this year's conditions. Pi Day will hopefully improve and evolve, so make sure to expect and look forward to a bigger and better Pi Day next year.