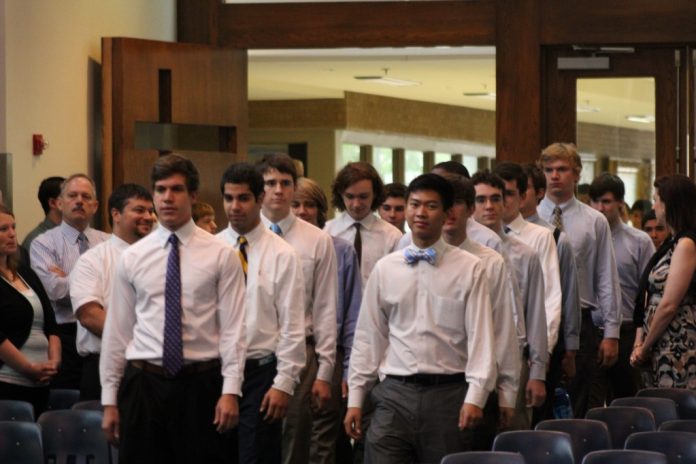 Marking the last time the seniors would congregate with the rest of the student body, the Senior Convocation, held on May 11, 2012, commemorated individual seniors for their dedication to academics, leadership, and community service during their last school-year at Jesuit.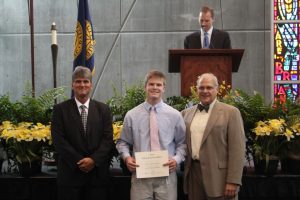 Beginning with the academic and extracurricular achievements, junior counselor Mr. Paul McDaniel gave out the awards for a variety of subjects and extracurricular activities. Notable awards in these categories included the St. Peter Canisius Award, given to Clark Durham; The Student Council Award, awarded to Tim Nguyen; and the Manna for Others Award, awarded to Brendan McDonald.
Following those awards, the Magis Awards were presented, for seniors who have "gone beyond the ordinary" to serve the community. The students who merited these awards were Tanner Coffin, Andrew Donovan, Will Keffler, John Stone, and Chris Wallace.
Next, the Wunderlick Award, given in honor of Tom Wunderlick, a 1946 graduate of Jesuit Dallas, was presented. Earning the award by best combining academics and athletics during his years at Jesuit was Brian Buell.
The next award presented was the Ada Astra Award, given to a student who, by his leadership, created "new initiatives in community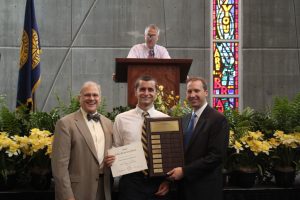 service…to serve the greater Dallas community." The senior who merited this award was Andy McCall.
One of most significant awards given was the "Man for Others" Award, which was voted upon by the faculty. Given each year to "students who exemplify, in their words and actions, what it means to be a Jesuit student who has moved beyond himself," the award was merited by three seniors: Andrew Bain, Marty Murad, and Alejandro Ortiz.
The next noteworthy award was the JSEA Award, given by the Jesuit Secondary Education Association. Designed to honor the senior "who, as a man for others, models the ideal profile of a graduate of Jesuit education," the JSEA award was presented to Joey Hever.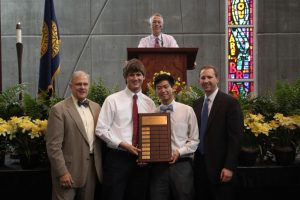 The final award given, The Bishop Lynch Award, is the highest award given to a senior. Voted on by the faculty, this recipient was the "most representative of Jesuit College Preparatory School, and most responsive to the influence of the school." Unsurprisingly, Student Body President Tim Nguyen received the award. "I've known a few of the past recipients and to be counted among them is humbling," Tim said afterwards. "It's a great honor to be chosen to win the Bishop Lynch award."