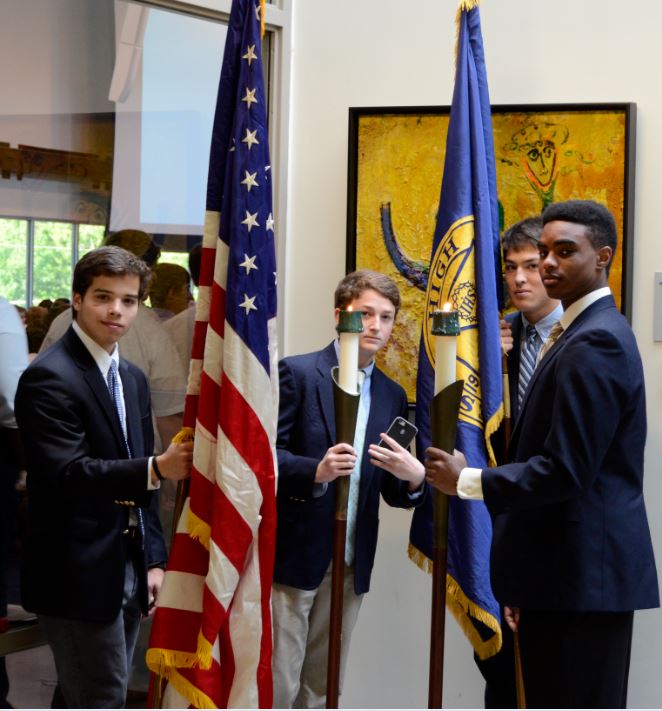 Junior Convocation marks one of the most memorable events in every student's tenure at Jesuit, initiating the long-awaited transition from junior to senior. A transition marked by late-night studying and hours of tedious homework, Junior Convocation celebrates the accomplishments of the year and commemorates students for their work in the Jesuit community.
This year, Junior Convocation took place on Thursday, May 19 in the Terry Center. Every year, the event grants numerous scholarships and other certificates to recognize students for a wide variety of achievements.
Convocation is loved among the students as Will Aberger '17 explained, "It is a great chance to see all of the hard work and hours you put in pay off. It's not just about the recognition, it's also about seeing your brothers succeed."
Aberger's praise for the event was echoed by other students like the Pedro Arrupe award winner Will Naquin '17, who commented, "I found the award to be extremely special because it is given to someone that represents the values of the Jesuit education. So to be given an award like that is really amazing and meaningful."
The Junior Convocation not only recognizes the top students in certain subjects and extracurriculars but also gives large scholarships and university book awards to students who embody certain traits. One such winner of a scholarship was Bass Stewart '17, who won the Counselor's Scholarship for the amount of $500. Stewart expressed his appreciation of the award to The Roundup saying, "I'm really proud that the counselors voted me for this award. I'm proud that they recognize me as a good citizen and an upstanding member of the community. Since I'm a Boy Scout and involved in a multitude of other activities that benefit the community, I'm glad the counselors recognized me for this, and I'm proud to hold this honor."
Arguably the most important scholarship of the day is the Henrion Award. The Henrion Award was established in 1987 to remember Tim Henrion who was tragically killed just days before the start of his senior year. The award is given to a junior who has been in the work grant program throughout his time at Jesuit, the scholarship freeing him of his work grant requirement for his senior year, giving him more time to spend on extracurriculars. The award comes with not only full tuition payments but also a stipend for Jesuit-related expenses. This year, the award was garnered by Erik Sanchez '17 who gratefully expressed his appreciation, saying, "It was a special feeling to share with my family and the faculty that helped me get this far."
Many people besides only these received recognition for their accomplishments during their time at Jesuit. In an attempt to acknowledge all those who received commemoration, the full list of awards and scholarships are listed below.
EXTRACURRICULAR AWARDS

Ambassadors
Miles Okamoto

Campus Ministry St. Stanislaus Kostka Award: 
Alex Garcia
Michael Huber
Will Naquin

Community Service and Social Justice:   

James LaRoe
Andrew Olinger
Erik Sanchez-Perez 

Brothers for Others:
Matthew Clayton
Abbas Hussain
Barrett Ozier
Philip Schnitzius

The Roundup:
Will Aberger

Medical Society:
 Vance Holub

The Engineering Club:
Rhodes Evans

Junior Classical League:  
Cameron Schutze

Silver Medals in the National Latin Exam:
Michael Hogan
Andrew Ngov

Gold Medals in the National Latin Exam:

Joe Vance

National Spanish Exam Honorable Mention:
Carlos Riddle
Gold Medals in the National Spanish Exam:

Sam Cormier
Vance Holub

Stage and Film:

Cameron Schutze
Jesuit Multicultural Society:
Evan Jackson
Barrett Ozier
Erik Sanchez-Perez

Magis Diversity Program:
Carlos Diaz
Sam Powell

Robotics:
Spencer Gautreaux

Student Council:       

Chase Burciaga

Interact Club:
Abbas Hussain

MU Alpha Theta:
William Henrion
1st in UIL Spelling and Vocabulary:

Matthew Clayton 

Members of Jesuit's Mathematics Team Placing 3rd in District:

Sam Cormier
Aaron Furton

ACADEMIC AWARDS

Web Development:
Gavin Lorea
Web Basic Net:
Jake Lorocco
Programming 2:
William Henrion
Ryan Clements

AP Computer Programming:
Miles Okamoto

English 3:                      
Evan Bausbacher
Matthew Clayton
Robert Hillsley
Joseph Summers
Robert Wierschem

A.P. Literature and Composition:
Timothy Bedard
Jack Schwab

Intro to Ceramics:
Preston James

Intermediate Ceramics:
Alex Lengyel 
Drawing 1: 
Ethan Lacour

2D Design Digital Media:
Spencer Villic

2D Design Traditional:
Ethan Shaw
AP Drawing Portfolio:
Hunter Courtney

AP Design Portfolio:
Connor O'Neill
Music Appreciation:
Victor McCrea
Andrew Ngov

Filmmaking:
Gavin Lorea

Stagecraft:
Daniel Burnum 
Band:
Daniel Ritter
Joshua Terk
Zachary Watts

Chamber Orchestra:
Robert Hillsley
Harrison Ward

Jazz History and Improv 2:
Matt Musso
Men's Chorus:
Mark Hernandez

Spanish 3:         
Matthew Clayton
John Pritchard
Joseph Summers
                                          
Honors Spanish 3:      
Sam Cormier
Matt Musso
                                          
Spanish 4:                        
Aidan Miano

Honors Spanish 4:
Abbas Hussain

AP Spanish:
Alex Garcia

Honors French 3:
Connor O'Neill

Pre-AP French:      
Aaron Furton

Latin 3:                      
Aaron Olivo

Honors Latin 3:
Jack Schwab 

Honors Latin 4:    
Joe Vance

Algebra 2:  
John Knowles
Matt Musso
Jordan Odulio
John Walkup

Honors Algebra 2/Trig: 
Nick Pontikes
Marc Riccione
Kieran Taylor
Honors Advanced Algebra 2/Trig:
Daniel Ritter
Precalculus:

Jorge Carprizo
Honors Precalculus:
William Henrion

Highest TXML Scorer  
Joe Vance


Marine Biology 1:
Brock Scarcella

Physics:
Hunter Courtney
John Pritchard
Reed Torres
                                          
AP Physics:        
Joe Carver
Max McLeod

AP Chemistry:
Zach Watts
                           
Physics Bowl:  
Steven Bissmeyer

US History:
Theodore Hovivian
Jameson McGee
Aaron Olivo
AP US History:
Daniel Ritter
Jack Schwab

Sacraments, Morality, and Justice:
Vincent Billings
Matthew Clayton
Daniel Ritter
Spencer Vilicic

THE BROTHER LLOYD BARRY BUILDING BRIDGES AWARD:                     
JACKSON GLENN

FATHER JACK DEEVES RUBE GOLDBERG AWARD:                                      
GRIFFIN BOISBRUN
HUNTER COURTNEY
ADAM KISSEE
HAYDEN KISSEE

HAGGERTY MATH/SCIENCE AWARDS:

WILL ABERGER
TIMOTHY BEDARD
JOSEPH CARVER
SAM CORMIER
WILL CURRAN
WILLIAM HENRION
LANE MCGOWEN
MAX MCLEOD
WILL NAQUIN
MILES OKAMOTO
CONNOR ONEILL
JACOB PALISCH
JOHN PRITCHARD
REED TORRES
ZACHARY WATTS
THOMAS WHITAKER

THE BAUSCH & LOMBSCIENCE AWARD:
WILL ABERGER

THE EASTMAN KODAK COMPANY:
CHASE BURCIAGA

THE HARVARD BOOK AWARD:              
ZACHARY WATTS
THE FAIRFIELD UNIVERSITY AWARD:  
DANIEL RITTER

THE FREDERICK DOUGLASS AWARD:              
EVAN JACKSON

THE FURMAN BOOK AWARD:
JORDAN ODULIO

THE HENDRIX COLLEGE ODYSSEY BOOK AWARD:    
NICK PONTIKES

THE HOLY CROSSBOOK AWARD:
MATTHEW BREWER

THE KENYON COLLEGE PRESIDENTIAL BOOK AWARD:
KIERAN TAYLOR

THE LEMOYNE "REACHING FOR THE HEIGHTS" AWARD:               
STEVEN MANCILLAS

THE NETWORK OF EDUCATORS IN SCIENCE & TECHNOLOGY AWARD: 
LOUIS HARTMANN

THE PRESBYTERIAN COLLEGE FELLOW BOOK AWARD:
TIMOTHY BEDARD

RANDOLPH COLLEGE'S "CLASSICS AWARD":                                          
JACOB PALISCH

THE RENSSELAER MEDAL BOOK AWARD:
WILL CURRAN

THE ST. MICHAEL BOOK AWARD:    
MATTHEW MUSSO

THE VIRGINIA BOOK AWARD:
JACK SCHWAB

THE XEROX AWARD:
LAKE DOMSTEAD

THE YALE BOOK AWARD:                                      
MILES OKAMOTO

THE SHAKESPEARE AWARD:                                  
SAM CORMIER

COLLINS AWARDS:
VINCENT BILLINGS and MATTHEW CLAYTON

THE COUNSELORS' SCHOLARSHIPS:
BASS STEWART
                                    
FRANK GUIDA '02 MEMORIAL SCHOLARSHIP:        
CONNOR O'NEILL

T.J. MARTINEZ, S.J. SCHOLARSHIP:    
FELIX KIMBRELL

BACHENDORF SCHOLARSHIP:
JESUS MEDINA

DEAN OLIVER CLARKE MEMORIAL SCHOLARSHIP:
EMMANUEL RUIZ

LOUIS KRAMER MEMORIAL SCHOLARSHIP:
ERIC MILLER

SHANNON FAMILY SCHOLARSHIP:  
SPENCER VILICIC

MCWHORTER SCHOLARSHIP:
DALTON ALLEN

ANDREW W. BARK '98 MEMORIAL SCHOLARSHIP:  
DAVID SEAGRAM
HENRION SCHOLARSHIP:                               
ERIK SANCHEZ-PEREZ
MAN FOR OTHERS AWARD:
 ALEX GARCIA
PEDRO ARRUPE AWARD:
WILL NAQUIN