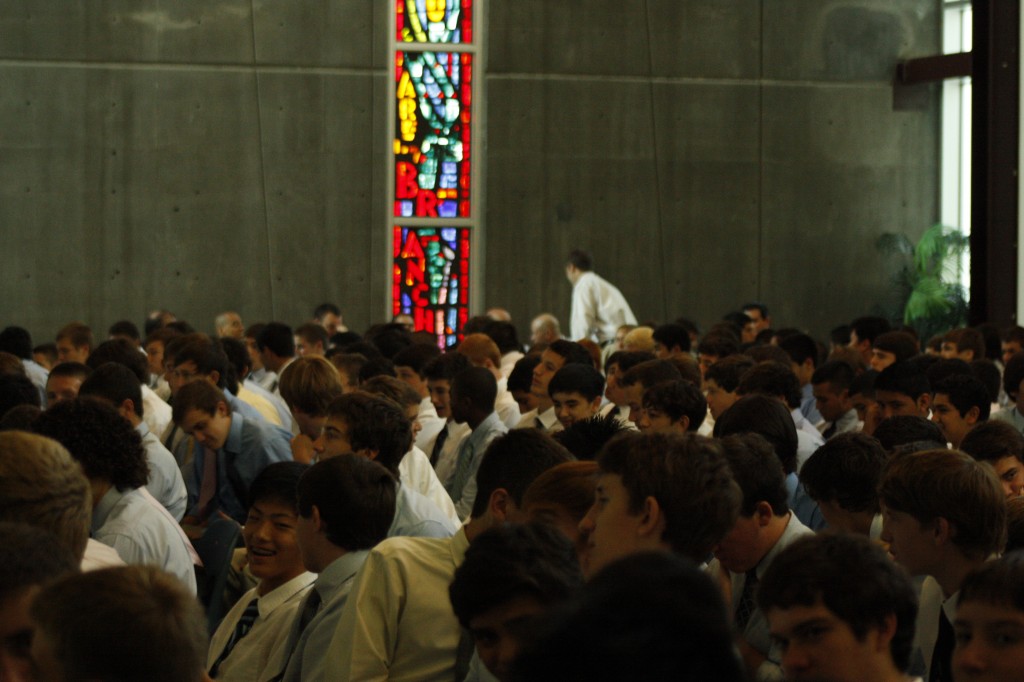 The end of summer brings yet another school year to Jesuit; the tank tops and swimsuits are replaced with button down shirts and dress pants, the swimming pool with homework, and the video games with an alarm clock.
Some students, like Jack Brezette '13, are actually excited to be back in school.
"I'm just really happy to be back here in the halls catching up with everyone and meeting all my new teachers," said the senior quarterback of the football team.
But not every student agrees with Brezette.
"I'm not ready for school to start back up again. I already miss sleeping in and it's only the first day of school. I don't know how I'm going to get back into the swing of things so quickly," said fellow football player Tyler Kromkowski '14.
The day before the first day of school, August 24, was Freshman Orientation, a day filled with activities for the new students. After speeches from members of the administration, the freshmen did a quick "mock" school day, in which they ran through a simulated schedule. Then, they met their Big Brothers, who, after an ice-breaker activity, ate lunch with them and educated them on the values and traditions held so dearly at Jesuit.
"The most important thing to remember is that just a few years ago, we were in their shoes—confused, intimidated, and unaccustomed to what goes on here. It is our job, as Big Brothers, to guide these underclassmen along, to help integrate them into the school, and to instill in them the traditions of Jesuit," said John Berend '13.
Although Jesuit is an institution filled with innumerable traditions, it is a school that also embraces change.
Many new and exciting developments are coming to fruition this year. All students will receive iPads for the first time ever, seventeen new teachers—the most in a recent memory—are beginning their tenures at Jesuit, and the football team will be traveling to Dublin, Ireland this week to open for the Navy—Notre Dame football game.
In addition, two of Jesuit's very own teachers have received promotions to administrative positions.
Mr. Kirby, previously the co-chair of the Science Department, will be taking over as Assistant Principal of Academics for Mr. Younkman, and former health teacher Mr. Civello, also an ex-tennis and golf coach, will be taking over as the Assistant Dean of Student Affairs for Mr. Campbell.
"With all the new technology and new teachers this year, this is the most excited I've ever been for a school year to begin," principal Mr. Knize claimed in a news conference with the Roundup staff earlier this week, adding that he believed the promotions of Kirby and Civello will be a "very smooth transition" for the Jesuit community.
The end of summer has brought a new year packed with new faces, new technology, and new opportunities, but it's still the same old Jesuit.