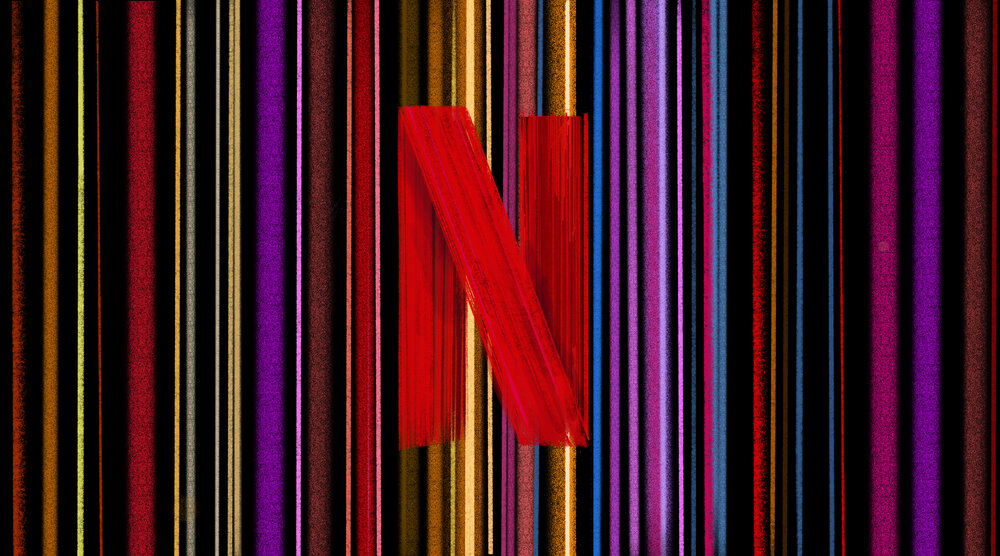 Today is Valentine's Day, 2021, and it is currently snowing outside of my home as we speak. It is a light drizzle, and Texas isn't the place where snow comes, so it's a very special time and a very special occasion. Now, as everyone stays home in the warmth and comfort of their fire place, we all look to find something new to watch, along with maybe cuddling up with someone close to you.
Last year, I had given a couple shows as recommendations to watch, as I officially consider myself a certified Netflix expert. Now, I look to do the same, providing some good suggestions for viewers to binge on during this snow weekend. Here are a couple of my top picks for Netflix shows to watch:
All-American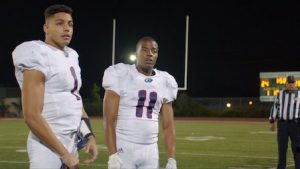 All-American showcases the football talent of Spencer James from South Crenshaw who aspires to be a professional football player. Moving to a new private school called Beverly Hills High School, his home still exists in Compton, as he finds himself intertwined between these preppy high school and the not-so-preppy Compton area. Spencer moves into the Beverly Hills coach Billy Baker's home to protect the transfer permit to Beverly Hills. This causes him to live with quarterback Jordan Baker and his sister Olivia Baker. After an unwavering start to attending Beverly Hills High School, James soon finds his footing at school, but his teammates aren't so open to having him on the team. In fact, his teammate Asher Adams, struggling with father issues, looks to intoxicate him in the first season before a big game.
But it's the world of Compton that really develops him as a dynamic character. James's father, Corey James, left years earlier, leaving his mother Grace James to raise him and his brother. His best friend Coop discovers her talent as a rapper, but also her sexuality as a lesbian in a strictly religious household, seeking to join a gang to gain the respect and esteem she lacks at home. While James is continuing to play at the top of his game at Beverly Hills, he never forgets about his family and friends, advocating for them on his behalf, putting the duty upon himself to give him the same opportunities he has. However, this seems to be his biggest flaw, for his righteous cause leads him to be stuck, lost, and confused between Beverly Hills and South Crenshaw.
All-American is fantastic, for it provides a rational social commentary about race and class, while reflecting the real life story of the real Spencer James. His struggles are unique to him, as his two worlds often collide and force him to make sacrifices. A family man at heart with a passion for football, Spencer James's fortitude and charisma let him get anywhere in life. Season 3 is currently on CW, but eight days after the season finale, the show will come to Netflix, so you might as well start watching now.
Community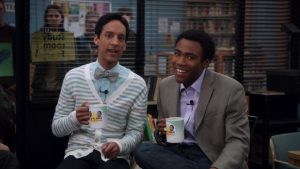 Community showcases the college life of a Spanish study group at Greendale Community College, as various failures and shortcomings have all changed their paths and ultimately united them under one roof. The main protagonist Jeff Winger, a former lawyer who faked a college degree, attends Greendale to get a degree to get his back on track. Three of his fellow compatriots, Britta Perry, a psychology major who looks to be politically active and denounces mainstream culture, Annie Edison, a nerd with ADHD who has a nervous breakdown due to Adderall, and Troy Barnes, a former high school quarterback who did not choose to play football in college, all attended Riverdale High School before Greendale. Pierce Hawthorne has been a student at Greendale for over a decade, and Shirley Bennett is a sanctimonious divorced mother who looks to change her path again. Finally, Abed Nadir is a quirky, emotionally reserved film student who views the world through the lens of a movie or TV show.
In my opinion, there are three characters that carry the show, Jeff, Troy, and Abed, as all three bring new life into the show through their shenanigans and just humor. While Britta, Annie, and Shirley add some flavor, the devoted friendship between Troy and Abed really elevates the show. This too can be said for Jeff's powerful rhetoric, displaying his skills as a leader. Additionally, as Jeff looks to do the bare minimum, his ego soon begins to be humbled by his friends, as he resolves his father issues and starts to discover himself.
The show begins to fall apart in Seasons 4 and 5, but there's still moments of its quality shown here or there. The show has very creative formats, and my favorite episodes are either the 8-bit video game version or the numerous contests done to win something on campus, like first choice course requests. You'll love the paintball episodes.
Black Mirror
I spent some time during my winter break catching up with Black Mirror after watching one of the episodes in Mr. Aquino's class, The Entire History of You. I was initially hesitant to continue watching this show for its ominous and gory nature, but I realized its value as a foreshadowing of future technology. The show, while focusing on technology, almost begins with the factual premise that man is inherently flawed and imperfect, and our flaws lead us to use technology to compensate for them. Man knows how to corrupt technology and with a bright future ahead of us, it seems like technology can make society worse off.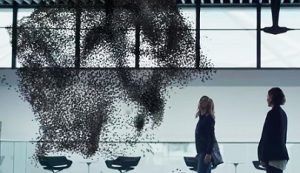 To visualize this point, I would like to elaborate on one of my favorite episodes, Hated in the Nation. Hated in the Nation tells the story of a series of deaths due to social media controversy in an online twitter poll where users submit and vote on someone to die at the end of the day. Typically, it is the people that social media dislikes become targets, accumulating lots of votes, and getting killed. Who or what does the killing?
The government sets up electronic bees as an environmentalist project to keep bees from extinction, but these bees also give surveillance to track other people's movements. They use this overall database to track the people and then the bees enter the body, killing the victim. As the story goes on, the investigators discover the perpetrator and seek to hack his system to prevent anymore killings. However, in a dramatic turn of events, the system was set up to attack anyone who participated in this #DeathTo online contest, killing over 300,000 people.
This episode helps to emphasize the effects of cyberbullying and how online users face little consequences for saying such hurtful comments to others. People can go online in anonymity to attack or send death threats to an individual, which may lead to drastic consequences. Cancel culture truly exemplifies this idea, for their contempt of other people and desire for revenge amplifies their response.
This show foreshadows a lot about our future, so I highly suggest you take a look at what could come very soon.
New Girl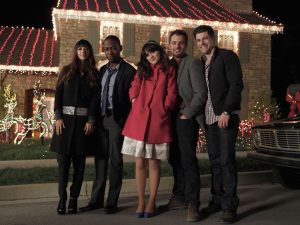 I would like to personally thank my friend Kevin Utz '21 for recommending this series to me, because it is pretty good. It represents all the ideals of a typical American sitcom, previously played on Fox. The show features this girl Jessica Day, played by Zooey Daschanel, who previously broke up with her boyfriend and is looking for a place to stay in Los Angeles. She finds an ad on Craigslist with three guys, Nick, Schmidt, and Winston.
While these guys aren't the most open to having a female in their apartment, they ultimately grow to appreciate her as a kind and unassuming figure in a competitive group of men. Naturally, connections form between the friend group, especially between Jess and Nick as well as Cece, Jess's best friend, and Schmidt. Every characters lives through their 20s with lots of crazy nights filled with girls, alcohol, and crazy encounters. These characters seek to find a career they're passionate about. Eventually, through lots of drama, rejection, and hardship, they eventually find their passion and their partner.
I enjoy the show and am midway through its final season, but the quality has been falling since its initial season. Everyone has found their lover, and as such, there's no real excitement or tension to feel. It's comfortable, and oftentimes the show is very unrealistic in terms of love. It is a good show to watch, but don't expect anything too life-changing from it.
Check back to The Roundup for more television and film reviews!