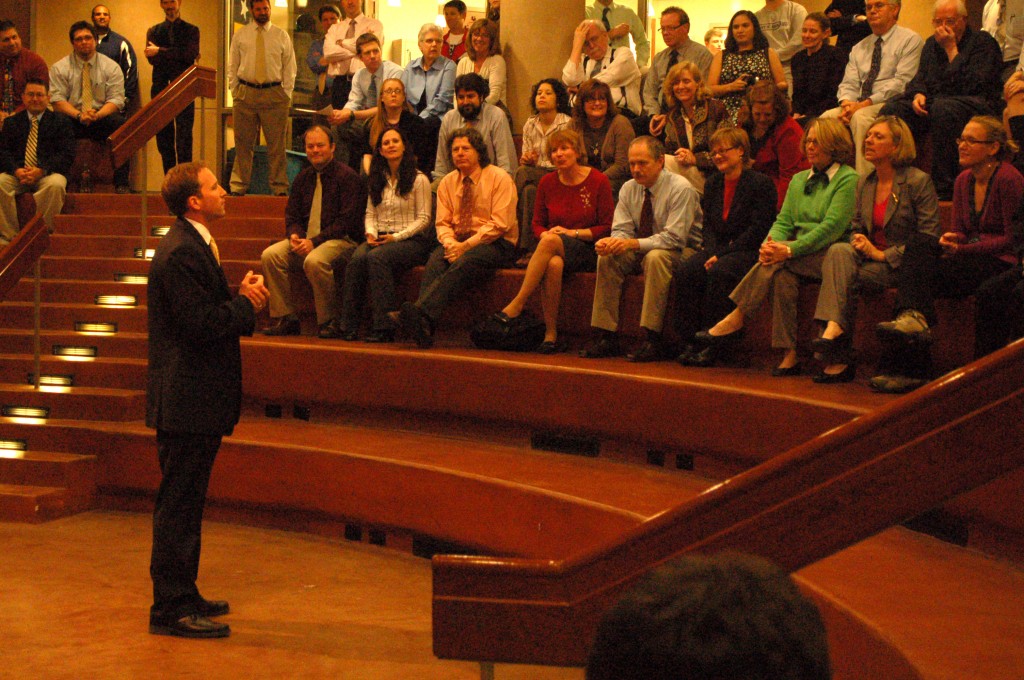 At 3:30 PM on Thursday, March 10, 2011, the Jesuit faculty met in Hughes Hall for an important announcement. As teachers processed in, the hall was abuzz with anticipation of the announcement of the new principal from Jesuit's current principal and incoming president, Mr. Michael Earsing.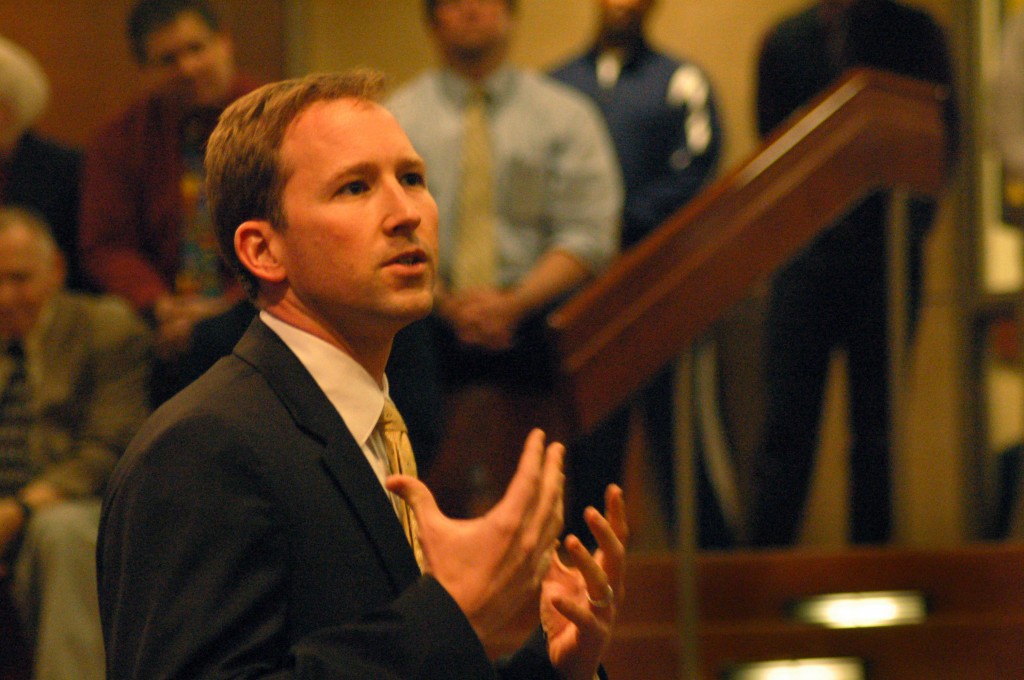 Teachers hung on Mr. Earsing's every word as he thanked the principal search committee for their work and announced that the search for a principal was over. Indeed, one could hear a pin drop in the heavily echoing hall as Mr. Earsing announced that a selection had been made. The crowd erupted in enthusiastic applause when Mr. Earsing welcomed to the center stage Jesuit's new principal, Mr. Tom Garrison.
Mr. Garrison took the center stage to deafening applause and thanked Mr. Earsing and the Jesuit community for the chance to take on the role of principal. He reminisced about his wonderful time as a student at Jesuit and paid homage to the magical atmosphere of the school. In looking ahead, Mr. Garrison expressed a desire to work with the teachers who make the school such an amazing place to be and promised to ensure that the mission of Jesuit is lived out.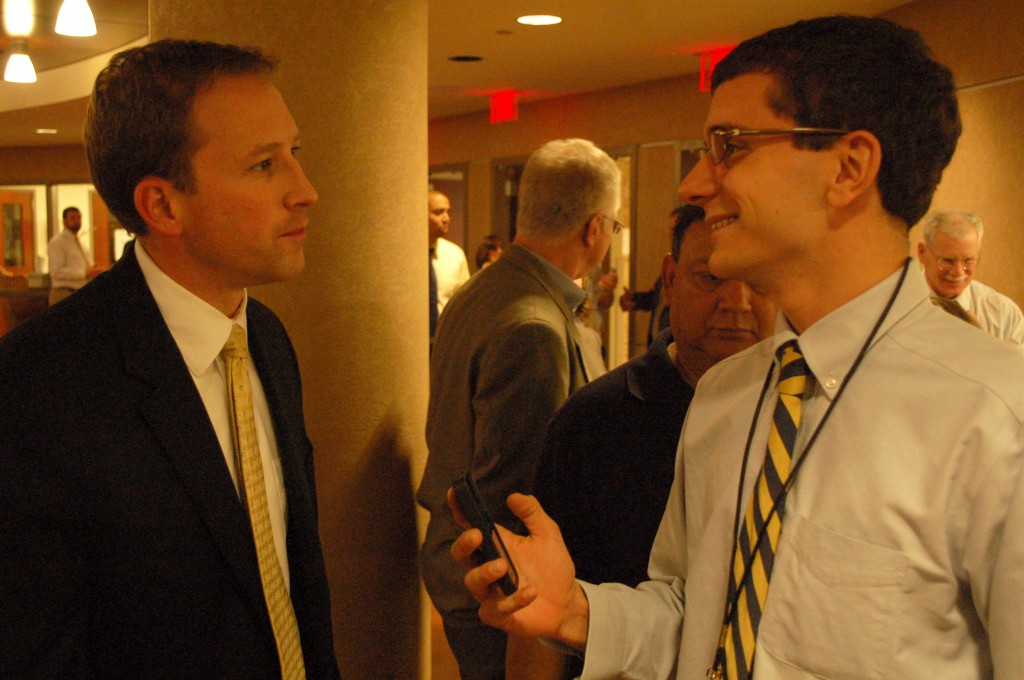 Mr. Garrison embraced the chance for a new job and a new role in the community. His speech ended on a light note, as soccer coach Charlie DeLong offered the new principal, who was cut from the soccer team while a Jesuit student, a spot on the varsity soccer team, with one stipulation: "I can't promise you that you will start."
Mr. Garrison, a San Francisco native, attended St. Rita Catholic School and Jesuit College Preparatory School, graduating in 1992. From there, he enrolled in Austin College in nearby Sherman, Texas, graduating with a BA in Psychology and an MAT in Secondary Education. Out of college, Mr. Garrison became an English teacher at Jesuit in 1997. He quickly earned the respect and admiration of his fellow teachers and in 2000 was awarded the Hal F. Tehan Family Award for excellence in education. He became the Assistant Principal for Student Academics in 2003, once again earning the admiration of students and teachers alike.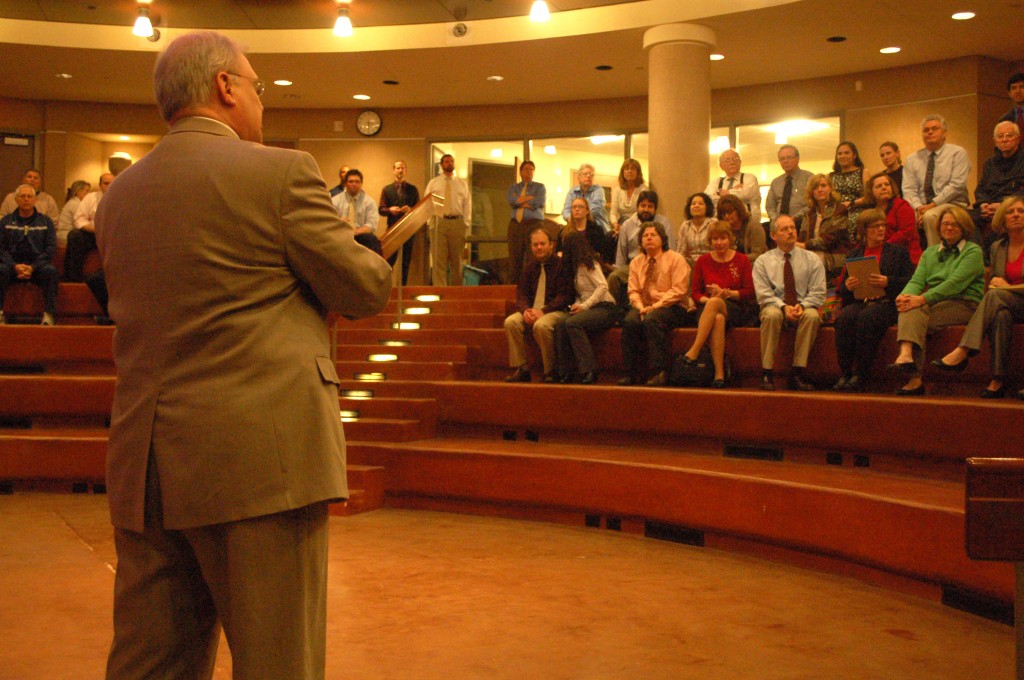 When Jesuit Principal Michael Earsing was named the next President of Jesuit following this year's departure of Rev. Philip Postell, S.J., a search committee was immediately established to help Mr. Earsing find a replacement as principal. As Mr. Garrison noted in his acceptance, "[Jesuit] established a diverse Principal Search Committee to find a principal that would uphold the Jesuit mission." The diverse search committee, led by senior counselor Jack Fitzsimmons (class of '76), included Jesuit alums, teachers, parents, administrators, and prominent members of the Jesuit community. The committee of Mr. Fitzsimmons, Erik Burrell, Natalie Devero, Pam Harris, Fr. Billy Huete, S.J., Cheryl Joyner, Ben Kirby (class of '00), John Schmeltz (class of '74), and Tom Walsh graciously gave their time and talent to finding a new principal. "We started out with dozens of resumes and narrowed the field down to about five or six people," said Rev. Billy Huete, S. J. "We eventually interviewed three people for the job." In interviewing the three candidates, Tim Peterson, Kevin Booth, and Mr. Garrison, the committee looked for " somebody who had experience in a Jesuit school, somebody who knew Ignatian spirituality and Jesuit tradition," said Fr. Huete. "In our analysis, we thought that [Mr. Garrison] was the best choice for the job."
Mr. Garrison looks forward to his new role as principal and the opportunity to be involved in students' lives. "I hope students see a lot of me," said Mr. Garrison. "I hope I can play an active role in the lives of students." Fellow members of the Jesuit community speak very highly of Mr. Garrison and look forward to working with him as principal. "I'm excited about the new hire," said Assistant Principal Mark Knize. "It is wonderful to get a guy of Mr. Garrison's quality to lead the school, a guy who understands the Ignatian vision from the standpoint of a student, a teacher, and an assistant principal. I'm very excited about the future of Jesuit."
Photography by Jack White '13