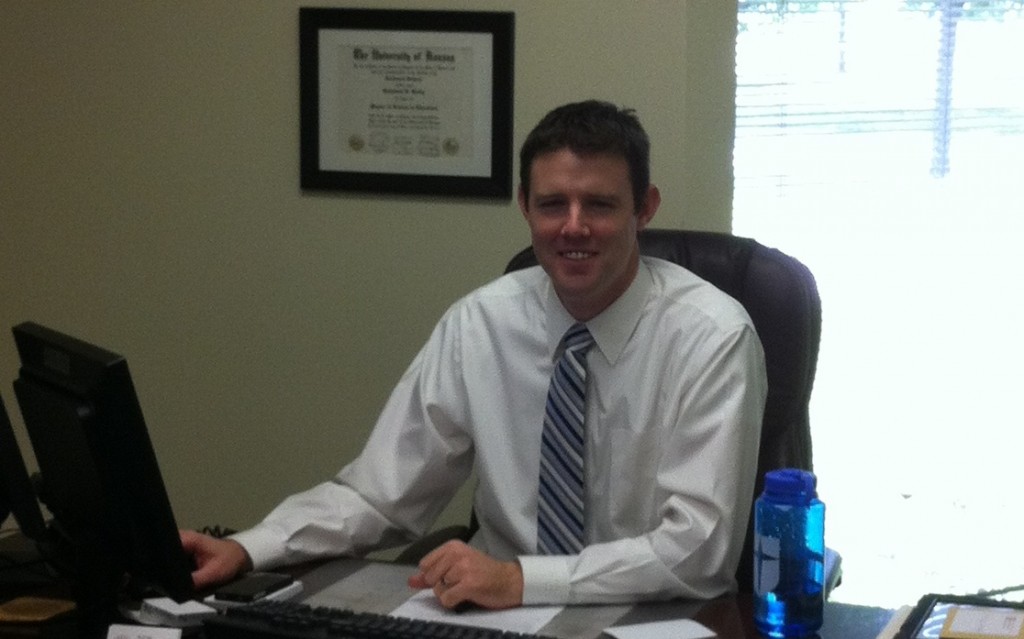 Teaching multiple classes, taking care of a family at home, and attending online classes to earn a Ph. D make for an exhausting day for anyone. Add to this rigorous schedule an avid following of the Kansas University basketball team and a constant testing of new technology, Benjamin Kirby has had a full plate in his previous years as a teacher at Jesuit. However, this school year, 2012- 2013, Mr. Kirby has added another title to his résumé, Assistant Principle of Jesuit College Prep.
Hard work in his previous years as a teacher at Jesuit is complimented by the wonderful accolades offered up by his former students. Joe Wengierski '14  one of  Mr. Kirby's biology and Marine Biology students raves, "Mr. Kirby always had this sense about him that nothing could get to him. He would tell us how busy his life was with graduate school and getting his Ph.D. and I couldn't help but wonder how he didn't sleep through class."
Dylan Sellers '14 commented on Mr. Kirby: "The biggest thing I remember from his class was how prepared for class he was. There's no way that he remembered all the definitions and formulas and all that math from his sophomore chemistry class, so he must have gone back and studied it before he taught us it."
After being such a great teacher to so many students, how can we expect Mr. Kirby to perform in his new job? Jeff Melsheimer '14 says that "I think we can expect Mr. Kirby to be a great vice- principal. He obviously loves teenagers and Jesuit, so I think that will shine through in his job. He has a sort of passion for this thing, so he should succeed." Tanner Davis '13 added that he thinks "Mr. Kirby will definitely do well. He was already kind of a leader with the whole Marine Biology thing because he was the leader of that with Dr. Gruninger so he should be used to dealing with us. If he can teach Biology, Chemistry, and Marine Biology he should be able to adapt to anything we can throw at him."
When I went to visit Mr. Kirby to talk to him about his new position, it seemed strange not going to the science commons. However, I was met with the same Kansas decorations, scuba snorkels and masks, and even the famous grin was still there. Of course some things had changed. His new desk was bigger, and fit him better, and he now had room to put the books and science journals that had made him my favorite teacher. He described his new job as "great, a ton of fun."
We talked about the transition from teacher to vice-principal. He told me that "It's been interesting. I really enjoy working with the guys in the classroom, but I also really enjoy working alongside them in a new capacity. It's been neat being able to meet more students than I would have been able to if I was still teaching… I do miss it. But also I get a different kind of interaction now, which is equally as exciting. So I might have lost the interaction with them in the classroom, but now I get to interact with them and their teachers in a whole new way. "
Mr. Kirby is obviously an innovator. Being the humble character he is, he told me "that at this point my goal is to observe the way Jesuit operates and really get to know the school better before even considering changing something. Jesuit is a great place to be."
Looking down at a 'cheat sheet' of sorts, he listed his new responsibilities: "My big responsibility is to help with scheduling, and then also take care of the academic needs the teachers or students have. Any sort of academic issues that might come up, helping students deal with faculty, helping faculty deal with students, helping parents get into the mix if they need it. At this point it's really about making sure guys' schedules are right, making sure that guys are placed where they are supposed to be." He says that his goal this year at his new job is to really make it through this first year. "Just to experience the year and see what the role is like."
The Roundup staff would like to wish Mr. Kirby well in his new position.