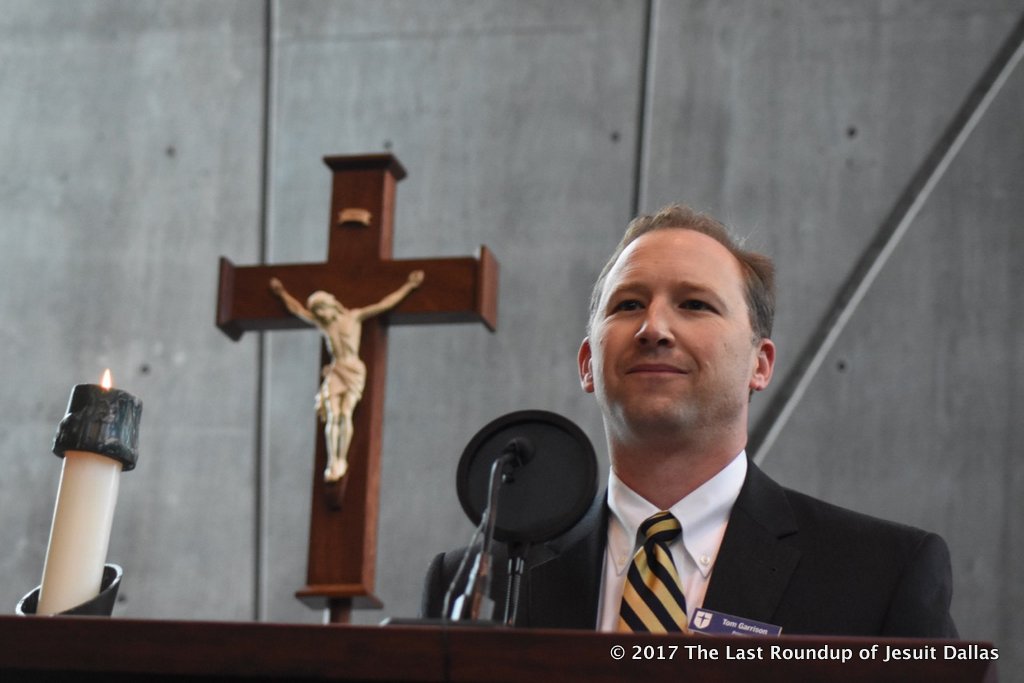 After three long months away from homework, tests, and extracurricular activities, students here at Jesuit started the new school year in the Terry Center as Mr. Garrison addressed students and faculty in the annual "Principal's Prayer Service." Mr. Garrison began by welcoming the entire community back for the 2017-18 school year, particularly the new freshman class of 2021. The principal began by reminding students of the six tenets of the Jesuit education, and imploring that they continue to be put into action this school year.
Mr. Garrison expanded what being a true Jesuit man for others meant to him by identifying qualities such as empathy, courage, humbleness, and tenderness. He listed the four qualities, specifically explaining what each of them entailed.
 I challenge you to be a man who is humble. It is the checking of your pride at the door – because that pride takes up a lot of precious space when it comes to letting others into our hearts – so we lower our defenses and invite others in to fill space in our hearts with their needs instead of our own.

"I challenge you to be a man who is empathetic. It is our ability to withhold judgement, take the perspective of another person, recognize that person's emotion, and then communicate our understanding and respect of that emotion – and, by extension, that person.

I challenge you to be a man who is tender.  Tenderness, in male society, seems to be something that is looked down upon, something that is discouraged, something that is ridiculed and devalued. But Pope Francis gives us a better way to think about tenderness, 'It is the love that comes close and becomes real – it is a movement that starts from our heart and reaches our eyes, the ears, and the hands.  It means to use our eyes to see the other, our ears to hear the other, to listen to those who are afraid of the future…it means to use our hands and our heart to take care of the other – to take care of those in need.

Finally, I am challenging you to be a man who is courageous. This is what our world needs right now. This is what our Jesuit community needs right now. This is what we are all called to –courage in the face of difficulty, and adversity, and sin, and evil.
Beseeching students and faculty to emulate these qualities, the principal displayed optimism for the year if students lived this image. He concluded the prayer service by encouraging students to act in accordance with the Jesuit teachings.
As always, the prayer service was well received by students and faculty alike. Mr. Garrison's words left an impression on Will Florer '20 who explained that "Mr. Garrison does a great job of reminding the student body what it means to be a Jesuit man in terms of empathy and courage." He added that this is a theme to be expanded upon, because "the first prayer service paves the way for the rest of the school year."
Thomas Cluck '20 had similar thoughts on the service. "The message Mr. Garrison sent was a great way to start the year. He reminded us of our Jesuit values and articulated how to put those into action as men for others."
Mr. Chris Knight, a member of the faculty, commented, "It's a challenge, but we do need to be uplifting, and tender, and courageous. As Jesuit men, it's our duty to live up to this each and every day." Mr. Knight also mentioned that "this is going to be a topic that we're going to hear in future prayer services, particularly in coming weeks, because it's about who we are and who we need to be."
Aiming to set a positive tone for the school year, Mr. Garrison highlighted specific ways that Jesuit students can strive to be men for others. This theme, he hopes, will be one that carries students through the school year, reminding them of the type of man they should seek to be.