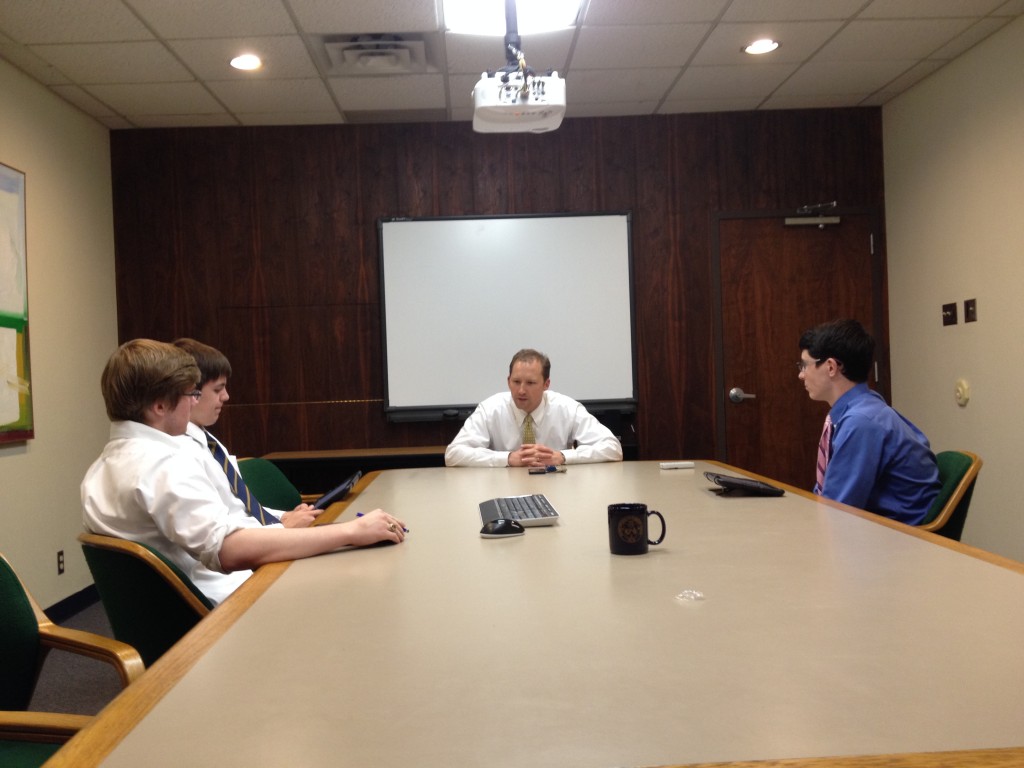 On Wednesday, May 14, 2014, The Roundup held a news conference with Jesuit Principal Mr. Tom Garrison. He was asked questions posed by Editor-in-Chief Dominic Iannelli '15, Managing Editor Michael Lanham '15, and News Editor Jackson Slaughter '15.
How do you feel the year went as a whole, and what were some of your favorite moments?
"I feel like yesterday was August. I really enjoyed Community Days with the Senior Class, this past weekend with the senior class, the Mother's Day Mass—which was very memorable and touching. The student speaker was Mason Amelotte '14 and the faculty speaker was Max von Schlehenried. I felt they did a good job, and I felt a good connection to the parents this year. That's where I'm going with this—the connections I felt with people and not just the students."
How difficult is it to say "goodbye" to the students each year?
"It's less difficult than you would think, actually. I mean that's the goal: that they would leave the school. If they go, then we did our job. It's not that difficult. And for me, the ones I'm close to, we find our way back to each other. I've got some alums I keep in touch with through the years, and they are "friends" not students after that and it's pretty cool. I have guys who I have taught, but I don't think of them as students anymore, I think of them as friends."
Recently we had the Special Games, and how did you think that they went?
"Thank God for the weather this year. Some years it has been unbearable heat or rain. This year the weather was great, and that really matters with so many kids on the field and on the track. I was proud of the seniors and how organized they were. I had people (participants) that told me how pleased they were with the organization. I spoke to a Dad who I went to school with here who has a son who goes to this and has been coming to it for three years. He says, 'My son can't go to school here, but he can come here for this, and that means a lot to him.' And we did not do this when I was your age. This is something new that Jesuit is doing that's really great. I also talked to a mom who was here that day, and she commented, 'I can't believe this is student-run, how teenagers can put something like this together.' I personally saw things like a teenager drawing with chalk on the sidewalk with a six year old, a big football player (Patrick Finnegan '14) with face paint on, walking around with a kid on his shoulders dancing. That was the last image I saw as I had to go back inside for a meeting, and I will never forget it."
Is it true that Jordan Spieth buys the shirts for all the seniors?
"I believe that is how it works, but don't take that for a fact. You will need to check on that. Yes, I think he does, but check with Mr. Perry. I know he wears Under Armour, but I don't know how that works."
In regard to Jordan Spieth, how does having such a famous alum affect the school? Have you seen an increase in applications?
"Well, I have had people, parents of incoming students say, 'Well, my son plays golf.' Then I say, 'Well, we have golfers.' I hope that none are naïve enough to think that Jordan became great at golfing because he went here, because he began playing golf long before he came here, probably when he first learned to stand. I think anyone who came here just for one thing would be coming here for the wrong reason, whether it was for a certain class, a certain sport, or whatever. I will say this, that Jordan carries himself well and behaves himself, and I'm just tickled every time someone associates him with us. And I get texts from all over the place like, 'Hey, your student is playing in the tournament!'"
Is there anything next year, community service based, that you are looking forward to?
"That depends on the class. I really enjoyed the junior retreat, and I was there almost the whole day. I felt like the guys were having some great discussions, being really engaged, and if that spirit continues, then this class is going to do some really great things."
Now, going into our third year with iPads, what do you have in mind with them for the future?
"I personally want to explore Google Apps, Google Drive. I've heard from teachers how they can do some really interesting things with those in the classroom. I've seen Dr. [Michael] Degen do some great things with the spreadsheet in the classroom. I think we are going to see more and more things like that."
As we are moving forward in technology, what do you think is the biggest thing next year?
"Good question. We're going to get some new science labs this summer, and the way that science is taught is going to change here for everyone. There are a couple classrooms this year that have been pilot classrooms, and next year they will all be that way. In the past, the science teachers may have had an idea for a lab, but it might take them several days before they could get the students into the classroom for a lab. Then, the relevance may have passed, the teaching moment may have passed, the frustration of arranging the lab for all of the classes. This will make it easier to do a lab the same day or the next day, and that will really help. I'm excited for the Science Department. I've been proud of how most of the guys are taking care of the iPads, and I appreciate that. There are some that are pretty beat up, but that's not the majority."
What's the plan for new iPads?
"Freshmen get new ones, current sophomores will get new ones, current juniors will have one more year with theirs. Because these are new, we don't know the lifespan of them. From here on in, every incoming freshmen and junior will get new ones. We are trying to get to a two-year replacement cycle. We give the seniors the opportunity to buy the iPads at a reduced rate, and the seniors get first crack at it to offset costs of textbooks."
Besides science labs, will there be any other modifications going on this summer?
"Definitely the labs, and downstairs, behind the theater space, there will be new things going on, changes with the Mac lab. There will be a lot of guys who will have taken the video production program. It will help theater, and I think the videos that come out of this building will be really cool. I'm excited about it."
What are your goals going forward for next year for Jesuit? Do you have ideas for improvements on campus?
"I hear that sometimes kids play games on their iPads in class. I would like that to stop. It must frustrate the teachers. This is the challenge: there is a lot of neat stuff on the iPad, how do you not give in to the distractions? My philosophical response is that it's good for you to have the distractions because you will always have the distractions, but you need to figure out how not to succumb to them. I think part of the growth and maturity process is learning how to filter out the distractions. That would be my wish for you guys, that we would continue to improve on that."
Are there any new faculty members coming next year?
"I would love for us to talk about this more in the Fall. One interesting thing to note is that we will be offering Mandarin next year. That is all lined up and the teacher is hired."
How do you think the school can still grow, even though we have had a lot of success thus far? Where do we go from here?
"I think you guys are a part of this. Someone congratulated me about the cycling team, and I think he got his information from the Roundup. The publicity now is better, more consistent, faster, more reliable. Now we throw Twitter on top of it, and word travels so quickly. Publicizing things is where some of these changes will happen. For example, a lot of people don't realize how strong our Latin program is. Now they are starting to because we are starting to publicize it. The same is true of robotics and cycling. The publicity is getting out there, and it's great because the school is multi-faceted, and people are obviously going to your site to see it."
In reference to the senior convocation, how do you think Cory Hazelbaker's choice to attend West Point reflects the call to serve at Jesuit?
"It's a generational thing. From my generation, when I was a junior in 1991, Desert Storm was a big deal and a part of our thinking, and the generation before me was Vietnam, and military strength was more on people's minds. I think it's important to realize that, even though we are not in the middle of a military crisis, we still need good people to serve in this way. It's bad to forget that this need is there, and I think it's important to recognize people for this service. We have alums right now who are on active duty in dangerous capacities, and I think it's not something that gets talked about a lot, and I think we should talk about it a little more."
At the leadership retreat a few weeks ago, they talked about the motto: "Men for and with Others." Is Jesuit considering changing the motto in this way?
"I don't know of any conscious decision to change it, but it's a good way to think about it. The idea is serve here and now, don't talk about doing it later. Mr. Perry will tell you that 'Charity is distant, and service is face-to-face.' You will hear that a lot with community service as seniors. This is getting face-to-face with the people who need our assistance."
What do you think about how this year we started singing the alma mater?
"I think it was Father [Billy] Huete's idea, and I think it's great. At the senior convocation, we were singing to a recorded song, and we didn't really need it because everyone was singing. I like it."