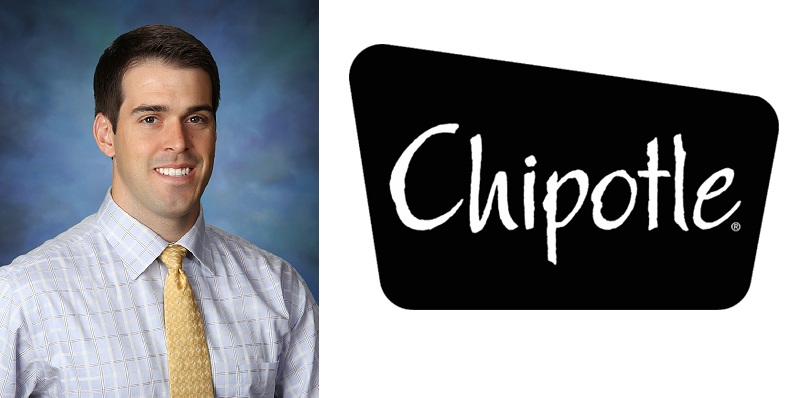 Did you know that Mr. Blackwell …
is a Master Burrito Ambassador and spreads burrito goodness with wild adventures and a zealous devotion to one burrito, one burrito that rules them all?
Mr. Blackwell, a senior college counselor has worked at Jesuit for 5 years. He told us his story of how he fell in love with a burrito…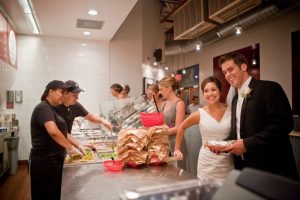 Chipotle opened their first franchise on July 13, 1993 in Denver Colorado. Mr. Blackwell describes Chipotle as "innovative[;] it was a [fresh] idea by their CEO and founder Steve Ells". Chipotle's success took off due to its original location being placed two blocks from the University of Denver's campus, where students fell in love with the burrito idea.
Spring boarding from their success in Colorado, Chipotle expanded from old Colorado to the plains of Kansas,  the shores of Illinois, and the rust belt of Ohio, the latter being where the future burrito enthusiast, Mr. Blackwell, grew up.
During his junior year of high school, Mr. Blackwell experienced the taste of his first Chipotle burrito in 1999 and, inevitably, loved it.
He commented that, "In [his] junior and senior year in high school, [his] school had open campus for lunch, so [he and his] friends, once every week, would go to Chipotle." After eating there for a while, Chipotle became a social gathering place for Mr. Blackwell and his friends.
Blackwell mentioned that he has "lots of fond memories of eating Chipotle burritos," memories that would stay with him even after high school, and into college.
As it came time to start finding colleges at the end of his high school days, he began to tour many universities which included St. Louis University. At the end of that particular tour, Mr. Blackwell thought to himself, "This is a great school and I am probably going to end up going here. Now where is the closest Chipotle?" showing his true love for the burrito brand.
Unfortunately, Mr. Blackwell found out that there was not Chipotle in St. Louis. When recounting the period in his life, he stated that, "[His] heart dropped when [he] found out the news."
From his first day of school at SLU, once a month he would email the marketing staff of Chipotle checking to see if they were making any progress in sending a Chipotle down to St. Louis, continuing such warranted pestering through his freshman and sophomore years.
In his wait for Chipotle to come to St. Louis, Mr. Blackwell would face a formidable competitor of Chipotle: Qdoba.
Mr. Blackwell says "Qdoba took Chipotle's idea of made-to-order burritos, but added more menu options.  They also allowed for franchising which Chipotle would not do."
When Qdoba came to St. Louis, people would enthusiastically ask Mr. Blackwell, "Have you been to Qdoba yet!?" Shaking his head in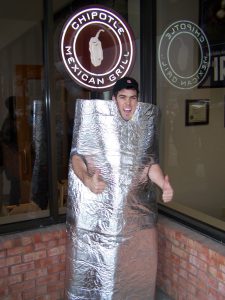 frustration, he would stay strong with his commitment to Chipotle and say, "You don't even know what you're missing."
He continued to email Chipotle once a month, for five years, begging them to come to St. Louis. He wrote them emails so frequently that he was eventually on a first name basis with many of the marketing staff of Chipotle. Since he has a business minor, Mr. Blackwell even offered to manage their first restaurant in St. Louis if they would come. 
Finally, after so much effort on Mr. Blackwell's part, Chipotle came to St. Louis. He says, "On February 14, 2006, the day of love, Chipotle announced that they were going to open a Chipotle in St. Louis by the end of the year."  
After this exciting news was announced, Mr. Blackwell's friend and the head of social marketing at Chipotle, Mr. Joe Stupp, to whom he often wrote emails, recognized Mr. Blackwell's dedication to Chipotle and told him that they were going to name him a Chipotle MBA, an official Master Burrito Ambassador, in St. Louis. At that moment Mr. Blackwell said, "Are you serious? This is the greatest day of my life!" This was quite an honor because there existed less than 100 MBA's existing at the time.
On December 16, 2006 Chipotle opened their first restaurant in St. Louis and offered Mr. Blackwell the first spot in line.

When they opened, Mr. Blackwell took a day off from work to help them start out. To do this, he even built a burrito costume, which was six feet tall and completely wrapped in foil, and stood on a corner outside the restaurant to welcome people into the first Chipotle.
For his dedication and status as an MBA, Chipotle would send him 25 coupons that could each redeem a free Chipotle burrito. He would pass these out to people who had never been to a restaurant and use them himself occasionally. Therefore, the rumor spread around that Mr. Blackwell had a lifetime supply of Chipotle burritos.
When he advocated Chipotle and passed these coupons around to new customers, people would often ask him, "Do you work for them?" and he would respond, "Not really, but sort of."
Mr. Blackwell is still a Chipotle insider, receiving all the "special updates" including "where they are building all the Chipotles." He still gets free coupons, though Chipotle, with over 1500 stores, no longer needs him to market for them. Mr. Blackwell considers himself "a Chipotle expert," a claim more than warranted by his crazy love for the company, perpetual bombardment of the Chipotle executives, and his frequent eating at the restaurant.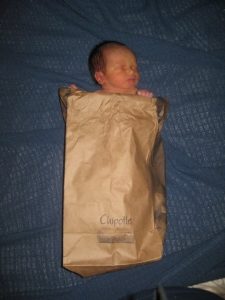 In addition to his insistence on annexing a Chipotle near him, Mr. Blackwell possesses some crazy stories about his devotion to Chipotle, some crazy stories leading to the burritoful fame of Mr. Blackwell. On August the 8th of 2009, Mr. Blackwell's wedding day, he expressed his love for the scrumptious Burritos by "taking [his] entire wedding party to the closest Chipotle, dressed up in tuxedo and wedding dress" and all, directly prior "to the reception." By sharing Chipotle with those on that special day, Mr. Blackwell once again got the chance to eat his favorite food.
Following this up, "nine months later when [Mr. Blackwell's] son was born," he tested the theory that "a small child is the same size as a burrito," by putting his son "in a Chipotle Burrito Bag." Afterwards, the conclusion was unambiguous, "babies are a little bit bigger."
Mr. Blackwell also has stored various posters from Chipotle, his burrito costume, and his two features in the "Chipotle Pepper," where Mr. Blackwell was mentioned for his most crazy story. On an occasion while at SLU, Mr. Blackwell "was missing a burrito so bad…[he] flew to [University of Missouri]," the closest Chipotle at the time. Being a trained pilot and having a friend with a family plane, Mr. Blackwell was in luck. He "called" to ascertain that "they would still be open." Mr. Blackwell describes it as such; he "got in the airplane, flew two hours to Mizzou, got into a rental car, drove to Chipotle, had Chipotle, got back in the car, went back to the airport, got back in the airplane," and "flew back to St. Louis," all for a burrito, all quite devotional.
For this, Mr. Blackwell was featured in the "Chipotle Pepper," the corporate magazine that stated, "Chris Blackwell, resident of St. Louis, wanted a Burrito so badly he borrowed a friend's airplane and flew 130 miles to Columbia, Missouri for a Burrito." It also mentioned how the ardent Mr. Blackwell had been appointed the first MBA of St. Louis, a true Master Burrito Ambassador.
In the spring of 2007, Mr. Blackwell was again featured in the magazine after Chipotle opened in St. Louis, citing Mr. Blackwell as the reason for their opening. Mr. Blackwell expressed his gratitude, stating "This was probably the most excited I've been in my lifetime. Thank you so much for your patience throughout the years, but I knew I had to be persistent for y'all to come."
Mr. Blackwell immediately "wore the 'Chipotle MBA' T­shirt with pride and began fielding questions." Staying true to his duties, Mr. Blackwell helped "spread the love," acting as an exemplary MBA.
For these achievements, Mr. Blackwell has met their chief marketer and chief creative designer, but has yet to meet the CEO, a lifetime dream of his. He has also been to the first Chipotle ever, the first Chipotle outside of Denver in Kansas City, and has been to Chipotle's corporate headquarters. Some of the best souvenirs that Chipotle has given Mr. Blackwell are T-shirts, which read, "Life is burritoful," and were given to him in advance of his honeymoon. Mr. Blackwell now goes to Chipotle "at least once a month, but ideally once a week." He still has buy one get one free coupons he may use, courtesy of Chipotle.
Interestingly, Mr. Blackwell never gets the same thing twice at Chipotle; rather it "depends on his mood." Such a variety of flavors and ingredients allow Mr. Blackwell to have limitless unique experiences at Chipotle.
With his experience, Mr. Blackwell has a few secrets for ordering at Chipotle also. Such secrets include ordering a double wrapped burrito for more filling, asking for the "quesorito," a melted cheese technique where the server melts cheese onto the sides of the tortilla (this service may only be done with no one else in line), ordering half-chicken half-steak for more meat, ordering for both types of beans, and ordering a bowl with a tortilla on the bottom of the bowl, as this has more food. These secrets come as longtime customer of the fine cuisine, which Chipotle provides.
Finally, Mr. Blackwell expressed adamancy about removing the biggest rumor and misconception about Chipotle; Chipotle "is not owned by McDonalds." This is "[McDonald's owning Chipotle] not true at all." The only tie Chipotle has to McDonald's is that McDonalds invested in them as a startup company. "In 2006 when Chipotle went public," however, Chipotle severed their ties with McDonalds, "thanking them and paying them back…in interest."
More importantly, "McDonalds never had any say in where [Chipotle] was going, how they were going to put their food in the market, or who was supplying their food." Essentially, the rumor should be quelled and it should be known that Chipotle acted independent of McDonald's will, only having been invested in by them. As a side note, when Chipotle went public, each share was worth "$35" and "rose to an all time high of $412 last summer."
Mr. Blackwell concluded on the detail that he "doesn't have any stock" and "no vested interest in the company" other than "wanting to see it succeed." Mr. Blackwell added that their motto "Food with Integrity" serves agriculture and the environment well as they use no growth hormones or unnatural methods.
As a concluding note, let it be known to those who like Qdoba better for the queso that Chipotle does not have queso because keeping it fresh would require contrived processes that go against their motto.