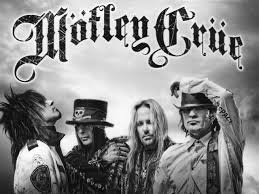 As I sat down in my seat, nachos in hand and my newly acquired Motley Crue final tour t-shirt feeling a bit small, I pondered how many people believe that rock is dead. People that feel like artists of today such as Drake and Kanye West are superior to those of the Crue. What those people fail to realize is that the level of talent that I witnessed on October 7th at American Airlines Center was truly unmatched by any artist in today's music industry. "We left Dallas the right way," said Motley Crue drummer Tommy Lee.
As the lights dimmed and the revving of a Harley Davidson motorcycle filled the entire auditorium, the members of Motley Crue slowly appeared to the roaring screams of the crowd. Then, as guitarist Mich Mars began playing his classic guitar riff and front man Vince Neil ran onto the stage through a cascade of fireworks and pyrotechnics, every one in the stadium began to chime into the chants of "GIRLS GIRLS GIRLS!!"
After that fantastic first song, the concert went with every song garnering yells and chants from thousands of fans. Then, Nikki Sixx requested a moment of silence for a speech he was about to make. He told the crowd to always remember this moment because one day, "when we are sitting next to some num-skull in a car and one of the Crue's songs played, we would never forget this moment".
After, the band launched into a few more songs, a parade of fire-inducing pyrotechnics and crowd-chanting singles that at one time controlled radio and record players around the world. The auditorium suddenly went dark and all that was left was a single light on drummer Tommy Lee. As he began what we all thought was a simple drum solo, his whole drum set began to move upward on what we would later learn to be called the Crucifly.
The gigantic mechanical roller coaster shucked and turned the drummer almost completely upside down all while he played seemingly perfectly. This moment helped cement in my mind and the minds of those around me a sense of accomplishment and pleasure, as we all had just witnessed what could be the world's most dynamic and daring drummer in Tommy Lee.
As the concert neared an end, Motley Crue had one more song left in them. As all the lights went out in the auditorium, only cellphones illuminated the auditorium. The four members of the band ventured out into the crowd, seating themselves on yet another mechanical lifter as they began to sing "Home Sweet Home". As the words o "I'm on my way, home sweet home" melodically belted from Vince Neil's voice I remember a gentleman behind me sobbing in tears.
Deep down the whole crowd was crying, knowing that this truly was the last time the band would ever play together. I had often questioned myself in the nights leading up to that concert whether all my colleagues and mainstream music media had been right. Was rock really dead?
I would like to personally thank Vince Neil, Nikki Sixx, Mick Mars, and the always infamous Tommy Lee for not only affirming my faith and hope that rock isn't dead, but showcasing that "in this life you go out the way you came in, living life on the wild side."