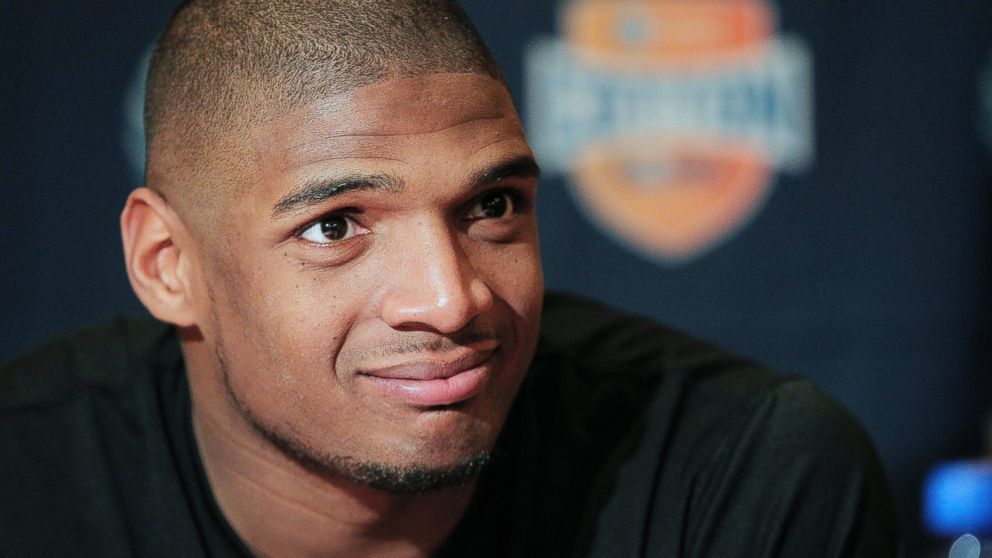 Two weeks ago, most Americans could not pick Michael Sam out of a lineup of two. A little over a week has gone by since Sam, Missouri defensive end and co-SEC defensive player of the year, made his announcement that he is gay.  Since then, the media, the Obamas, and other concerned gay rights activists have hurried to announce their support for Sam, but they may be doing him more harm than good.
Sam's decision to come out just three months before the NFL draft and weeks before the NFL combine is questionable at best. Yes, Sam had an illustrious career at Missouri with 19 tackles for losses including 11.5 sacks in his senior season.  But his NFL draft stock was not looking too bright from the start – Sam was a projected mid-round draft pick (3rd-7th round) probably too small to play his position at defensive end in the pros. His stats were exceptional, but many NFL scouts saw this as a product of a weak schedule in which Sam boosted his numbers against the flat offenses of Florida, Arkansas State, and Vanderbilt.
NFL franchises have never been overly concerned with stats, anyway. Jadeveon Clowney proves that these teams often seek athletic potential over collegiate success. Clowney had a less than stellar year statistically, but his 6'6" 270lb frame will likely put him in the top three overall picks in the draft according to ESPN's Mel Kiper.
So, from the beginning, Sam had little leverage in the draft, but the timing of his announcement has done him no favors either. ESPN has done its best to muster up statistics showing that the NFL is accepting of gay people, but at the end of the day, it will not be Sam's sexual orientation that hurts his NFL chances. The media's newfound obsession with all things gay and all things Michael Sam will deter many franchises from drafting the already iffy prospect.
What general manager, coach, owner, or player would want the constant attention and scrutiny that will come with the acquisition of Michael Sam? NFL teams use the preseason and training camps as a means to let their teams mesh, but the media storm surrounding Sam will, without a doubt, impede this team chemistry, with so much focus and attention on a single player (especially a rookie who normally would be hazed).  Teams typically try to avoid drama in favor of a winning program, and the attention afforded to Sam will only magnify this drama. This goes for all professional sports leagues – teams will be more likely to take a non-distraction over a distraction. Terrell Owens, Jason Collins (the first NBA player to come out as gay), and Tim Tebow are on a total of zero professional rosters today, though they all could have arguably made teams in their respective sports.
The issue is not Sam being gay; it is the publicity that comes with it. Sam claims he made this decision after playing in the Senior Bowl where it seemed that most of the players already knew he was gay.  In an attempt to control the story, Sam preemptively announced his sexual orientation; the only problem is that there was no "story" before his announcement. No one in the media had made any speculation about his orientation before he announced it publicly. He made a story where there probably would have never been one.
Of course NFL GM's would have known that he was gay during their investigation into the lives of prospects, but again, they are not trying to avoid gay players, rather the excessive notoriety that comes with an openly gay one. It could even have helped team chemistry if Sam had privately came out to his teammates and management.
Some people, including our President, have seen Sam's timing as impressive. Obama told TNT's Charles Barkley, "I really like the fact that Michael did it before the draft because his attitude was, 'You know what, I know who I am. I know I can play great football and judge me on the merits.'" This view is nonsense. Wouldn't it make more sense for a player to be judged on his merits if his personal life is unknown or at least unannounced? That way the only visible aspects of the player would be his merits. Now, people know more about his personal life, and his merits are a mere afterthought. Obama's wife, Michelle, and Vice President Joe Biden later took to twitter to express their approval of Sam.
WFAA's Dale Hansen, too, joined the discussion when he ranted about the NFL's hypocrisy of accepting rapists and wife-beaters but not openly gay players a few days after Sam's announcement. Though Hansen makes a compelling and valid point, he is hurting Sam with these comments, furthering the media's and the public's obsession with Michael Sam.
At the end of the day, Sam will be drafted, but probably not as highly as he could have been.  Sam will sign a contract, though probably not as large as it could have been.  Sam will be accepted by his teammates, though not as quickly as he could have been.  And Sam will make a difference in the way American culture treats homosexuality.