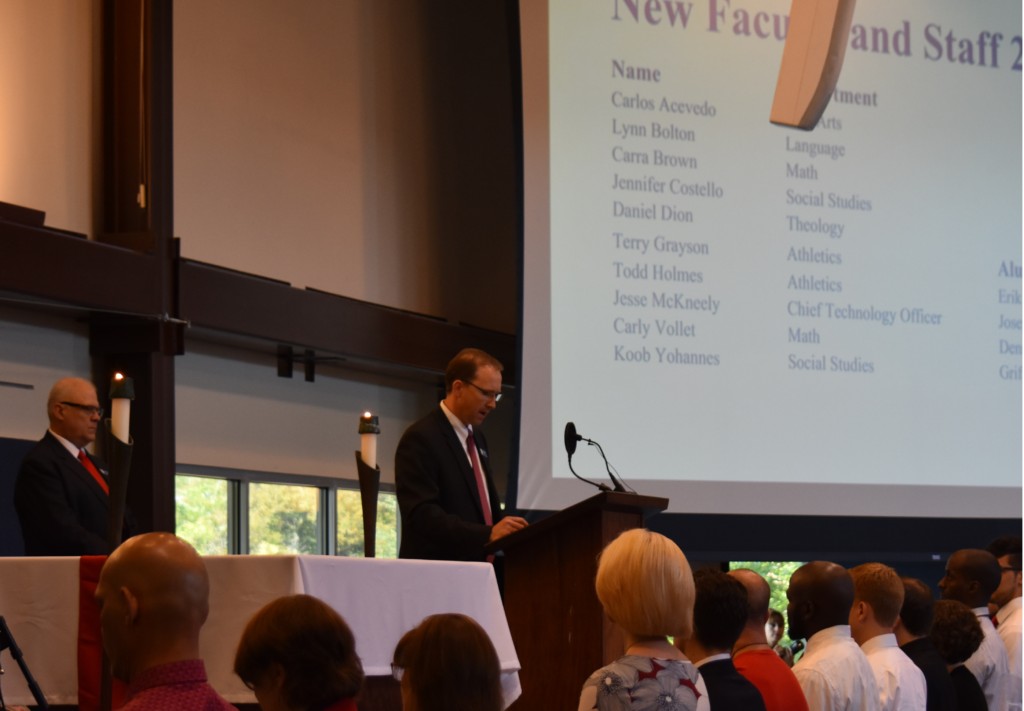 There are some new faces around the campus of Jesuit Dallas, all of whom have their own unique personalities and background. Some are coaches, teachers, or members of the Alumni Service Corps, but they all have the same goal in mind: form Jesuit students into Men for Others.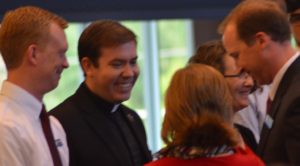 Dennis Kamara '13

Born in Virginia, Mr. Kamara grew up in Dallas in a family of three siblings, one of which went to Jesuit and another that attended Ursuline. Mr. Kamara is "really excited to work with the students" and loves how "talented in all the things Jesuit kids do," which "just blow [his] mind." Mr. Kamara also notes that it is "nice to reconnect with older teachers" who were instructing him when he was here. Hoping to help out with the track team, medical society, and the entrepreneurship club, the Jesuit grad is going to be very involved around the campus as a member of the Alumni Service Corps (ASC). Mr. Kamara majored in biology and philosophy and is interested in going to medical school later in life. He enjoys entrepreneurship and venture capital, but also loves hip-hop dance which he pursued in college and landed him in Atlanta to compete in World of Dance as well as getting to dance in a movie. Mr. Kamara "loves how energetic the students are" which is "always keeping [him] on [his] toes."
Erik Eppig '13

ASC member Erik Eppig '13 grew up in Plano and went to Plano ISD schools up to middle school until he graduated from Jesuit in 2013. After graduation, Mr. Eppig attended Boston College and graduated in 2017 with a major in history and international relations. Mr. Eppig currently teaches Social Justice and Public Policy for seniors is a moderator for the club Model UN, helps out with the rugby team, and does a lot of work with campus ministry and community service. On the fence with a lot of opportunities for himself after college, Mr. Eppig still wanted to find what he wanted to do and decided to join ASC. Mr. Eppig is "most excited to be back here and do a lot of the same things [he] was doing as a student but on the reverse side as a moderator, teacher, instructor, and coach." Noting that he is "definitely getting a different perspective on things," Mr. Eppig explained that "working with students is the most rewarding part of the job." Mr. Eppig is "very passionate about the world, especially Europe." Having studied Eastern European politics and history, the ASC member loves "when kids come in [his] office to ask [him] about that stuff because it is pretty cool." Mr. Eppig hopes to pursue something along this route and consistently reads news sources from eight different countries, and "enjoy[s] learning about Europe and their relationship with the United States."
Griffin Miller '13

Although he "can claim [he] is from Dallas," ASC member Griffin Miller '13 was born in Sweden until he moved to Dallas a short time later. Mr. Miller's family, consisting of an older brother and younger sister, then moved to Mexico City but then back to Dallas where Mr. Miller stayed until college, where he went to Alabama to major in Public Relations and Advertising. After all that moving and college, Mr. Miller is finally back in Dallas where he "looks forward to getting back to school," because "a lot of [his] success has been accredited to what [he] learned here." Noting how "nice [it is] to form relationships and continue to grow personally and spiritually," Mr. Miller is "excited to be back." Mr. Miller enjoys to play a lot of ultimate frisbee and has traveled around the country to play with some of the best in the world. Mr. Miller will also occasionally be helping Coach Martin and Holmes in the training room when he can and is looking into the Jesuit ultimate frisbee club as part of his involvement. "The students are the best so far," Mr. Miller explains. "Everyone is just so energetic."
Joseph Harwerth '13

Spending most of his childhood in Irving near Las Colinas, Joseph Harwerth '13 went to St. Luke's Catholic School for middle school before attending Jesuit. After graduation, Mr. Harwerth pursued a major in Psychology at Baylor University in Waco, Texas. Like the other ASC members, Mr. Harwerth teaches a section of Social Justice and Public Policy for seniors and helps out in the marching band. A drum major his senior year at Jesuit, Mr. Harwerth "enjoys seeing how the band has grown" and "loves helping guys get interested in it." Mr. Harwerth is also planning on utilizing his psychiatry background to help out with the medical society later in the year. Mr. Harwerth, an avid music fan, explains how he tries "to practice clarinet when [he] can, but [he] also enjoys latin dance like salsa and merengue." Other than his passion for music, Mr. Harwerth also enjoys "fitness and working out with friends." Mr. Harwerth is "very excited to be back" and "can't wait to develop lasting relationships with the guys."
Tucker Redding S.J.

Tucker Redding grew up near the San Antonio area and went to Comfort High School in Comfort, Texas, a small town just outside of San Antonio. Growing up on a ranch, Mr. Redding describes his childhood as "almost stereotypically Texan." After graduation, Mr. Redding went to Texas A&M University where he got a degree in political science. The scholastic explained that it was in college "when [he] began to be really active in [his] faith." Being the "first time [he] had really done much with a church, [Mr. Redding] began to get really active in retreat ministry." It was because of this spur of religious activity in college and the "community of brothers" that called him to work in ministry and to join the Society of Jesus. Mr. Redding also "enjoys comic book stuff and movies" and "watching Marvel Netflix shows with community members," adding that he loves "almost anything with a group of friends." Mr. Redding works in the communication department, campus ministry, and teaches freshman theology, all of which help him live out his mission and passion to embrace "Ignatian spirituality and having a personal relationship with God," which he hopes his students learn.
Jesse McKneely

Jesse McKneely grew up in Newton, Texas, a small town about 4 hours from Dallas. Throughout his childhood, Mr. McKneely helped his mom a lot with computers which began his passion for technology. After high school, Mr. McKneely attended McKnee State University in southwest Louisiana where he got a degree in engineering. Mr. McKneely then decided to stay and work for the university, but a year later moved to the IT department at Birmingham Southern College, where he remained for 16 years. During his time at Birmingham, Mr. McKneely earned a master's degree in management and then decided to return to Texas where he now works as Jesuit's Chief Technology Officer. "I am glad to be back in Texas and there are a lot of big projects to do around here," Mr. McKneely explains. "This is such a great school where everyone cares about the school and move forward with technology and makes things better." So far, Mr. McKneely his happy to share that he has "had a great time getting to know the school and the students."
Jennifer Costello

Jennifer Costello grew up in the Dallas-Plano area where she spent the most of her childhood until she moved to California to finish high school. After high school, Mrs. Costello attended Loyola Marymount University and majored in history. Finally, after all of the moving back and forth and teaching for a while, her and husband moved back to Texas in Prosper after they had married. Because both her husband and children play hockey, she has grown to love the sport. Mrs. Costello is "most excited about being back in the classroom as a teacher and impart my knowledge and wisdom to the guys." Also, Mrs. Costello wants "to be able to teach [her] students about the real world out there and how it connects to the past. For me this year it's important that my students think about decisions you make."
Carly Vollet

Born in Louisiana, Carly Vollet grew up in Idaho until she moved to Portland, Oregon to attend Portland State University for college, where she received both her Masters and Bachelors in math. Mrs. Vollet is now "most excited for the potential to build longer-term relationships with students," because she was previously "teaching at Portland community college, which was had trimesters that were 10 weeks long." Because of this short time period to meet students, Mrs. Vollet described this experience as "being a new year every ten weeks so [she] didn't really get to know students well before the class was over," which she is glad will change as a teacher at Jesuit. Outside of the math coursework, Mrs. Vollet hopes to "try to get students to see that there is more fun math out there," which has led her to go to a few math club meetings and to consider adding "fun math" to the math club environment.
Daniel Dion

Daniel Dion grew up in Bolton, Connecticut, a small town outside of Hartford, where he began to develop a love for God. After high school, Mr. Dion first attended Boston College and then earned a master's degree in theology at Harvard Divinity School. Currently working on a Ph.D. in theology at Loyola Chicago, Mr. Dion explains how he felt called to theology. "I identify very closely with the Ignatian values because they have guided me in my formation as a theologian, teacher, Catholic and person, which is something I hope to get my students to embrace as men for others." Because of this passion to aid young men's formation with Ignatian values in mind, Mr. Dion decided to apply to be a teacher at Jesuit. "I taught at an all-boys Catholic school in Boston and I really liked it before I taught at the university level for a few years. What I learned was that the difference was that high school students are much more energetic and you get to focus on a student's whole development and not just the coursework." Mr. Dion is "most excited to get back in the classroom with the energy high school guys bring" and to help Jesuit foster an environment that adopts the "whole culture of spirituality, camaraderie, fraternity, as well as the commitment to excellence."
Carra Brown

Born and raised in Dallas, Texas, Carra Brown went to St. Monica for middle school and then Ursuline for high school. After high school, Mrs. Brown headed to Notre Dame for college and met her husband there where he already had a job with Disneyland. Following college graduation, Mrs. Brown moved to California with her husband and then came back to Dallas. Mrs. Brown is "very excited to work with the energetic students in this men for others atmosphere" which form students in a well-rounded profile at graduation. "I also like that Jesuit is not just all about academics but also about sports, spirituality, and really looking at everything," Mrs. Brown explains. It was because of this well-roundedness and because "[she went to Ursuline, and my father, brother, and uncles went to Jesuit [Mrs. Brown] feels close to it and decided to apply here." Outside of teaching math, Mrs. Brown "used to teach AP computer science so [she] enjoys programming a lot." Mrs. Brown "loves theatre because of [her] and [her] husband's work in the theatre department at Notre Dame, sports (baseball is [her] favorite because [her] son plays) college football, and March Madness."
Lynn Bolton

Lynn Bolton grew up in Grosse Pointe, Michigan from which she went to the University of Michigan. After some time at the University of Michigan, Mrs. Bolton went to Arizona State where she majored in French Literature. Following college, Mrs. Bolton pursued her passion in teaching language and taught at public school. It wasn't until after she sent two boys to Jesuit and "loved the experience as a family" that Mrs. Bolton felt "called back to apply" and join the community as an instructor. "I love everything I have seen so far and I am very excited to be in this environment and be a part of the community in a different way," Mrs. Bolton explains. So far, Mrs. Bolton notes, "it's been great because it is a really peaceful environment and there are more freedoms and privileges for the students which Jesuit students can really handle." Fluent in both French and Spanish, Mrs. Bolton teaches French and Spanish 1, both of which she "has always loved to teach." Apart from teaching, Mrs. Bolton enjoys cooking and reading and is passionate about "traveling and studying abroad" to become immersed in the cultures of different countries and languages. "I have been to France and Spain many times and used to live in France for a while," Mrs. Bolton remembers. She was even "a maid on a dairy farm in Switzerland" for a while! Mrs. Lynn Bolton truly brings an interesting background and new type of understanding to the Jesuit language department.
Kbrom "Koob" Yohannes

Born in Washington DC, Kbrom "Koob" Yohannes, was raised in Dallas and went to Stonewall Jackson Elementary living in the Lake Highlands area. After high school, Mr. Yohannes attended the University of Texas at Austin and worked there after graduation. After returning to Dallas, Mr. Yohannes spent some time in the business world at Lockheed Martin before deciding to teach in DISD. After teaching for 7 years, Mr. Yohannes chose to bring his knowledge of the world to Jesuit. Having taught previously at public schools, Mr. Yohannes is "most excited about being in an environment where we can openly and honestly discuss the whole person and that everything is up for discussion here." Because "we can talk about spirituality and not just academics," Mr. Yohannes enjoys that "deeper conversations can be here that were more implicit in public school, which allows the class to analyze all aspects of life to approach life's problems and not compartmentalize everything." Mr. Yohannes also noted that "the community is also very open and accepting." Besides teaching sophomore world history, Mr. Yohannes works in campus ministry and Jesuit's model UN club.
Terry Grayson

Born in Tulsa, Terry Grayson grew up in Sand Springs Oklahoma and went to Charles Page High School. After high school, Mr. Grayson went to Northeastern State in Oklahoma where he earned his master's degree and was the starting strong safety (cornerback freshman year) for the football team during all four years. Standing at 5'8 and 150 lbs going into college, Mr. Grayson was small in terms of football size. However, he gained 30 lbs and grew 3 inches at just the right time to be on the team. "I had the heart, desire, and passion to play," which is why he "started his freshman year at corner and was an all-American defensive back of the year in my conference." Unfortunately, Mr. Grayson was injured his senior year, which he describes "was a blessing in disguise." Following the injury, Mr. Grayson "knew [he] was called to be a high school teacher and coach." While in college, Mr. Grayson was a graduate assistant to the strength and conditioning program and to the football program while he was earning his master's degree. After receiving his master's in 2007 and following his calling to be a teacher, Mr. Grayson got his first teaching job at Edmund Memorial High School. Finally, Mr. Grayson found his way to Jesuit because the "well-rounded and spiritually influenced education where it is ok to be open about your faith was attractive" to him. "Spirituality is the number one thing in" Mr. Grayson's life. "Because I grew up in an orphanage and my twin sister, younger sister, and younger brother was separated, a Christian agency found out and got us all together." It was that agency that "introduced [him] to Jesus which sought for us to be holistic individuals as a family."
Todd Holmes

Born in Kansas, Todd Holmes grew up in Richardson, Texas after his family moved and went to JJ Pearce High School. After high school, Mr. Holmes went to the University of Arkansas. Mr. Holmes is "most excited to be a part of the Jesuit community and help out guys in the training room and hopefully, make connections with people on a personal level." Mr. Holmes, the newest Jesuit athletic trainer, wants "guys to know that my office door is open if they need to talk or anything." Mr. Holmes "enjoys having the opportunity to be a part of the training staff to help out with football, baseball, lacrosse, and all the sports and opportunities Jesuit offers. Mr. Holmes also "looks forward to being around guys who are passionate about the sports they are in and to be able to help them with that."
Carlos Acevedo

Born and raised in Puerto Rico, Carlos Acevedo rose to be one of Puerto Rico's most distinguished playwrights, having won the "Cultural Office of Puerto Rico's Best Playwright award three times, which no one else has done." Most of his experience "comes from professional stage, film, and TV." Mr. Acevedo has "taught several times before, but most of what [he] has done is in the film industry." Mr. Acevedo owns a "theatre and production company and has produced 70to 80 plays and musicals." While most of his work has been in Puerto Rico for Spanish-speaking audiences, Mr. Acevedo has also done a lot of work in Miami, Florida, where he spent ten years. It was in Miami that Mr. Acevedo adapted classical novels into plays for schools. Apart from directing and adapting plays and films, Mr. Acevedo also has had extensive experience behind the camera and on the stage, acting in plays like the Great Gatsby in English or on telenovelas (weekly stories in Spanish). Currently, the Stage and Film director and teaching a class, Mr. Acevedo also wants to start a playwriting class, something previously included in the Theater Arts class. Mr. Acevedo is very excited to be a part of the Jesuit Dallas community and has "enough ideas to fill up the next ten years."