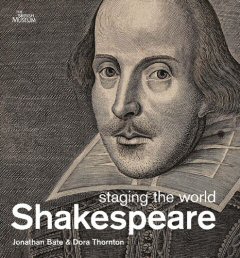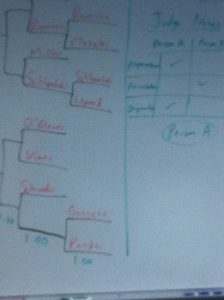 For some it was tragic and for others it was comedic, but all in all, after the Shakespearean Insult Battles ended, everyone acquired the new skill of being able to throw out some timeless Shakespearean insults.
Because Mr. Austin Ryan, an English teacher and assistant Rugby coach, was in charge of the Shakespeare March Madness, only his classes participated.
Set up in a March Madness style bracket, students first competed with their other English classmates, and then the winners of each class battled against each other in the Championship Bracket where only one could be crowned the Shakespearean Insult Master.
To advance, the objective was simple: create a better insult than your opponent. But unfortunately, because a panel of student judges decided the winner of each round, the matches, Mr. Ryan conceded, were susceptible to turning into a popularity contest.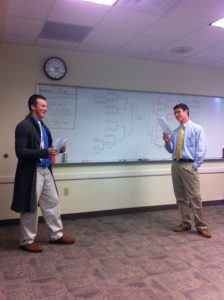 "I would definitely find a more secure way of judging by either asking English teachers on their off period to do it or refine the judging sheet to make it more fair," Ryan reflected, but because he tried to pick students who would give verdicts based off insult quality rather than popularity and had the power to veto decisions and force the match to overtime, the potential bias was at least partially mitigated.
And although students felt there was some favoritism going on, one participant, James Schroder believed that they were "generally pretty fair."
Once the preliminary rounds had finished and Zach Bishkin '15 from the Yankees class, Robert Africa '15 from the Knicks class, Raul Estrada '15 from the Giants class, and Alex Hernandez '15 from the NY Rangers class, all came out victorious, the championship bracket was set.
Yet, because the Freshman Initiative Team had a field trip on the day of the championship, Alex Hernandez and Robert Africa could not be present; so, Nathan Low and Erick Krekeler took their places.
The ensuing insult throw-downs were the best of the whole tournament with the Bishkin v. Krekeler and Estrada v. Low battles each decided in a 5 to 4 vote. In the nail-biters, both Krekeler and Estrada came out on top, setting the stage for an intense championship.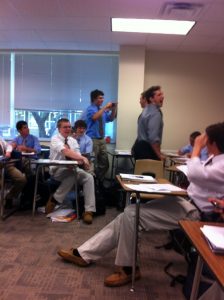 It was now down to two, mano-y-mano between Krekeler and Estrada, as the anticipation sky-rocketed in the classroom. Insults were passed back and forth and the crowd went crazy the whole time, all until the match ended and it was time for the vote. The student audience was suddenly brought to a hush, and after the votes were tallied, eight for and one against, the cheers resumed, as Estrada won in a blowout.
Despite the disappointment from Krekeler and the other students who didn't make it as far as they had hoped, it was all in good fun, especially because, as James Schroeder '15 and Jack Kerr '15 put it, "No other teacher would consider this type of activity."
For everyone the competition seemed to be a nice departure from the regular school-day routine and Mr. Ryan was "extremely impressed with everyone's participation" in the activity and proud of those students who still "put forth the effort even if they weren't too keen on these types of assignments."
But most importantly, no matter how fun the competition was, all the students seemed to gain a valuable educational experience and the ability to "really understand Shakespearean language and speak it almost naturally because they had to translate all their insults," said Mr. Ryan.
[jwplayer mediaid="8117″]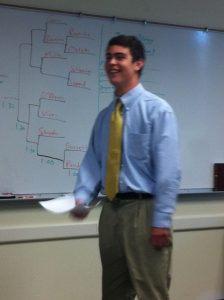 Overall Mr. Ryan was very pleased, noting the excellent performance of "Michael Shropshire who, very loose of tongue, modified his
insults for each opponent he faced" and highlighting some of the best insults: "Me thinks he is a watch wound and now time has stuck;" "You are the prince's jester, a very dull fool whose hair looks bad as thou face;" and "Thou art the tool hath use words to annoy the audience."
James Schroeder believed that he "learned a new perspective of Shakespeare" realizing that it "actually says things that are very provocative even though it appears to be a very formal language."
This year's Shakespearean Insult Battles were considered a huge success by everyone, and with some minor adjustments to the judging and other facets of the competition, it looks like Mr. Ryan has created the beginning of a very popular, academically valuable, and fun freshman year tradition.
If you would like to watch these battle rounds next year contact Mr. Ryan at aryan@jesuitcp.org for details on when and how you can see them.