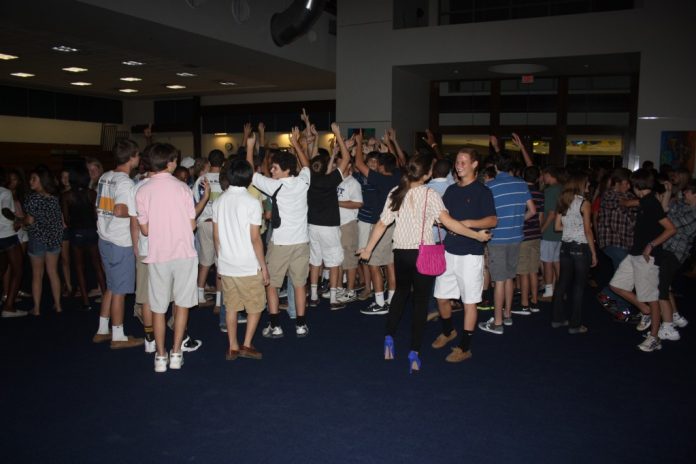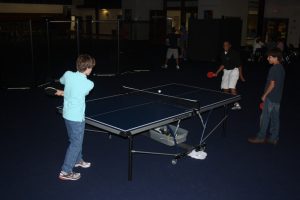 On Friday, September 9th, the freshmen were subjected to one of the hardest parts of high school: socializing and interacting with girls.  They went into the Terry Center a little hesitant and tentative at first.
The past few years, the student council has been trying to step it up and make the dance more fun and enjoyable for the kids.  They did exactly that.  Junior President Basil Seif '13 was intent on taking a lot of the awkward factor out of the mixer and focusing on having a good time and meeting prospective friends at Ursuline.  The student council had more than a DJ playing; they included a basketball hoop, fun decorations, and contests for the students.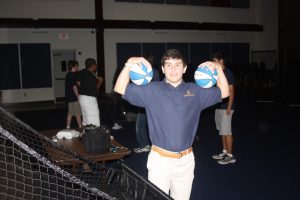 Freshman Nicholos LoRocco went to the mixer and said that he had "an awesome time."  He couldn't pinpoint his favorite part about the mixer since there was so much going on, but he said that he was "happy to meet new people and make some more friends."  Making friends is one of the main reasons the mixer is held annually, because when some people come into high school, they don't know a lot of others.
While the football team was playing their hearts out on the field against Coppell, the freshmen were able to look out of the balcony to check in on the scoreboard.  By the end of the heartbreaking loss, the freshmen were all crowding around the window to see if Jesuit could pull through the upset.
Ultimately, the freshman mixer was a success this year, contrary to many of the past years.  The dance gave many of the boys an opportunity to make friends for the rest of high school and meet prospective homecoming dates for this year.