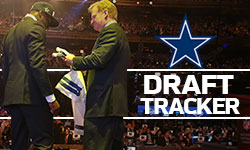 The Cowboys Draft Preview
Draft day. Two words that fill the nightmares of Cowboys' fans. After not making the playoffs in 2011 and 2012, the Cowboys need to have a strong draft class this year. This draft becomes even more important as memories of the botched drafts of 2008 and 2009 (no players from the '08 or '09 drafts are with the Cowboys) creep into the minds of fans. Dallas has lots of needs this year, with the offensive line headlining these needs. The Cowboys also need depth at safety, a backup running back (if one isn't signed before the draft), and the defensive line. Finally, if the Cowboys can get a steal for a quarterback to develop for the future they will draft one. Otherwise, do not expect them to draft a QB.
1st Round – 18th pick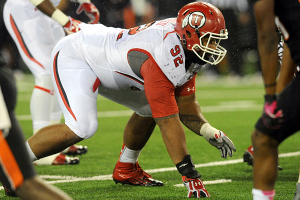 Stretch Pick: DT Star Lotulelei (Utah) – Once in consideration for the top pick in the draft, Lotulelei was diagnosed with an abnormal heart condition during the combine and his stock fell from being a potential first pick, to closer to the end of the round. Bleacher Report has reported that Lotulelei's condition is in the "healthy range"; Lotulelei's stock has risen again, and he could go in the top 10. If teams are really concerned with his health, Lotulelei should fall to the Cowboys. While Dallas' biggest needs are in the secondary and on the offensive line, adding Lotulelei to Dallas' front seven (especially in the new 4-3 scheme), actually makes for a pretty impressive bunch. DeMarcus Ware DE, Jay Ratliff DT, Star Loulelei DT, and Anthony Spencer DE would make up the defensive line, with Justin Durant OLB, Sean Lee MLB, and Bruce Carter OLB as the linebackers.
https://www.youtube.com/watch?v=giBTgLe2__E
Likely Pick: SS Kenny Vaccaro (Texas) – The 'Boys need a safety that will be able to step in as a starter on day one and Vaccaro is the best safety in the draft. His elite cover skills are arguably the best of any defender in the draft, and his hard hitting style of play will upgrade Dallas' defense.
OG Chance Warmack (Alabama) – With the signing of safety Will Allen from the Steelers on March 27, safety becomes less of a priority, and the most glaring issue that the Cowboys now have is the offensive line. Warmack will be able to come in and start immediately, and was one of the best players on the Alabama roster. His run blocking should help the dismal running game, and should be able to protect Romo.
2nd Round – 15th Pick
Stretch Pick: OG Jonathan Cooper (North Carolina) – As a Walter Camp All-American guard and 47 starts on his resume, Cooper looks to be a strong upgrade at guard, and can come in and compete for a starting spot on the line.
Likely Pick: OG Justin Pugh (Syracuse) – The Cowboys will draft another offensive linemen, showing that they are going to protect their rather large investment in Tony Romo. Pugh started every game he played (over three seasons) and is very fluid for a lineman who is almost 300 pounds. His speed and athleticism will help him contribute immediately on the line, and his ceiling for improvement should be pretty high.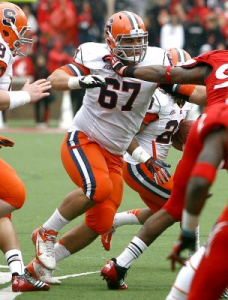 3rd Round – 18th Pick
Stretch Pick: QB Matt Barkley (USC) – If Barkley falls this far (the chances are quite slim), this would be an absolute steal. Scouts had Barkley as a top 10 pick last year, but he decided to return to USC for his senior season. After posting a 7-4 record as a starter, he separated his throwing shoulder and missed the final two games of the season. Barkley is considered by many to be the 2nd or 3rd best quarterback, due to his abysmal season, and lack of arm strength and accuracy. Barkley does have some positives, like running the pro style offense that most teams run in the NFL, and his throwing mechanics are sound. Also Barkley is a natural leader, and with some tutelage, could emerge as a solid starter one day.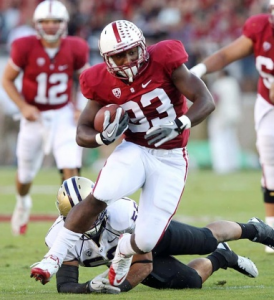 Likely Pick: RB Stephan Taylor (Stanford) – A workhorse at Stanford, Stephan Taylor looks to be a 3rd down back that should be able to start if Murray goes down with another injury. One of his biggest positives is that Taylor doesn't shy away from contact, and keeps going after the first hit. Taylor will work well as a number two back, and in two back sets he can come in as a lead blocker. His ability to catch the ball as a running back should allow for the Cowboys to utilize screens more. Also as a previous student athlete at Stanford, Taylor shows great character off the field, and intelligence on the field, able to make quick intangible decisions.
4th Round – 17th Pick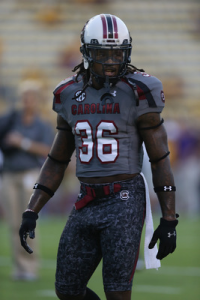 Stretch Pick: FS Eric Reid (LSU) – The number 2 safety in the draft, Eric Reid is coming out of LSU with high expectations, due to LSU's history of producing great defensive backs, like current cornerback Morris Claiborne. Currently, Will Allen is projected to be one of the starters in the secondary, but the rest will be a fight. Reid currently has questions about his speed, because on film, he plays very stiffly, and can be beat by quicker receivers. He also makes bone-jarring tackles: his greatest strength, and greatest weakness. Getting hit once by Reid will scare a receiver, but his tendency to always lay out the opponent means that Reid misses quiet a few tackles. Most of the other safeties in the draft are consistent tacklers, which is why Reid could drop.
Likely Pick: FS D.J. Swearinger (South Carolina) – At 5'10" and 208 pounds, Swearinger is a little short to play safety but his skill set, especially as a ball hawk, has him ranked in the top 5 for safeties this year. Not only is he a threat while patrolling deep, Swearinger is a hard hitter. He will have a chance to fight for a starting role on the team, but will be a good rotation player if he does not start and will help Dallas' special teams. The best part is that on tape, Swearinger plays a lot like a future Hall of Famer: Ed Reed.
5th Round – 18th Pick
Stretch Pick: DT Brandon Williams (Missouri Southern State (D2)) – Williams is gigantic, and his play really benefits from his size. He can usually push opponents back into their own backfield and stop a play before it has time to develop. He has played every position on the defensive line, which should help him in the NFL. As one of only three players in Division-II history to be named an All-American three straight years, Williams has made himself known to scouts despite not being from a D-I college. Teams could pass on him though because of the lack of competition in D-II. The defensive tackle position is very shallow this year, and Williams could start on the Cowboys if given the chance.
Likely Pick: OLB Sean Porter (Texas A&M) – Porter already is very athletic, and already has the size of an NFL linebacker. One of his strengths is that he is a versatile defender who can line up in multiple roles. His athleticism gives him very strong cover skills as a linebacker, and will be able to still make stops in the running game. Porter is best described as a jack-of-all-trades; very well rounded, but he doesn't excel in just one area. Porter probably will not start, but he will make contributions to special teams.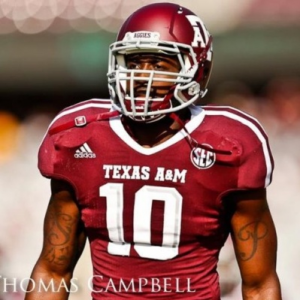 6th Round – 17th Pick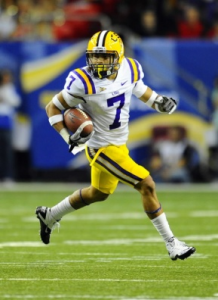 Stretch Pick: CB Tyrann Mathieu (ex-LSU) – Nobody knows where Mathieu will be drafted, but one thing is for certain: no team is going to waste a high draft pick (1st-3rd) on Mathieu. At the very earliest, a team could take him in the fourth, but teams that need depth at corner (like the Cowboys), will take him with a later pick, as there is less risk to Mathieu's skill and upside. Another reason teams will likely not look at Mathieu with draft picks is his size: he is 5'8″ 180 pounds; Mathieu is undersized for one of the smaller positions in football. Even if Mathieu falls to the Cowboys in the 6th, the 'Boys may not even draft him due to all the potential negatives.
Obligatory Honey Badger Highlights:
https://www.youtube.com/watch?v=8KBPaoS6odk
Likely Pick: DT Josh Boyd (Mississippi State) – Boyd is a very agile defensive linemen: he can make plays in the backfield and away from the line of scrimmage. At 310 pounds, Boyd surprisingly runs like an athlete, not like a lineman and he has good awareness and will be able to act as a nose tackle in a 5-2 set.
7th Round – Pick was traded to Miami for OC Ryan Cook