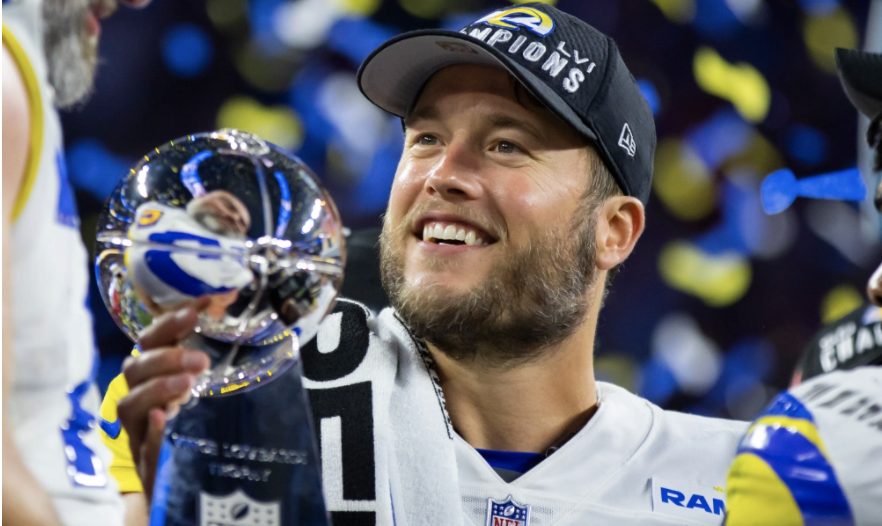 Early Life
Born in Tampa Florida, Matthew Stafford moved to Dallas as a child. He played his high school football career at Highland Park High School. Stafford grew up with fellow all-star athlete Clayton Kershaw. In their youth, the two played several sports together, eventually playing baseball and football together in high school. Stafford would then go on to dominate at the University of Georgia football, while Kershaw pursued his baseball career. Stafford demonstrated his ability and was ultimately drafted as the #1 overall pick in the 2009 NFL Draft by the Detroit Lions.
Detroit
Early in his career as a Lion, he suffered a terrible rib injury. After returning, he came to be known as one of the toughest quarterbacks in the league missing a minimal number of games until his final couple seasons with the Lions. In these last couple of seasons, he suffered a series of debilitating back injuries, which he attempted to play through. For the first half of his career in Detroit, Stafford connected with now Hall of Fame wide receiver, Calvin "Megatron" Johnson. While they played together, Stafford and Johnson became one of the most prolific WR/QB duos of all time.
Sadly, Johnson fell to the same fate as a previous Detroit Lion, running back Barry Sanders. Despite Sanders being in the prime of his career, he retired early and gave up the chance to easily become the all-time leader in NFL rushing yards. However, a series of factors such as injury and limited team success led him to lose his passion to continue on. Similarly, Johnson joined the series of stellar Lions players to retire early in their prime. Despite this, Stafford continued to lead his team from regime to regime, rebuild after rebuild.
Doubt
Though, Stafford was never able to raise consistently bad to mediocre rosters to a single playoff win. Because of this, many started to doubt Stafford's ability to become anything but a garbage time stats man. Despite the hardships Stafford suffered through time and time again, the franchise QB stayed faithful to the city of Detroit. A couple of years back, Stafford faced another hardship, when his wife was diagnosed with a brain tumor. They thankfully had it removed in time. Luckily for their family, it was non-cancerous. Shortly after, rumors started to spread of Stafford's looming departure from Detroit.
A New Chapter
It seemed Stafford had finally suffered through his last rebuild in a historically terrible Detroit Lions organization run by the Ford family. While Lions fans hope this one will finally be different with the acquisition of general manager Brad Holmes and charismatic head coach Dan Campbell, it immediately appeared that they would be continuing on from their longtime quarterback. Luckily for Stafford, the new regime willingly accepted trade offers from a multitude of teams. This allowed Stafford to escape another painful rebuild. The Detroit Lions received lucrative offers from many NFL teams for the QB, but they eventually settled on a very generous deal from the Los Angeles Rams, which included two first-round picks and Jared Goff in exchange for the very sought-after QB. Thus, Stafford's years of painful losses and little reward were about to be over as he was off to a team ready to win immediately.
The Rams
This season, Stafford got off to a spectacular start to his season and was consistently in the MVP conversation for its entire duration. Despite an above-average number of interceptions, Stafford led his team to enough wins to secure a division championship and playoff bid. Much like in his Detroit years, Stafford found a wide receiver and instantly connected with him. In this case, much like Calvin Johnson and Kenny Golladay, Stafford found Cooper Kupp. Kupp is an example of overcoming immense adversity. He had no offers coming out of high school and worked himself all the way to the NFL. However, Kupp's success prior to Stafford taking on the reigns was unparalleled as Kupp went from a wide receiver one to claiming the triple crown, gaining a league-high in receptions, receiving touchdowns, and receiving yards.
The Postseason
Then, following a great first regular season, Stafford was to face his true test. He now needed to win these playoff games to prove his true worth. Obviously, he did not disappoint as he put on exciting shows against the Cardinals. And, took down the previous year's Super Bowl Victors, the Tampa Bay Buccaneers. In fact, Stafford's victory against Tom Brady and the Buccaneers marked the end of the undisputed GOAT's career. Thus, Stafford went from over a decade of losing seasons and zero playoff wins in three appearances to being two for two with the Rams.
The Final Test
Now, Stafford faces his truest test because he was not brought in to fall short of the big prize. Even though Jared Goff had already brought them to that point a few years prior. No, Stafford needed to win this one final game, and he did not disappoint. In the Super Bowl, Stafford was matched up against the Cincinnati Bengals, a cinderella story of a team. Cincy was led by star young quarterback Joe Burrow, Matthew Stafford played lights out. Despite losing star wide receiver Odell Beckham Jr. early in the game to an ACL tear, Stafford was able to connect with his favorite target Cooper Kupp for multiple touchdowns.
The tandem eventually led an end-of-game victory drive to secure his legacy. Stafford had previously been considered a questionable prospect for the Hall of Fame. This was due to a lack of postseason success, with one year with the Rams organization. He put all questions of this to rest. Stafford now has the same Super Bowl resume as the likes of Packers quarterback Aaron Rodgers. And additionally has likely secured his place in Canton. So, while the city of Detroit still waits patiently for its time, they can at least be happy in watching its former leader thrive. Furthermore, the Cincinnati Bengal's unlikely rise to dominance acts as a glimmer of hope to the city of Detroit.
The Kershaw Connection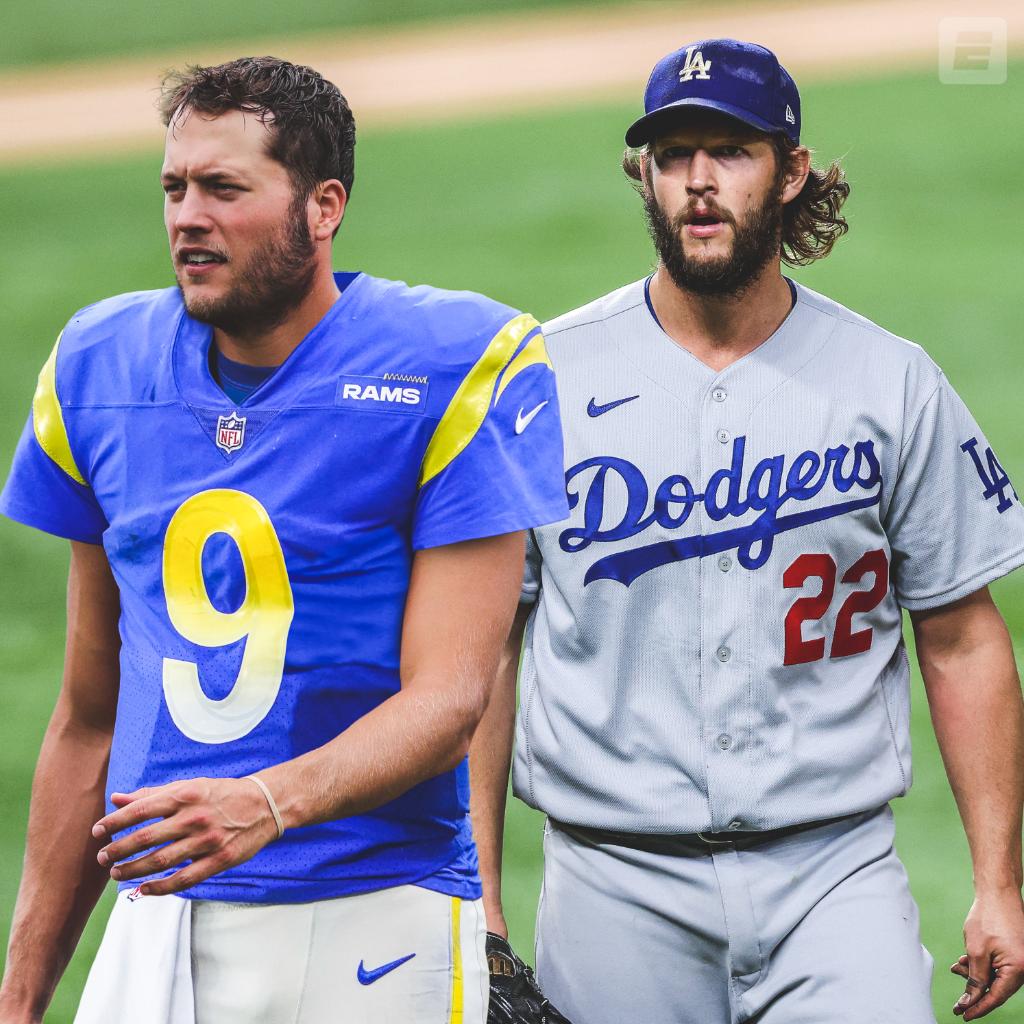 Stafford's former high school buddy Clayton Kershaw has been a member of the Los Angeles Dodgers since he was drafted 7th overall in 2006. However, despite a similar display of prowess and some better success in postseason play, Kershaw also spent over a decade without receiving a championship ring. Though, this changed just a couple of years ago when Kershaw led the Dodgers to the world series and won in the 2020 MLB season. Thus, they once brought immense pride to their Texas city playing baseball and football for their high school. The two have now done the same on a professional scale, bringing the city of Los Angeles a Super Bowl and World Series victory within a couple of years.
Sources
https://en.wikipedia.org/wiki/Matthew_Stafford
https://bleacherreport.com/articles/2100609-clayton-kershaw-and-matthew-stafford-the-wonder-years
https://abcnews.go.com/Sports/cooper-kupp-caps-triple-crown-season-winning-super/story?id=82870269#:~:text=After%20a%20quick%20start%20Sunday,the%20Rams'%20final%20offensive%20series.
https://www.draftsharks.com/fantasy/injury-history/matthew-stafford/2
https://bleacherreport.com/articles/2845172-barry-sanders-and-other-top-nfl-players-who-retired-too-early
https://www.sportingnews.com/us/nfl/news/matthew-stafford-hall-of-fame-super-bowl/bx6gp4spf8emo9l2fxar9t86