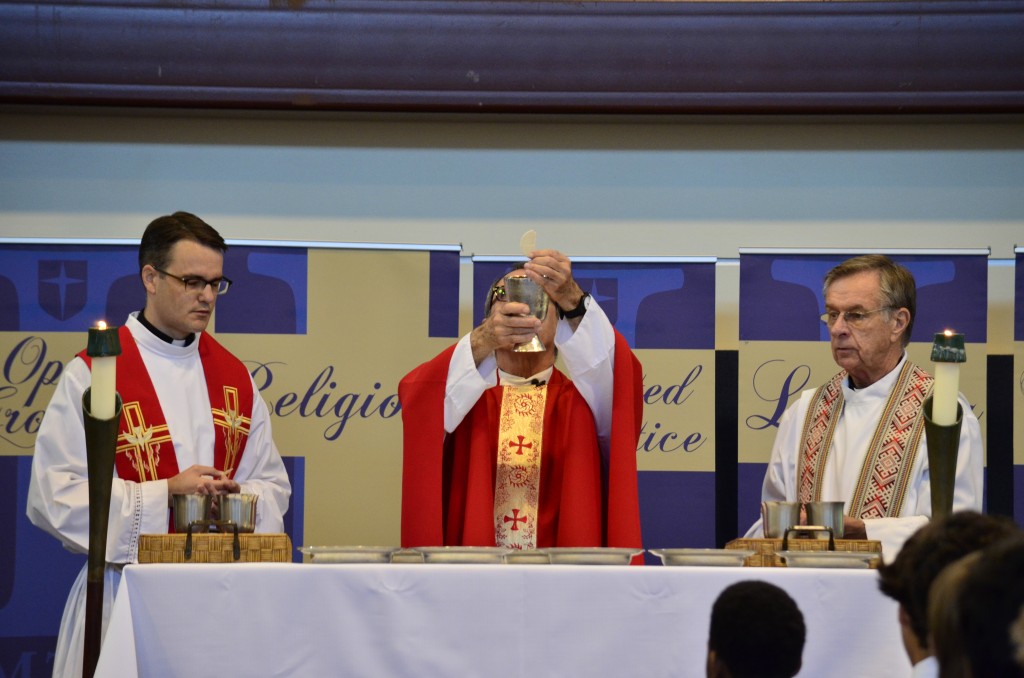 A sea of red on Friday morning as  Jesuit students piled into the Terry Center for the first mass of the year, September 4, along with thousands of Jesuit schools across the world, a tradition begun in 1548 at the first Jesuit school in Messina, Sicily. The mass, Mr. Knight explained, " is where the community gathers to thank God for the gifts of creation, salvation, and for formation. It is also the time in which the whole community seeks intercession, guidance, and the wisdom of the Holy Spirit for the year."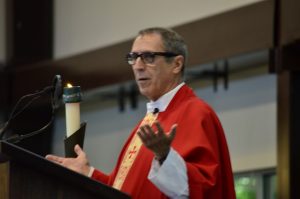 Any Jesuit student from last year fully remembers Father Huete's exit from Jesuit and the admiration the school student body and faculty had for him. It was indeed sad to see him leave but Jesuits first mass helped introduce all new Jesuit faculty, staff, student body, and even new Jesuit rector for the fall semester Father Ron Boudreaux, SJ. The whole community of Jesuit was able to share in a celebration of new faces and old traditions that truly help make Jesuit what it is.
Father Boudreaux began his homily by addressing what was probably on everybody's mind. How bland and mundane some masses can be. Imagine yourself sitting there, a plethora of other thoughts racing through your mind such as that next period math test that you haven't studied for or what plans you have for the weekend.  Well Father Boudreaux immediately captured the attention of the whole student body by talking about being open to God and all the challenges that the whole Jesuit community will face this year.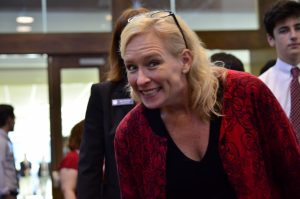 In doing so Father Boudreaux captured that same relatable human quality that some priests just don't possess. He is poised to become similar to Father Huete, an open minded charismatic figure that all students of Jesuit can look up to and admire.  Will Aberger '17 noted Fr. Boudreaux's tale of driving on the highway and deciding whether to let another drive move ahead of him: "His analogy hits home.  Sometimes in my life it's hard to move past my anger."
"I think Fr. Boudreaux's homily about welcoming the Holy Spirit into our lives–into each moment, into each choice—did much to make the strangeness of the Pentecostal narrative accessible to students and faculty alike," remarked Mr. Berry '07.
The petitions for the mass, said in different languages ranging from Chinese to French and Spanish, helped institute and portray how diverse Jesuit as a whole is, encompassing all the qualities that we as Jesuit students strive for. Embracing our differences as uniqueness and truly gifts from God.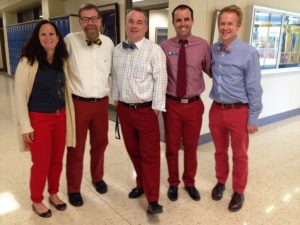 The 2016 school year hopes to be one of new and interesting challenges along with rewards and success.  If anything was taken from the first school mass it is that there is something about going to Jesuit that just cant be matched.  "Red made me feel unified with my Jesuit brothers, " student council member Bobby Wunderlick '17 said.
The band clinched the morning with a quieter rendition of the school's alma mater, explained clarinet player Michael Miramontes '18, who realized that this was one of the more "important masses at Jesuit."  This was felt throughout the whole auditorium as the seniors threw up their hands with a loud yell as the classic line of "Seniors enjoy your Friday" sang from the microphone.