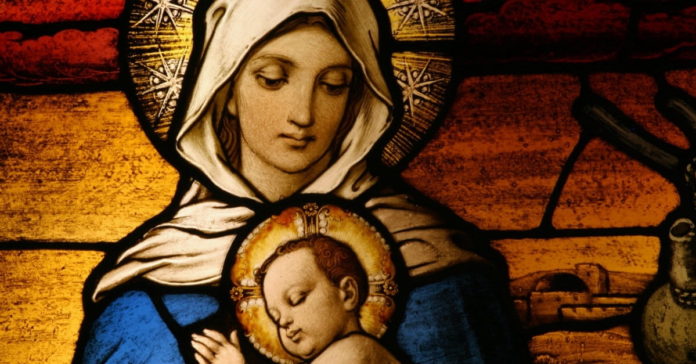 "Part of my Hispanic heritage is holding Our Lady of Guadalupe with high esteem. We have an Our Lady of Guadalupe in our house, and it was great that The Roundup dedicated this prayer service to Mary and gave her the adoration that she deserves." Alec Gomez '21
Last week, the Art Department explored multiple artistic expressions–some by Jesuit students–of the Virgin Mary–images of shrines, paintings, and sculptures. 
On October 26, 2018, The Roundup examined Mary, whom we all know to be the mother of Christ. But often we don't reflect on some of the backstory details. We typically know that God glanced over a world riddled with sin, the chaos of transgression.
His anecdote: Christ.  
We forget, however, the angle of the story–how would Christ arrive? Who would be responsible for delivering to the world its salvation?
Mary. The feminine rescues the disaster.
The prayer service focused on a premiere video expose created by Silas Hartman, followed by two student reflections.
Student Reflections
Victor Martinez '22

Mary, who is Mary? Mary is the mother of God, but what is a mother? A mother is not a person who is just there in your life. A mother is someone who gave you life. She is the person who has guided you since your beginning. She helps me on the right way. She protects us and loves us. She teaches us wisdom and gives us knowledge. A mother is always there, in the good and the bad. When I broke my leg at the age of 6, I entered a time of my life with many questions. Why me? Why now? At the hospital when they did the X-rays, I fell asleep and had a dream. In the dream, I saw Mary, with her blue eyes and then I woke up. The first thing I saw was my mom, and then I understood something.

Mary has many forms and is always there, she is there as our mothers: helping, protecting, educating, and caring for us. After this experience, Mary became one of the most important figures in my life.

Rutherford Allison '19

When I was asked to write this, I didn't know what I would say. I've never really thought of my relationship with Mary as anything special. Sure, I prayed for her help, but it wasn't worth getting up in front of over 1000 people and talking about.

But the more I thought about it, I realized what a huge role Mary, Christ's mother, plays in my faith life. At the very beginning of every road trip I go on with my family, we all pray the rosary together so we'll have a safe trip. And I don't know anyone else who does something like that.

Mary is also a huge part of any time I pray. When I pray, I normally say a Hail Mary. That's my go-to prayer for anything. If I need help on a test I didn't study for, I ask Mary for help. If I can't find something I need, I ask Mary for help. If I just need to know everything is going to be alright, I ask Mary for help. You get the point. I ask Mary for help. Before asking Jesus directly, I ask his mom to help me out when I ask Him. Every time.

I guess my dedication to asking Mary to help me out comes from one homily I heard about Jesus' first miracle at Cana. The priest said he always imagined Mary giving Jesus a certain look before she told the servants to listen to him. He described it as that look all mothers have, and the image just resonated with me.

I like to imagine that motherly look Mary gave to Jesus when I pray for her intercession. It is a really comforting thought.
In an exclusive video, The Roundup shared its investigative skills as it explored the presence of Mary more intimately in the lives of current students and faculty.
The Reviews Glow
 "I was particularly moved by The Roundup's prayer service; the shared reflections were especially powerful, and the spirit of Mary was ever present within the student body and the faculty." Mr. Raul Ornelas 
 "The Roundup did a great job of catering to the student body with the prayer service this morning. Even though I'm not Catholic, the image of Mary as a strong mother is almost universal. The prayer service might change the way I look at my own mother, considering the strength and sacrifices she has made to get me here." Reid Aaron '22
 "[The Roundup] did a great job of applying Mary to the lives of teenagers, especially Ms. Stewart's comment about how we relate to her today. It was interesting to hear The Roundup's 'different angle' on the story of Mary and kept my attention the whole time."  Patricio Chapa '20
"Part of what made the prayer service stand out so much was Mrs. Gerber's Ave Maria. I began to get chills when she was singing, and it was really a beautiful moment that connected the traditional song to the theme of Mary." Chris Pontikes '19
"[The Roundup] always does a great job. [They] lived up to expectation with this morning's service, and it was beautiful: from Emmet's opening statement to the Ave Maria to the rosary at the end. " Mr. Civello
We hope Mary approved, too.