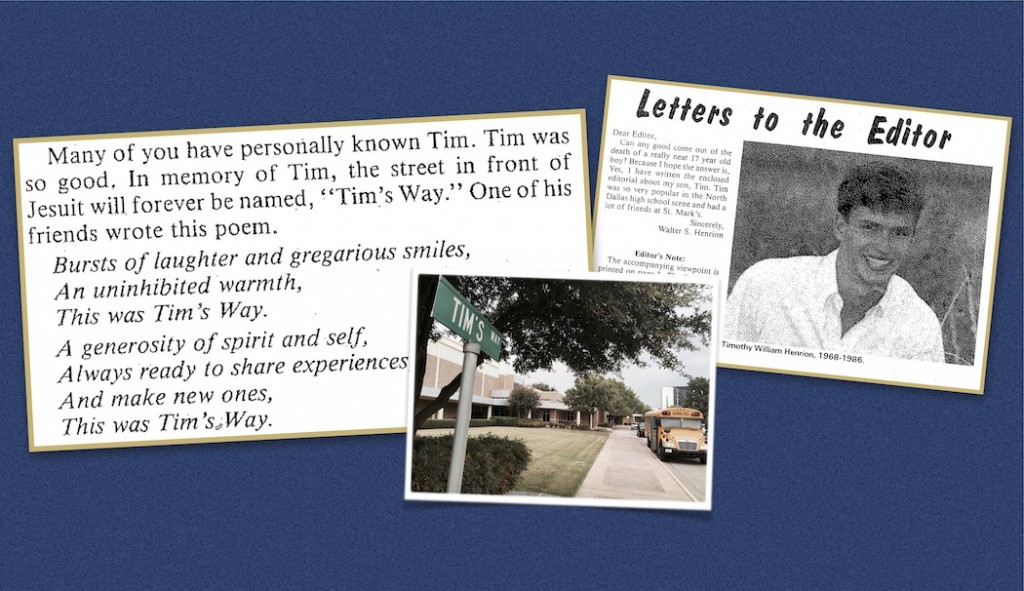 "Before my name was called, my heart was rapidly beating and I could feel the blood rushing throughout my entire body. I was so nervous that I might not receive the honor because I really wanted it and I put all I could into the essay for the application. Also, as I sat there hearing the amount of the awards escalate, I just kept hoping to not hear my name for one in hopes that I would hear my name for the Henrion." Brice Donovan '16 anxiously sat in his seat, restlessly awaiting the announcement. Little did he know that he was about to hear his name called for the one of the most meaningful awards a Jesuit junior can receive: the Timothy W. Henrion '87 Scholarship.
Every May during Junior Convocation, one outstanding member of the junior class is presented with the Timothy W. Henrion '87 Scholarship, entailing full tuition for the student's senior year and a stipend for expense-related use. This year marks the 30th anniversary of this prestigious honor, which recognizes one dedicated and bright junior of excellent character and virtue who performs his work grant responsibilities with an admirable enthusiasm and has managed to excel inside and outside the classroom.
This award has profoundly impacted its recipients, making it one of the most special honors that a Jesuit student can receive. For Mr. Rob McGhee, current English teacher and former Henrion Scholarship winner, it meant everything: "I was blessed enough to receive the award my senior year. I was on work grant the whole time I was here. That was a huge deal for me and my family."
He touched on the monetary benefits that the honor so graciously provides, noting, "The obvious impact is financial because your tuition for senior year is covered and they're even generous enough to give a stipend for expenses." However, he went on to describe the honor not only as a financial blessing but also as an opportunity and a tool that allows the honoree to fully and freely immerse himself in all that Jesuit offers:
Time-wise it's big because every student on work grant each year is supposed to do 100 hours which is manageable, but a big chunk of time. So not having to do hours your senior year is a big gift of freedom.  We want to take somebody who is already giving of himself and of his talents to the community, particularly the Jesuit community and we want to acknowledge that person and free him up so he can give even more.   Ideally it would be like maybe there's some cool activity or passion or hobby or community service work, there's something good that you would like to be involved in but your busy life has prevented you from being involved. Or maybe you're involved in something, but you want to go more in depth with it. Maybe you're involved in a club that means a lot to you but you haven't had a lot of time to delve into it. With all that extra time I can really get into it more. That's the idea. It's like, this is the kind of guy we love having in our community, who's given a lot of himself, wouldn't it be cool to see what he would do with even more time and energy to give.
He went so far as to say that the word "award" isn't really an appropriate title for the Henrion Scholarship and that "gift" would be more appropriate, further demonstrating the scholarship's large-scale implications.
Lastly, Mr. McGhee mentioned the great sense of pride he felt in being awarded the scholarship, a pride greater than he had experienced from any previous achievement. "To feel like your work and your contribution was rewarded with this thing that was a big financial burden off your family for at least a year.   I think that's valuable. If you're fortunate enough to receive a big scholarship like this, you can say, 'Wow, something I did helped my family pay for my education,' which is nice. Something like the Henrion, that was the result of the work I did, I was kind of proud of that."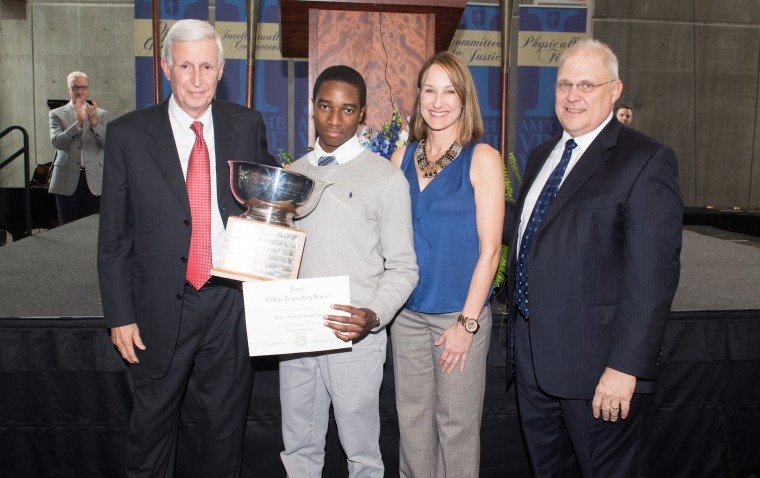 This past year's recipient, Brice Donovan '16, similarly described the scholarship as "weightlifting," explaining that "the burden on my mother and I has been lifted because she gets to save more money and I get to have more free time in order to study, get ready for college, volunteer more, and sleep!"
With this scholarship, Donovan plans to "[better] myself every day, [set] an example for others to aspire, and [get] into the best college possible for myself. I want to improve and become a better leader." He hopes that the freedom that this scholarship offers will allow him to jump-start his life in the right direction after graduation, remarking, "I want to challenge myself so that I am better prepared for college and ready to take that next step in my life that still has yet to really begin."
This scholarship has impacted the lives of many Jesuit juniors like Brice in such an enriching way. However, what is often lost in awards like these is the reason for its existence. The award  celebrates the life of Tim Henrion '87, a Jesuit student who was tragically killed in an automobile accident just days before the start of his senior year almost 30 years ago. Tim was "a very cool guy," per Mr. McGhee, was extremely well-liked and had been looking forward to becoming much more involved in the Jesuit community through a wide variety of extracurriculars during his senior year but unfortunately never got the chance to.
It's about celebrating life after death, of rising out of the ashes and turning something awful into something truly meaningful and worthwhile. It's about recognizing and honoring the good and happiness in a life cut short and wanting to impart this good and happiness on other people. Mr. McGhee perfectly captured this idea below:
I think [Tim's legacy] has become even larger because of the generosity of the family and the scholarship so that if you didn't know Tim personally, you are, as a recipient, benefiting from the generosity of his family, which is really striking because it's something so positive coming out of something so tragic. You're talking about a family in mourning, and instead of being consumed or overwhelmed by that, and just stopping there, you're talking about going beyond grief into, 'We want to honor him and do something positive for other people.' And there's a lot of ways you could do that- you could have a statue made, and that could be a legitimate way to honor that person, but the fact that they would go to 'We want to give something to the school that he loved and throughout all these generations afterwards, really impact and benefit other people,' I think there's something really beautiful about that.
The Henrion family wanted to recognize that same great potential that lay ahead of Tim in others like him. In this way, Tim may live on through the achievements of each of these students. Donovan hinted at this point in his understanding of Tim's legacy kept alive in the award: "He and many others who knew him, such as family and close friends, had great expectations for him; he was supposed to do great things after his high school career. However, his life and goals were all taken from him too soon in the fatal car accident. This award symbolizes that I am also a student who has a lot to look forward to and could use the extra time in order to focus and prepare for these goals."
Mr. Geoff Henrion, Tim's brother, reflected upon the tragic nature of Tim's passing and the legacy he left behind:
Tim was a big personality and everyone enjoyed being around him.  Tim also had a passion for music and had a band while he was at Jesuit.  It was such a shame that drinking and driving took that all away from him, his friends and family.  Jesuit has been a big part of our lives and still is with William as a junior on the swim team, Kate as a Jesuit cheerleader and Sam as a future Jesuit student (7th grade at Christ the King).  It is a great reminder every day when I drive on campus and I see the street sign – "Tim's Way."  I hope that every year when we present the award during convocation that it makes an impression on the boys that drinking and driving is not worth it.  It is also great that we can be reminded of Tim every year through helping out a senior have an extra special year.
Additionally, Tim's nephew, current Jesuit student William Henrion '17, offered some words on the importance of the scholarship to his family:
Even though I never personally knew Tim, his legacy has always played a part in my life in the form of my name, William Timothy, and the striking resemblance I bear to him. It means so much to me that we can honor him by helping our fellow brothers in need, and I am confident that Tim would be happy that he can continue to serve even after his unfortunate passing.
Perfectly summing up the scholarship's far-reaching impact, Donovan wanted to personally thank the Henrion family for all that the scholarship has done and will do for him. "To the Henrion family, I would say thank you again for this generous gift that has been granted to me. Also, Tim's legacy lives through each recipient of this honor and he will not be forgotten because when you see an award winner, you see him as well. Lastly, it is an honor to receive this award that means so much and I will not disappoint; I will live up to the responsibility and leadership that come with receiving this honor."
Thank you for your supreme generosity, Henrion family, and may Tim's spirit live on through the many more future recipients whose lives he will posthumously transform. Tim's life was truly a blessing and we will all remember that on this 30th anniversary.
[divider style="normal" top="20″ bottom="20″]
[dropcap]T[/dropcap]he following editorial was published in the Letters to the Editor section of Volume 34, Number 2 of St. Mark's School of Texas' The ReMarker on Friday, October 17, 1986. Mr. Walt Henrion has requested that it be rerun with this article on the Scholarship's 30th anniversary in honor of Tim.
[box type="shadow" align="aligncenter" class="" width="90%"]
Dear Editor,
Can any good come out of the death of a really neat 17 year old boy? Because I hope the answer is, Yes, I have written the enclosed editorial about my son, Tim. Tim was so very popular in the North Dallas high school scene and had a lot of friends at St. Mark's.
Sincerely,
Walter S. Henrion
Editor's Note:
The accompanying viewpoint is printed on page 3. The ReMarker staff expresses its deepest sympathy towards the Henrion family and friends. We hope that this material will provoke introspection and a better understanding of the lives we live and our responsibilities to those we love.
[divider style="normal" top="20″ bottom="20″]
Reflections
By WALTER HENRION
"Don't Worry Mom – Everything is Okay!"
But everything is not okay; Tim is dead at the age of 17. Why do parents of high school students worry and fret while their teenagers feel bullet-proof, indestructible, and immortal. As a high school teenager, you are exposed to many risks: automobiles, alcohol, social pressures, drugs, eating disorders, psychological pressures, etc. There are three answers as to why we worry about you. Love is the first answer. You are a gift we don't want tarnished and certainly don't want to lose. Maturity is the second answer. Maturity is developed over many adulthood years and you have not yet had the opportunity to become fully mature. Fear is the third answer. You have rarely known fear while we have known fear first hand and, consequently, fear for you well-being. While we worry and fret, you live life often with an abandon that is the essence of youthful enthusiasm. And yet, that abandon without constraint can diminish your potential, can negatively change the course of your life, and at extreme, can cost you your life.
Many of you have personally known Tim. Tim was so good. In memory of Tim, the street in front of Jesuit will forever be named, "Tim's Way." One of his friends wrote this poem.
Bursts of laughter and gregarious smiles,
An uninhibited warmth,
This was Tim's Way.
A generosity of spirit and self,
Always ready to share experiences,
And make new ones,
This was Tim's Way.
An inclination to bestow everything with music,
Life as an album of songs to learn and sing,
This was Tim's Way.
Optimism in the face of despair,
Searching for light when darkness prevailed,
This was Tim's Way.
Devotion for people, not the material things in life,
The care and want to be there for friends and family,
Even though it was often impossible,
This was Tim's Way.
Dreams for himself, Dreams for his friends,
Dreams that brought hope to struggles,
Dreams that came true with love,
This was Tim's Way.
-Carl Pelligrini '87
As good, as loving, as responsible as Tim was most of the time, Tim was not bulletproof; Tim was not indestructible; Tim's only immortality is in death and life after death. Love your parents as they love you.
[dropcap][/dropcap]Listen to your parents, even if they don't listen to you. Exercise good common sense, in spite of peer pressure. Your well-being and your life are much more fragile than you think.
[divider style="normal" top="20″ bottom="20″]
Editor's Note:
Mr. Henrion's son, Tim, was killed in an automobile accident on August 24, 1986. Tim was a passenger in a car being driven too fast by one of his best friends, who was also killed.
[/box]