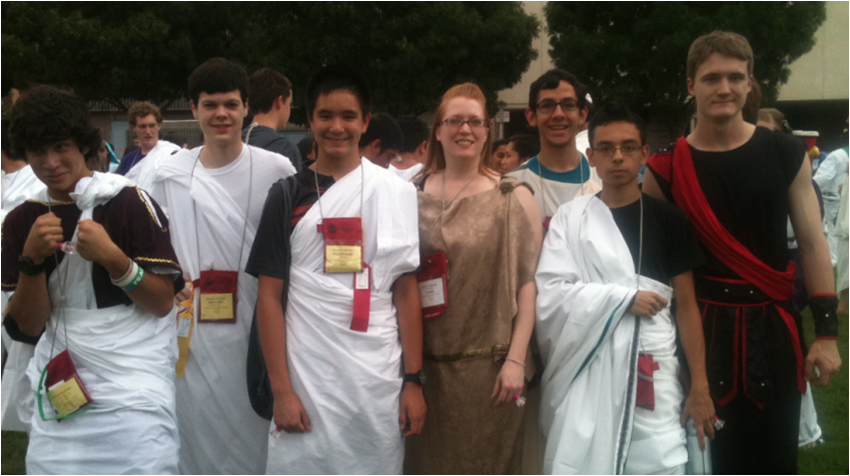 When most students hear the word "Latin," they think of just another language course, one more item on the to-do list for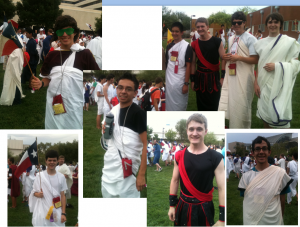 graduation. Even worse, some students dismiss the class as useless, believing that no good can come from a dead language. However, such logic could not be further from the truth. Latin serves many practical uses in present society, and has thus captured the attention of Jesuit students. Several of these young men attended the National Junior Classical League Latin competition this past summer, displaying an insatiable desire to learn. Such dedication proves a hidden truth: Latin is not dead, but alive and well in the hearts of modern enthusiasts.
Although Jesuit has competed in the Junior Classical League for decades, students have only recently stepped up to the national stage, beginning in 2012. Each year the convention is held at a different university, and was most recently hosted by the University of Nevada, Las Vegas. Matches are based on experience level, so participants from all grades stand a fair chance, despite there being over 1,200 participants. Moreover, the National competition offers four categories of events:  academics, graphic arts, creative arts, and athletic games. Such divisions allow students to pursue their God-given talents, upholding the worth of all skills. In the end, judges decide upon scores to determine overall ranking.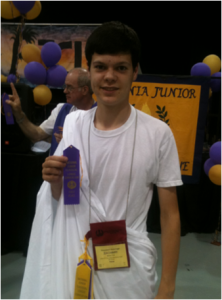 This year, Zachary Schutze returned home with a medal for his overall win in creative arts, an accomplishment that Latin teacher Ms. Vanessa Jones "never thought would happen in [her] entire career." In addition, the team earned a total of thirteen ribbons and several certificates, proof that we "have some of the best students in the country." Ms. Jones believes that "the sky is the limit" for Jesuit students as they strive to outdo themselves from year to year. Ultimately, this summer's success brings great respect and honor to our community, "turning heads throughout the nation."
While the National Latin competition abides by many technical rules, its overall purpose remains simple: "foster people to become lifelong learners of the classics." According to Ms. Jones, such knowledge serves as guide in present society for Western culture is largely "indebted to ancient civilization, government, and laws." Moreover, the Classical Junior League exposes students to new information, which most Latin classes skip due to limited time. Ms. Jones admits that "There's no way to teach the quantity of material that these kids grow to know" in a 45 minute period. Thus, students gain knowledge from both the classroom and competition, creating a "better-rounded view." And since "much of our literature, language, and arts can be heralded back to ancient societies," benefits extend to other subjects, such as English and History.
In addition to academic benefits, the National Latin competition imparts long lasting effects that influence life decisions. Ms. Jones attests to this statement when she claims "It's probably the reason why I'm a Latin teacher today." Moreover, participants gain experience that will help them transition to college. As the "students stay on campus in the dorms," they encounter a feel for what it is really like to attend school in another state, responsible for their own schedules. Furthermore "Colleges look really highly at this level of competition," helping participants reach the school of their dreams. Several Jesuit students "are even running for state and national office in the Junior League." If successful, their dedication will not go unrewarded, for "these are the students who end up going to Yale or Princeton."
While the competition proves serious, the Junior Classical League offers an array of fun activities that fill time between matches.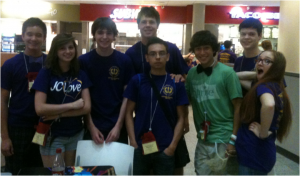 Such entertainment includes "basketball and volleyball tournaments, which the boys really enjoy playing in." In addition, "they had a swimming pool, themed dances, a bazaar for shopping, and a gaming area," which eliminated any dull moments. And for those who view Latin as the best source of fun, "they had speakers come and talk on different topics" of the ancient world, which "ranged from Cicero's philosophy to the scandalous lives of the Caesar's wives." In a way, the experience resembles a vacation, for participants explore a new place and take part in amusing activities. Yet, one must be mindful of the work that went along with it.
Nationals is open to all competitors because the Junior Classical League does not "want to exclude those who are interested in going." However, if one wishes to attend through Jesuit, they must meet certain requirements, for Ms. Jones can only chaperone so many students at a time. Thus, the number is limited. In order to determine eligible participants, students are required "to place at the state competition." This event, which is often held in San Antonio, Houston, or Austin, is a rewarding experience in itself. Moreover, "only students who are enrolled in Latin can be in the Junior Classical League," ensuring at least a basic level of experience. Finally, students looking forward to next year's competition, which will be held at Emory University, should keep in mind that "most participants prepare individually, on their own time." Looking back on this summer's success, participants should take pride in the recognition they brought to Jesuit, representing our school on the national stage.