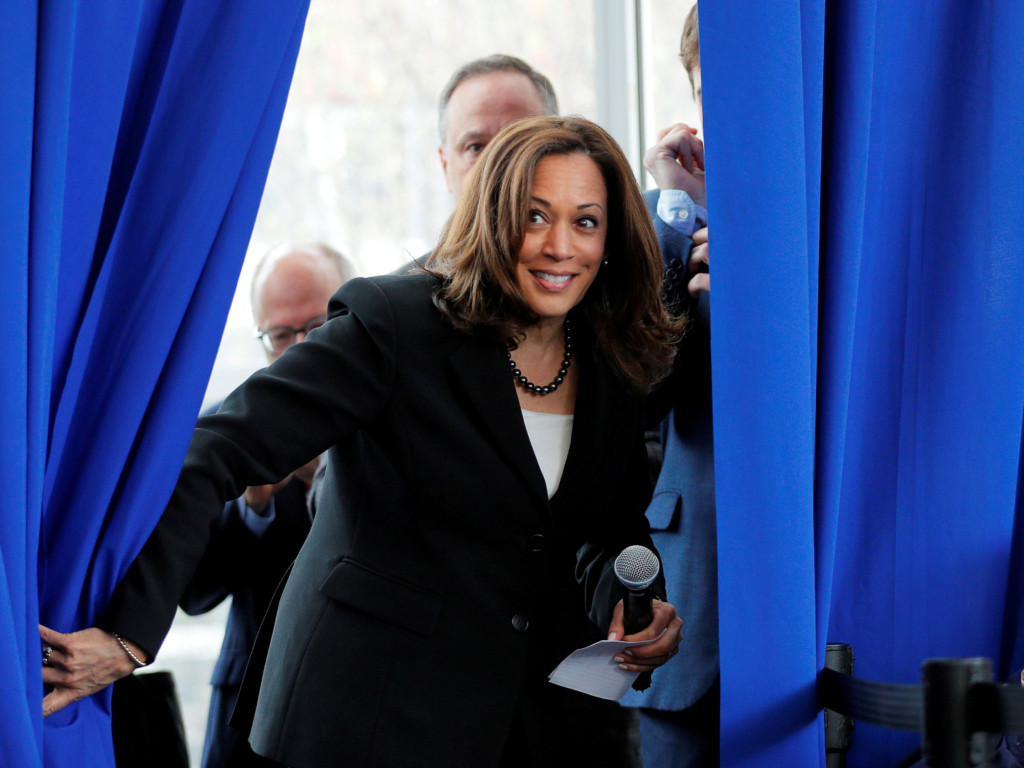 Everyone's talking about Joe Biden and Donald Trump. Obtaining 306 electoral votes, Biden, the president-elect, gave a speech a couple weeks ago to introduce himself to the country. But it wasn't his speech per-say that rallied up the country. It was Kamala, who has already made some history even before entering the VP office.
"And to the children of our country, regardless of your gender, our country has sent you a clear message: Dream with ambition, lead with conviction and see yourself in a way that others might not see you, simply because they've never seen it before. And we will applaud you every step of the way."
The Roundup decided to do a profile on Kamala Harris, because she is changing the world as we know it. Before we get into her significance as a historic vice-president elect, let's take look at her history and work as a senator.
Background 
Sen. Kamala D. Harris, who was born in Oakland, California, spent her life finding righteousness in the world of law and order. This became Kamala's passion, as she went to Hastings College, graduating with a law degree in 1989. Her mother and sister portray an inspirational figure in her life. Both strived to fight injustice in this world. Kamala's mother (Shyamala Gopalan) was a civil rights activist and a renowned scientist. Kamala's sister(Maya Harris) is a confidant political advisor who has helped Kamala during her presidential campaign. Kamala's mother named her because the meaning of Kamala meant "empowerment of women". Kamala understands the hardships that her parents underwent to migrate to the U.S. Furthermore, their hard work paid off, her father becoming an economics professor and her mother a cancer researcher. Kamala's identity of being African American and Asian did not affect her patriotism of classifying herself as an "American". 
Significance/Achievements
Kamala Harris has made history by becoming the first Jamaican-Asian-American vice president-elect for the United States of America. She says "the generations of women — Black women, Asian, White, Latina, Native American women who throughout our nation's history have paved the way for this moment tonight" motivating colored women, expressing that they're equal and can achieve their ambitions in life. They are the "backbone of our democracy". Her primary priority is on women, colored people, low- income Americans, and other marginalized communities. Kamala's influence shapes the mindsets of all minority groups, emphasizing equality throughout the U.S. Kamala's experiences as an attorney and senator, drove her to ameliorate criminal justice reform and the scope of immigration issues. Kamala Harris, a potent female leader, wants to influence, enhance, and make a difference in our world.
Student Perspectives
"I think Kamala Harris is the first black and Indian vice president is a proud moment for the two communities. When someone who is within a group of people you hold closely, this reaches an incredible level of success, furthermore, it's something that anyone would be proud of"- Spencer Jewesoon, Class of 2023
"I think Kamala Harris being vice president definitely brings and invites more hope and racial justice into the country. Her hard work ethic and willingness to help others inspires me to do more as well"- Tejas Murugesh, Class of 2023
"I think it's a historic moment in America, with Kamala Harris becoming the first woman of color to represent the U.S. as vice president. She will surely inspire a generation of young women to pursue their dreams and help them realize that anything is possible"- Anonymous, Class of 2023
"I think Kamala Harris becoming the first vice president is a great step for our country. I think this is very important, as no woman has even had such a high position before."- Kevin Babu, Class of 2023
"It came as a great joy to our nation and to my parents especially, who were born in the United States but are children of immigrants, to see Senator Kamala Harris, the daughter of Indian and Jamaican immigrants, make history when she became the first woman to be on a winning presidential ticket. The milestone also marks the start of a hopeful yet challenging era, which begins with uniting America"- Elliot Huang, Class of 2023
Check back to The Roundup for more coverage of 2020 politics!