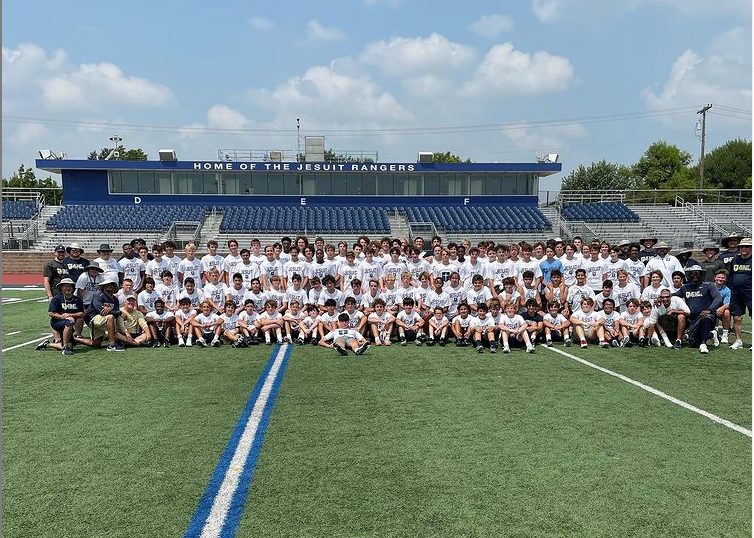 The sun glares brightly at the ball flies into the air. Kickoff just happened at Postell Stadium to a loud crowd of fans, students, and parents. The crowd is excited watching the players on the field playing their hearts out.
This year there are over enough students playing football to make six football teams, a varsity team, two junior varsity teams and three freshmen teams.
Why are so many people playing freshmen and JV football? Some are playing to meet other people or try new things. Others are playing to develop skills to play varsity one day. "They are grooming us for varsity," Chris Matthews '25 says, "The playbook we use is similar to the playbook varsity uses." It's likely that you will see this group of players in the starting line up over the next few years.
They love playing football for many reasons. Some enjoy it because they get to hang out with friends. "Part of it of course is the physical contact and being aggressive, but the much larger part would be the ability to join my scholastic brothers in another setting where we could work together to overcome adversity," says Reed Pfaffenberger '23.
Others play because they like the coaches. Zach Dsouza '25 says, "The coaches are really good, they are really nice…Coach Doogie is an inspiration."
Some play simply because they love the game of football.
The future looks bright for Jesuit football as the JV and Freshmen teams have a combined record of 20-6-2 with the freshman Blue team remaining undefeated at 7-0.  All teams have a winning record.
You can check out the players of the week on the Jesuit Football Instagram page. Link is here: https://www.instagram.com/jesuit_football_/
Come cheer on your Jesuit Ranger JV and Freshmen teams on Thursday nights as they finish out their season. More details on the Jesuit Football homepage, link is here: https://jesuitrangers.org/sports/football/schedule/2021
Be sure to stay tuned to The Roundup for more Jesuit football and sports news!