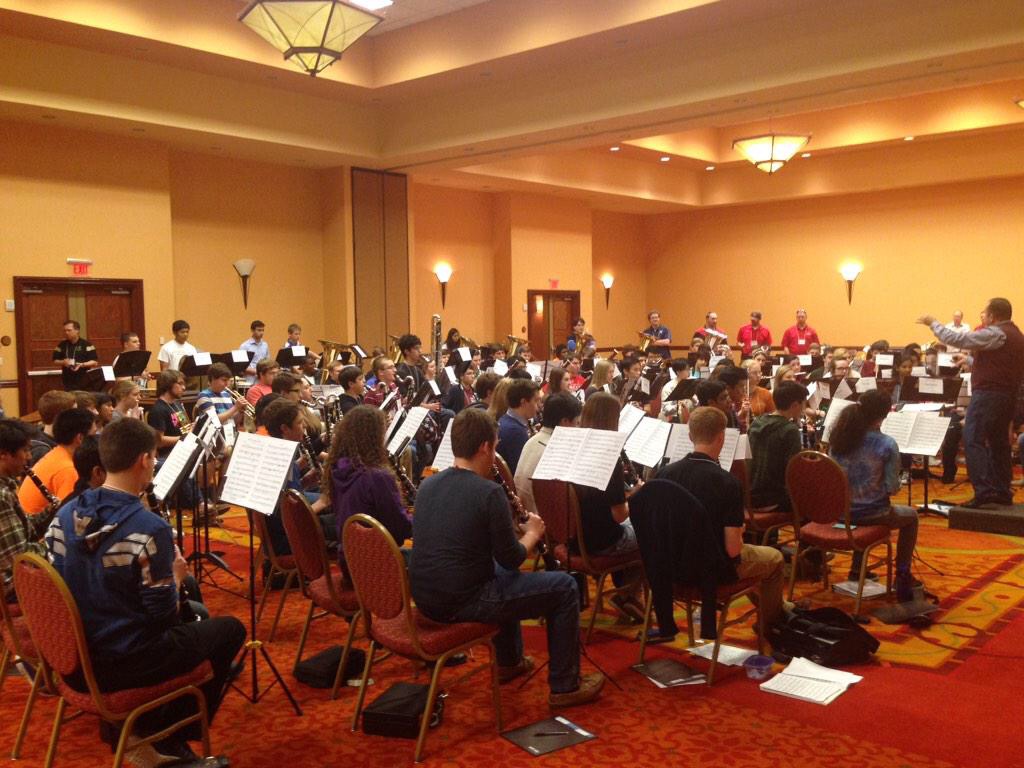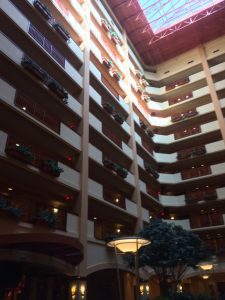 Most concert bands practice months to put on a performance, but the Texas Private School Music Educators' Association (TPSMEA) All-State Band is not like most bands. It's a collection of some of the state's most talented high school musicians, and it lasts only a short 3 days.
This year, seven Jesuit students attended the All-State weekend. In November, they submitted audition recordings. They were judged against musicians from Texas's many other private, parochial, and home schools. Only the top players in each section are invited to perform at the All-State weekend, which was held January 29-31 in San Marcos, Texas. This year, Jesuit had seven members named to this prestigious ensemble, listed below.
Benito Buksh '15 – Clarinet
Joseph Catalano '15 – Contrabass Clarinet
Dominic Iannelli '15 – Trombone
Henry Chu '16 – Trumpet
Nick Fox '16 – Tuba
Daniel Ritter '17 – Bassoon
Benjamin Miller '18 – Bass clarinet
The Jesuit band members got an early start, departing from Jesuit at 7:00 AM on Thursday. After a few hours on the bus, they arrived at the Embassy Suites in San Marcos in mid-afternoon.
Upon arrival, all band members were required to participate in a chair test to determine what music parts they will play. This was basically a second audition, performed in front of several judges. Those who did best were given the hardest parts, solos, and melodies.
JURB member and all-state tuba Nick Fox '16 noted that "it was good seeing so many people so devoted to doing more than what was required for just band and sharing their talents and hard work. Not that people in band are slackers, but it's awesome seeing a lot of people who are that devoted."
Following chair tests, music parts were printed, and the first rehearsal was held Thursday evening with clinician Kevin Sedatole, Head Director of Bands at Michigan State University.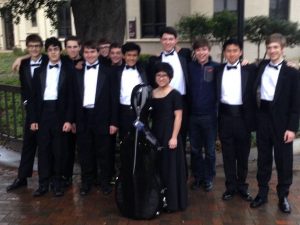 Regarding the clinician, Jesuit band director Mr. Donovan Putnam explained that "I thought he was fantastic. He did a great job teaching the group some techniques but not spending so much time on the advanced stuff that it got boring. He did enough technique, but also jumped into music and did a lot of fun stuff."
After the Thursday evening rehearsal, there was a reception for the choir, band, and orchestra members to eat cake and socialize.
Contrabass clarinetist and repeat all-stater Joseph Catalano '15 particularly enjoyed "just going and meeting with kids you remember from past years and connecting with them, spending time with kids from other schools and forming new bonds."
Henry Chu '16 echoed the message, saying that he "met people from all over the state, and we got to bond throughout the weekend."
The next day, Friday, began with rehearsal bright and early at 8:30 AM. The all-state band played a selection of challenging pieces including March and Cortege of Bacchus (from "Sylvia"), Dusk by Steven Bryant, Gabriel Musella's Don Ricardo, Dmitiri Shostakovich's Gallop, and fittingly, Frank Ticheli's San Antonio Dances.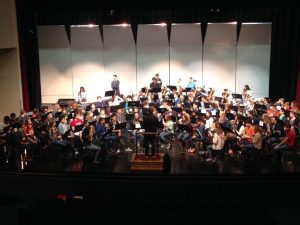 Jesuit assistant band director Mr. Zane Crownover referenced the difficulty of the music, emphasizing that "I think it's important for the leader and stronger players in the band to play with other exceptional players. Also, they get the chance to play really hard literature that we couldn't play in our own band. It challenges our strongest players and pushes them to be their best."
During the rehearsals, the directors from the various private schools across the state get the opportunity to meet and share ideas. Mr. Putnam explained that "It gives the directors a chance to have meetings and conferences with other directors across the state. So if we have issues or initiatives that we have to bring or changes for the organizations, we have the opportunity to all sit down in one place and talk about it, vote on changes if needed, amend the handbook. A lot of administrative things that we can get done together whole we're all there."
With band rehearsal all Friday morning, the ensemble took a short break for lunch, then resumed rehearsal for the afternoon. Mr. Sedatole was greeted with a loud applause after announcing that the band would end early for the day at 4:00 PM. The band would have the whole evening off. With that in mind, Jesuit students traveled to San Antonio to eat and stroll around the famous river walk.
Saturday began with yet another early morning rehearsal, beginning at 9:00 AM in one of the hotel ballrooms. There, Mr. Sedatole and the students made the finishing touches on the music. In the afternoon, the band loaded all its intern nets and equipment and drove a few miles to Texas State University, the site of the evening's concert.
Along with all-state band members, JURB typically sends several equipment workers to work on the BELT (Band Equipment Loading Team). JURB is generous enough to provide the percussion equipment for the all-state group, and the BELT is responsible for loading and unloading for rehearsals and concerts. BELT members are typically JURB members who tried out for all-state but fell just short of making the cut.
This year's BELT included the following students:
Jake Radcliffe '15
Blake Delong '16
Trevor Buckholz '18
Drew Curran '15
Two-year BELT worker and JURB drum major Jake Radcliffe talked about his experience: "So basically in the loading crew we take all the percussion equipment for the band and we load it on a truck and unload it multiple times. It's necessary for the percussion to be able to play their parts.  Usually I do homework and sleep the entire time [when not loading]." Jake continued, joking that "without the Jesuit percussion equipment they wouldn't be able to play, so basically we have the most important job of anybody in the entire band."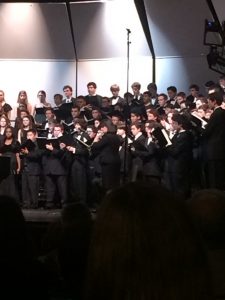 Once all equipment was unloaded from the truck, the all-state band began final rehearsal in Texas State's auditorium to check for sound and acoustics.
The Jazz Band and Concert Band performances started at 5:30 PM, followed by the Choir and Orchestra performances at 7:30. Following the concert, there was a pizza party with students and directors in the Embassy Suites lobby.
Mr. Putnam pointed out that "the highlight is always to see the concert come to fruition on Saturday." However, he added that "second to that, I really enjoy getting to spend time with the students and have fun and see the progress of all the groups throughout the week."
The next morning, Sunday, the JURB band members headed back to Dallas to conclude the 4-day trip. This would be the final year that TPSMEA all-state would be held in San Marcos. Next year, the weekend will be moved to a hotel in Dallas.
Mr. Crownover supports the change in location, citing several benefits of the switch: "There's a lot of really great things about coming to Dallas next year. One, we get to play in the Eisemann Center, which is a world class performance hall. The other opportunity is that people in the Dallas area will have a chance to see the all state concert whereas in the past it was only those who could make the drive. There's going to be some benefits. We also have the DFW Metroplex for events on Friday evening for a nice social evening. There's the Arts District, Mavs, Stars, all kinds of cool entertainment options for those who did make it it's a treat."
Though some JURB students may miss taking the trip down to San Marcos and San Antonio, they will no doubt still look forward to playing in an elite ensemble with some of the best musicians in the state.