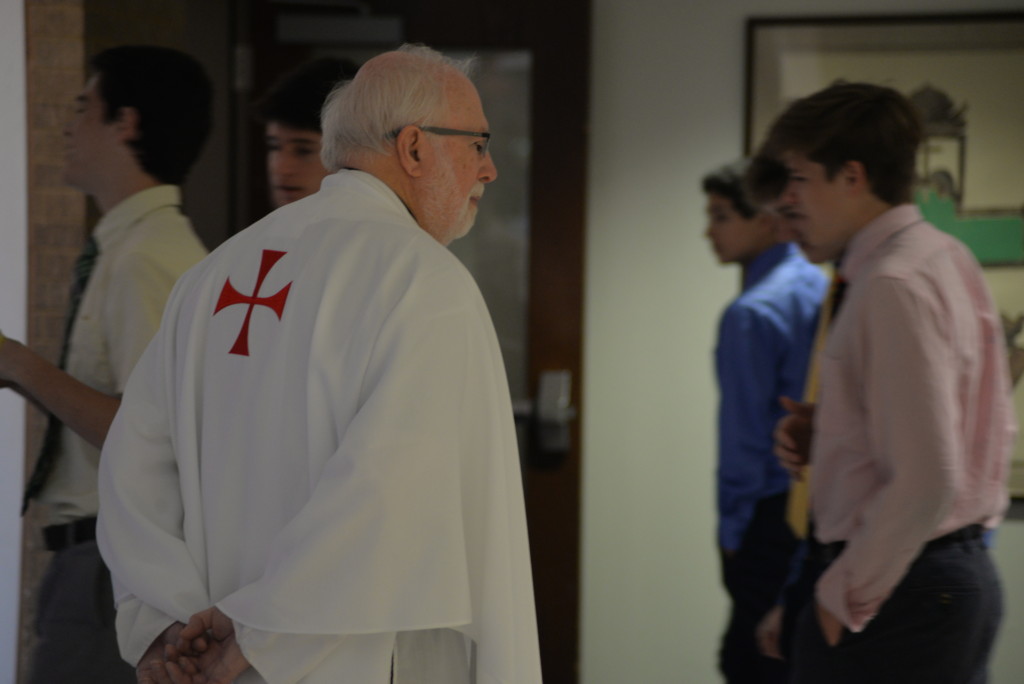 An attentive room, full of both students and parents, has many students each glancing for their own names out of the full list for class of 2019. Most masses are not the high point of these students' everyday lives, but these juniors cannot wait to gain their senior crosses, a symbol of their future leadership roles at the school that most have gone through three years of waiting for.
The Arrival
Earlier that day before this ceremonial event, the junior class arrived an all too familiar site at Camp Copass, which happened to be where there sophomore retreat was held. As the buses pulled in, already knowing the processes, the upperclassmen shuffled in for the day's activities.
Separated into groups of nine, each lead by a member of PALS, the ice-breaker activity was one of great difficulty and amusement, as students and teachers used only their backs to pass around a Frisbee.
Between each major activity, there would be a gospel reading usually accompanied by a faculty member elaborating upon the scripture passage, usually to recount a personal life story.
Junior Alex Cano stated,
"I think that it was good that it wasn't just reading scripture passages, and I liked that each time the teachers would say something interesting to elaborate on that so I could feel a stronger connection to the stories."
Other times, the break would also be accompanied with musical performances which saw Junior Sam Greilich on the piano and Cameron Crowley with a guitar.
The next ice-breaking activity saw students writing three things on a notecard, knowingly writing one false statement that the rest of his peers would have to guess correctly.
"I got to really get to know my classmates better as they would always write something interesting that I would never imagine would be true," stated Mariano Barbosa '19. Through these ice-breaking activities, these juniors fully became incorporated with the rest of the group, as they headed to the team activities.
Group Activities
The first of these group activities was a team poster that would incorporate a new Jesuit motto, separate from the ones that already existed. This was swiftly followed with a lunch that featured everyone's favorite chicken fried steak, and some recreational activities that varied from basketball to mini-golf.
Soon after, the last stretch of the retreat entailed Jesuit's own march-madness brackets in the form of senior-favorite lunch meals and things the juniors most looked forward to their senior year, which for many surprisingly saw graduation as the winner. The retreat then concluded with final speeches from Mr. Garrison and Junior Counselor Mr. McDaniel.
One of the PALS leaders, Ben Wierschem '19 stated afterwards:
"I thought the junior retreat was really well planned and organized but I think it should've involved more team/class building activities in each group and less talking."
Jesuit will always be using student opinion to help shape future retreats.
Cross Mass
This same evening also held the Junior Cross Mass at the Terry Center, where incorporated in a regular mass, each junior would obtain their senior crosses, an emblem of Jesuit that means a lot for many. The counselors announced these names in groups of five, and each one could choose out of a pool of Mr. Knize, Mrs. Farrell, Mrs. Crowder, Mr. Garrison or Mr. Earsing to receive their cross from.
As the mass concluded, the junior class, each united with their Jesuit cross left to fully enjoy their Easter Breaks after coming together as an entire class.