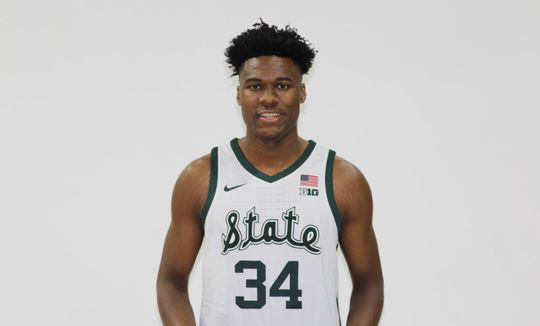 "Did you see that dunk?" "He's going to Michigan State!" If you go to school at Jesuit, you've heard people in the hallways talking about him. The one and only: Julius Marble. The 6'8 center for the basketball team is unstoppable. Dunk after dunk after dunk with a mix of three-pointers in there as well. Fortunately, the Michigan State commit was willing to sit down and discuss his life in and outside of basketball.
Q: Is a hotdog a sandwich?
A: [laughs] Is a hotdog a sandwich? If you think about it yeah. I mean it's bread just like the bun… and there's meat. I guess so yeah.
Q: When did you start to play basketball and when did you start to take it seriously?
A: Well, I always had a ball in my hand since I was younger, ever since I was one or two, but I didn't take it too seriously until my eighth-grade year. That's when I really started to take it seriously.
Q: Who is your favorite basketball player/team?
A: Probably right now it's Giannis [Antetokounmpo]. He's just crazy when he plays. He is basically a 7- foot guard. For my team, of course, the Mavericks, but they're [making me mad] right now. You know, they're losing, but you know we'll be fine next year. We got Kristaps [Porzingis] and Luka [Doncic] is doing insane so we'll be fine.
Q: What did it feel like to be recruited by so many universities?
A: At first it didn't really seem like it was going to happen because before I didn't really get that much interest, but my coach told me to stick with it and Michigan State rolled around, Oklahoma State rolled around, all these other colleges rolled around too and just showed their interest. At first, it was "Ok, this is real now, I' ma have to step it up and be serious about this and start playing hard, doing whatever I can to get there." So it wasn't too bad at the end of the day.
Q: Any goals when you're at Michigan State?
A: Definitely to put myself in the best position to be successful in my life. Not that many people get this opportunity or have the gift to play basketball at the next level and I want to take basketball as far as I can. Whether that be NBA or to get a job up there and connections up there because I play basketball.
Q: How do you deal with all the pressure you receive from scouts?
A: I never really noticed the scouts. The first time I did, it was a little weird, but it was just like any other game so the scouts didn't really bother me too much. My coach told me not to worry about it so it wasn't a big deal for me.
Q: How would you describe your last season here?
A: Crazy. I loved it. I put it all out on the line. It didn't end in the goal we wanted which was state championship, but I felt like I did everything I could to put my team in the position to do that, it's just that the cards didn't fall right.
Q: Last game of the season you played a very talented South Garland team. What was going through your head the day before, right before, and after the game?
A: Day before it was just like any other game to me. People think it was a big deal because it was South Garland and they got two pretty good guys ranked [in the top of the] nation. But for me, it was just like another day in the park because I knew those guys, played with those guys, and I [knew] we could've beat them. Just really getting in the mood. And then game day it was all about preparing myself as best as I could for the game. And so you know eating right, drinking enough water, mentally thinking about getting my stuff done and then thinking about what I need to do to get myself in the right state of mind before game time. During the game, I was all about "What can I do to win and stop them from scoring."
Q: Any pre-game/daily routine?
A: I am a little superstitious, so this year one thing I did was that on game days I wore bow-ties. Like I'm a big bow-tie guy in general but I found out that when I wore bow-ties on game days I always seemed to have a great game and we always won so I started wearing bow-ties for the rest of the season, because there was one day where I didn't wear a bow-tie and it seemed to throw me off so I was like "alright, bowties every game." So that's one thing I do. And then pre-game, I always do the same workout, the exact same way and the exact same time and if it's not that way, I make sure to rush to make sure I do it that way. I put it on time because it's like routine and if you got a routine your mind gets locked in that certain mode and it helps you perform better.
Q: Any special handshakes?
A: I wasn't too good on handshakes this year. Joey did a lot of those, he was the one who did everything. I really liked The Bow and it was really cool when I got to bow with the crowd too, that was pretty dope. The bowling one was definitely my favorite.
Q: Any advice for the JV and Freshman basketball players?
A: Just keeping working. It's gonna be hard, if it's not hard then you're not doing anything right. Just keeping working and do what you know you can do well, don't try and do anything that is out of your comfort zone, work on that on your own time. Show what you can do well and always work hard and make sure you take pride on defense.
Q: What is your motivation in life and in basketball?
A: In life: my family is my motivation. You know I've seen my mom work two jobs and seen my dad work too. My grandparents telling me that there proud of me and this and that. That motivates me every day and makes me go out and get that Michigan State offer. It's going to take me to the next level.
Q: What was your favorite/least favorite game you've ever played in?
A: I try to forget all my bad games, so my least favorite game I couldn' tell you. Probably the last one because we lost but I felt like I still played a great game, so I did all I could. As far as great games, it's probably the one we played before my birthday. We played Arlington Martin. It was funny because the night before my dad was talking about how, he was just messing with me, how Max scored 30 and I have never scored 30 so he was just bugging me about that so it kinda pissed me off and so the next day I scored 30 just so I could you know [show my dad]. It was funny. We ended up winning too so that was my favorite [game] in the fact that we were down 15 at half[time] and this was after we took a loss to Wagner the day before so Coach was VERY frustrated at halftime. He was like "aw you know we gotta figure this out, and now we go out there and do what we gotta do to win this game." So we're down 15 and when we go out there it goes up to 20 and Coach calls a time out, and next thing you know [snaps] I just flipped the switch and we end up winning by like 10 or 15. I love that game.
Q: What is something people might not know about you?
A: Oooo, I don't know. I'm a big Snapchat guy, I don't know if a lot of people know that. You know I'm always attached to my phone, but I've limited a lot since the season has been over. I'm trying to stay off of it because with Michigan State stuff, people have been blowing up it up a little bit and it's getting a little annoying. But yeah I love Snapchat a lot.
Q: What other sports did you play besides basketball?
A: Yeah I played football, that was my first organized sport actually. I played football when I was like 3 and then 8th grade, I just hung up my cleats and I knew what my calling was and that I didn't love football enough to do it in high school.
Q: Has basketball been your dream since you were a kid and if not what was?
A: Yeah it was a dream because my dad played basketball and that's what kinda motivated me to play. Our whole household is basketball. Basketball this, basketball that. We always watched it and my dad played it, so we basically lived basketball. So it was definitely a dream of mine to play basketball. It was always the NBA. What can I do to get to the NBA, I want to be in the NBA, I want to play against the greatest, I want to be the greatest. That's been my dream since I was a kid and it still is now.
Q: Any hobbies?
A: Hang out with friends a lot, go out to watch movies. We had this thing where it was every Saturday we used to go out and eat with the team, I would still like to do that with my friends. I like going to eat out with friends. Sometimes we try places we've never been to before. But that is one of the things I like to do.
Q: Any clubs?
A: I was in the Junior Classical League for Latin and I LOVED it, but it was around the same time as basketball, like with the big meets and stuff, so I couldn't really always be there so I had to quit it this year because I had to focus on basketball totally. I loved that club. I was also in the Jesuit Multi-Cultural Club, I went to a few meetings this year when I could.
Q: Michigan State! How did you feel when you got that offer or any thought or comments about that?
A: When I got the offer… well he [Tom Izzo] came up and I did a workout for him and it was like "Yo, this is crazy. Tom Izzo is right here." He's one of those guys I see on TV all the time. He is a celebrity to me, some people might not know who he is, but it freaked me so much. Not as much anymore because we talk all the time and I went to a visit right before spring break and he's such a great guy, I love him. He's very honest and he is going to tell you how it is and what you need to do. He told me straight up, "This is what you do well and this is why I like you but you need to work on this and do this" and the way he did that and even though he was trying to recruit me made me like him so much more. And the guys [at Michigan State] are GREAT and the coaches are great, so I knew for sure there was no other school for me.
Q: You got invited to the Big Baller Game, tell me about that.
A: Yeah I leave next week actually. I think it is Thursday or Friday. I was kinda pissed though because I'm on the same team as LaMelo. I didn't want to do that. I wanted to go against him so if he goes up for a dunk I could knock him out or something. The coolest thing I get to do is play with my new teammate, Rocket. So yeah that will be fun.
(This interview was before the Big Baller All American game so you can look up the game highlights.)
Make sure to support Julius when he gets to college and be sure to stay tuned to The Roundup for more interviews.