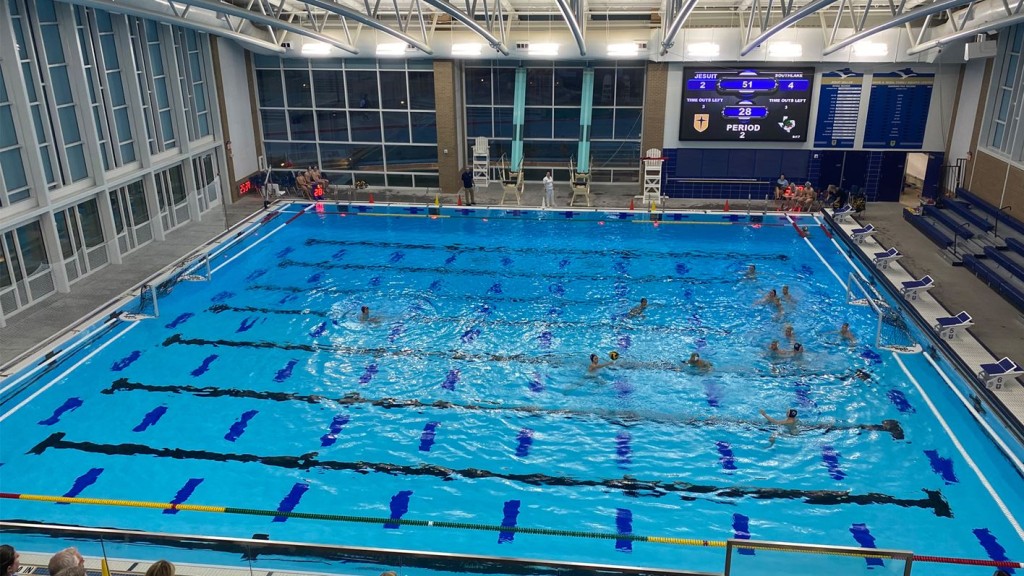 Although being a considerably smaller and less well-known sport, Water Polo still remains one of the most strenuous and physically demanding sports in the world. Competitors remain treading on water for 7 minutes at a time, whilst throwing around a water polo ball in an attempt to throw it in their opponent's goal. Jesuit Dallas possesses a water polo team of its own, consisting of a junior varsity and varsity team. With the water polo season wrapping up, let this article be a commemoration of their success thus far this year.
History of Water Polo
In 19th century Great Britain, wealthy British vacationers would play in the water whilst passing a ball around, which eventually evolved into the modern-day version of water polo. In 1911 the sport was split into two camps, the more aggressive and body style contact version played in America, and the more skills-focused version played in Great Britain. Either way, the sport was officially added to the Olympics in 1900 and has remained a staple athletic event in the Olympics ever since. Interestingly enough, Hungary and Serbia, have historically been the best in Water Polo at the Olympic games.
Coming to America in 1888, Water Polo in the US adopted a more aggressive style of playing than back across the pond. Similar to rugby, the American style became popular in New York and California but remained confined to more affluent families who could afford the facilities, training, and equipment used in the sport.
Water Polo became a sport in Jesuit Dallas almost 10 years ago, and with the construction of the natatorium in recent times facilitating practices and training has been much easier and more efficient. For the last 2 years, however, Jesuit Dallas has not fielded a water polo team and so they're coming off a few years of inactivity. This season will help them readjust to the sport and offer tough competition to propel them into the next year's season.
Season Recap
So far, the water polo team has notched 4 wins over schools such as John Paul II, Irving Independent School District, and Denton. The team's combined record is 4-3, and as the season continues more games will occur later in the spring. The team has traveled to Houston but mostly plays regionally around the DFW areas. A mix of public and private schools makes up the competition for this year's water polo season. Interestingly enough, the sport is being added to the UIL roster of sports and thus will have a permanent year-round season.
For the rest of April, Jesuit Water Polo will play 4 games on April 5th, 8th, 12th, and 15th. On April 5th and 8th, Jesuit Dallas will face Hebron and on April 12th, the team will compete against Denton Guyer. Finally, Jesuit Dallas will tumble with a multitude of teams from across Dallas in the Keller ISD Invitational.
Interview with Coach Gall
I conducted an interview via email with Coach Jason Gall about the water polo season, details on the sports' history within Jesuit, and what the future holds for the team.
How long has the Water Polo team trained for this season? 
We started last Summer with about 12 guys. Of those 12, only about 7 or 8 are currently on the team.  We've picked up more guys along the way and currently have 21 guys between our JV and Varsity groups. We have been lifting 2-3 mornings per week since the fall.  We had afternoon practices Monday through Thursday since the fall as well.  Some of those practices only had 2 or 3 guys in attendance as kids were participating in other sports and some guys still didn't really know that we had a team.
When did the Water Polo Season start?
Our first game was Feb 26th. We have quite a few kids that also swim, so as swim season finished up, those kids transitioned over to water polo. Feb 14th is really when we started practicing 6 days a week and added morning conditioning practices.
How has the season progressed so far?
It's been great. We actually won our first 2 games that we played against Denton and Denton Guyer. We really didn't know what to expect as we had no previous season to go off of. We then faced off against several of the top teams in the region and in the state.  St. Marks, Southlake Carroll, Strake Jesuit… All top 5 in the state.  Although the scores were not close, playing those games early in the season allowed us to really understand what we need to do to compete at the highest level. The guys have really bought into the training and the discipline needed to compete with the top teams in the state. Every weekend I see remarkable improvements both individually and as a team.
What is left in the season? Will the competition become more difficult as time goes on?
We have 2 games this Friday at the Hebron Tourney. Then 2 games the following weekend at the Keller Tourney. Then we will participate in the northern regional championships April 22-23 in Flower Mound. The goal is to get top 4 and qualify for state. We are currently ranked 7th in the north. I wouldn't say that the competition will get more difficult, as we have already played many of the top teams in the state. We know what to expect and we just have to keep improving each day.
What are you looking forward to next year in terms of the team's performance? 
We are graduating 4 starting seniors this year and all have had a significant impact on our success this year.  Their shoes will be hard to fill. Next year water polo becomes UIL and moves to a fall sport. This means we only have about 3 months after the conclusion of this season before we start our next season. Next year will not be easy as we have been placed in arguably the most competitive district in the state. But I am confident that we will rise to the occasion.  We will build off of the successes of this year and if we can make regionals next fall, I'm confident we will make a deep run in the state tourney.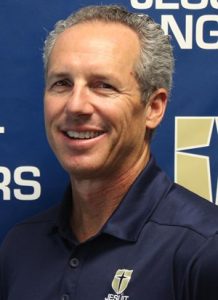 Jesuit Water Polo's Form and Techniques
I talked with Mr. Gall on the different styles of Water Polo and what style Jesuit Dallas has adopted. Here's what he had to say:
Well in Europe water polo is generally more popular there than here. They tend to attract the best athletes that their countries have to offer.  These athletes are also typically just bigger than the American water polo players.  So the Europeans will tend to try and beat you with force and size and outmuscle you. The Japanese in contrast, have developed a very unique style of play that revolves around using their quickness and speed on both the offensive and defensive side of the ball. American style is somewhat of a hybrid of both of these styles.
Here at Jesuit, we are developing a style that plays to the strengths of the guys on the team. We are using a blend of quickness, power, tactical positioning, and working to put ourselves in position both individually and as a team to be successful.
We are still evolving and developing however as time goes on I think you will see that we will have a very fluid style of play with good ball movement team cohesiveness. Defensively you should see a defense that does not allow many easy opportunities for the opponents.
Senior interviews
I conducted interviews with seniors Connor McSorley, Antonio Vela, James Paredes, and Samuel Steffler, asking them about their personal experiences playing Water Polo and the team's performance so far in the season.
Senior Connor McSorley stated:
This is my first year playing water polo actually, so I didn't really know a lot about the previous history of Jesuit Water Polo. I joined because I knew my friends were doing it and it seemed like an intense interesting sport that was new, fun, and different. Right now, we are 4-3 on the season in the region with wins against Denton, Guyer, John Paul II, and Irving. We have 4 seniors, me, Antonio Vela, Sam Steffler, and James Paredes. We also have some experience sophomores on the team that start with us, including Domonic Arra and Teddy Scherer, as well as Nicolai Valenta. We traveled to Houston for a tournament on the weekend of March 25-26 to play 3 games.
Senior Samuel Steffler remarked:
I have been playing water polo off and on for the better part of 5 years. I played for about 8 months during 7th and 8th grade, all of the freshman year, and from the end of Junior year until now. Historically, Jesuit Water Polo has been behind the average teams from my personal experience. In my only full season, we were the consolidated regional champions, essentially the best in the losers bracket. We were athletic but inexperienced and needed a lot more than 3 practices a week to develop into a solid team. I was drawn to water polo because I was a swimmer and found playing the game was way more fun than just swimming laps.
So far the season has been very challenging but rewarding. Every tournament I see the team grow as we continue to improve upon our mistakes. We practice 9 times a week at the moment which is grueling but necessary in order to be where we want to be in the next couple of weeks. There are 4 total seniors on the team, James, Conner, Antonio, and I. I most often play to the right of the other team's goalie because it gives right-handed players a better shooting angle. I play with Nicolai and James at the moment. I am also the team sprinter that races at the beginning of each quarter for possession of the ball. We don't usually travel further than DFW but we recently went to Houston to play Strake Jesuit and some other Houston teams.
Antonio Vela said:
I've been playing water polo off and on for four years now, I played my freshman year but our sophomore and junior years were canceled because of COVID. Our program was relatively new my freshman year, but we had won the Consolidated Regional Tournament a couple of times, including my freshman year. I really wanted to play water polo after hearing about it from the seniors on the swim team during my freshman year, they convinced me to start playing and I enjoyed it immediately.
This is the first year under a new coach and many of the players are new, so it was difficult to transition into playing as so much was new to the team. However, we've been progressing very well throughout the season and I'm very happy with the team's dedication and commitment to improvement. There are four seniors including myself, Sammy Steffler, Connor McSorley, and James Paredes on the team. We've had one travel tournament ever and it was a couple of weeks ago, we went down to Strake Jesuit and played in a tournament they hosted.