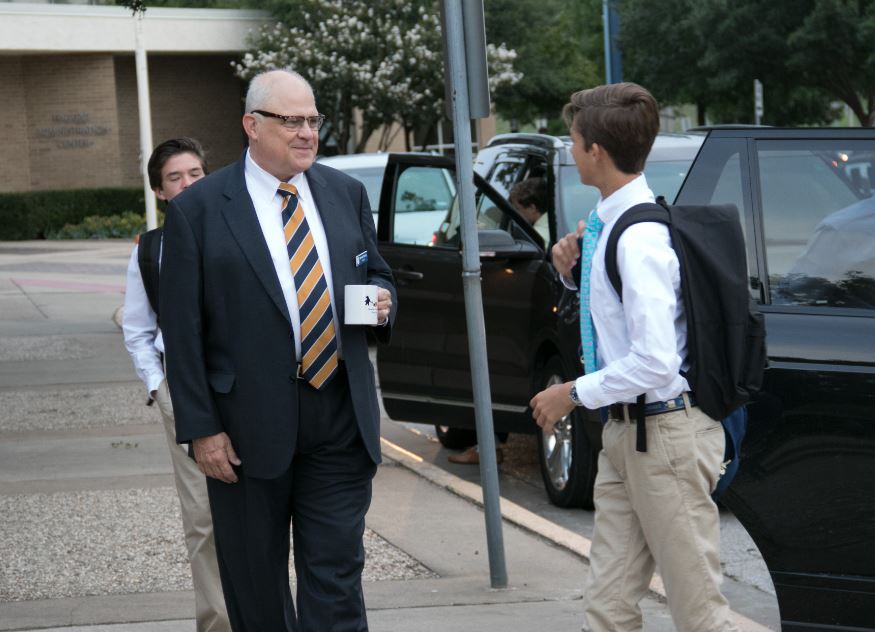 "The crest and crowning of all good, Life's final star, is brotherhood."- Edwin Markham
Summer has ended, and while no one is excited about the workload and challenges the coming year will bring, Jesuit students are glad to be back. I had the chance to sit down with some fellow students to hear how they have been managing the first week back.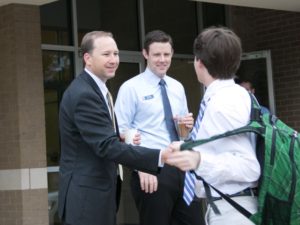 Freshman Year
Freshman year, while not the most academically challenging, is the most socially difficult, as students have to make an adjustment and cope with coming to a new school.
Imjai Utailawon '22 gave his personal experience of freshman year: "My first impression of freshman year at Jesuit is that it is really surprising how friendly and open and caring everyone is to each other." Additionally, he shared sentiments about wanting his freshman class to grow together. "I'm really excited about making new friends and sharing new memories and experiences with the friends I make. I have learned that Jesuit is the place where people can grow and learn how to better themselves."
In the end, I asked him what was the biggest change from middle school, and I found it similar to what I discovered my freshman year. "The biggest change I've noticed at Jesuit is the relationship between students and teachers. The teachers do much more than just teach the students; they actively try to help the students succeed and transform them into the better versions of themselves," said Utailawon.
Sophomore Year
Sophomore year, the odd gap in between upperclassmen and freshmen, finds one a little wiser, a little taller, and, not surprisingly, working a lot harder.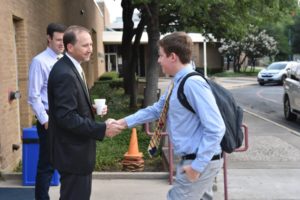 For Adam McCutcheon '21, "it already feels much harder and much more real than my freshman year was." Additionally, he notes the biggest gift Jesuit has given him. "My time at Jesuit has really helped me to grow, both in knowledge and in life experiences."
After his first year at Jesuit, he has some critical advice about freshman year to share:  "I think that the most important thing for the freshmen to keep in mind is that the habits you develop in the beginning are hard to break from, so you should try to form some good habits from the start."
Junior Year
Junior year, my own class, is a new experience where we have to adjust to being upperclassmen, as well as prepare for SAT tests and college applications.
I got to hear the opinion of respected theater and band member Trevlan MacGregor '20 regarding his thoughts on the first week back in school.  According to MacGregor, "I have been looking forward to coming back to Jesuit, and it felt like a homecoming to be back in the hallways of the school. There's a specific feeling whenever I enter the building that just improves my mood to walk and see my fellow Jesuit brothers and teachers again."
When asked about the changes from the previous year to this year, he elaborated about the difficulty: "Junior year has been an interesting start. It didn't catch me as off guard as sophomore year did at the beginning. I can't say the workload has become necessarily harder (yet), but it is different. I like all my classes so far and I'm looking forward to the rest of the year to shape into a memorable one."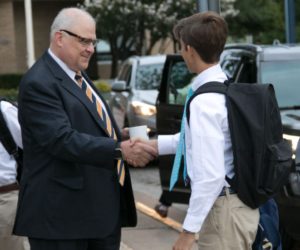 He also shared his favorite memories of Jesuit so far. "Some of my fondest memories, in general, have come from Jesuit. Every show I've done for theater has been an amazing experience, especially Catch 22." He continued, "I recently attended my first football game for marching band, as I only joined JURB last fall for concert season. The game was so fun. Performing the show, even with only the first movement, proved to be a highly satisfying experience to see all the weeks of work come together." MacGregor added that "even in the classroom have I had some wonderful memories, especially in AP World History."
To improve his academic life this year, MacGregor and many other students are taking active steps to prepare for the increased workload.
"This year I have made sure to start early habits to make sure I am successful in the long run for my classes." MacGregor's most central advice to all members of Jesuit is this: "Find your passion as soon as possible. Once you find what you love, you only have a certain amount of time to experience it. Four years sounds like plenty of time, but it's far shorter when you look back on it." He added, "don't throw away your current passions. Hold onto what you enjoy and add onto it, as it will shape you into a well-rounded and better person."
He ended by expressing a sentiment that exemplifies the fraternity that the school strives for, stating that "Jesuit is the greatest family (other than my real one of course) that anyone could ever have. The students, teachers, and other staff are all great people whom I deeply respect and am grateful for. A.M.D.G."
Senior Year
Senior year students are the leaders of the school, and are anticipating their last hurrah. While excited to be nearing the end, they will likely never forget their time here.
I luckily had the chance to interview senior Luis Lopez, who is looking forward to his last year. "Coming back to Jesuit, I felt incredibly excited to be back. I was excited about being a senior, having new classes, and especially for being in the band once more for the final time," Lopez stated.
As he reflected on his previous three years at Jesuit, he remarked on some choice moments from his Jesuit career. "My fondest memories so far have been going to the football games. The experience of playing for Jesuit, being with my friends, and getting to visit many schools has always made me excited and happy." He also wanted to note some important advice for the freshmen: " It's okay to be nervous, it's only natural when you're going through new things in high school. But if you are open to anything and have your friends with you, you experience memorable moments."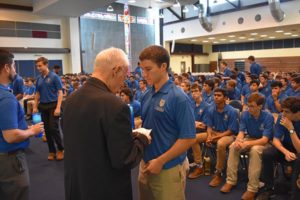 Lopez himself hopes that during his senior year, he can strive to "make sure that I not only have a great and amazing year, but to make sure that everyone around me can feel comfortable, happy, and pleased that this year will be great."
All in all, while 2018-2019 is chronologically just another year, for those of us here at Jesuit, it will surely be one we remember for a lifetime.
Stay tuned to The Roundup for more information about Student Life and Academics!
Photos by Carl Quist '19