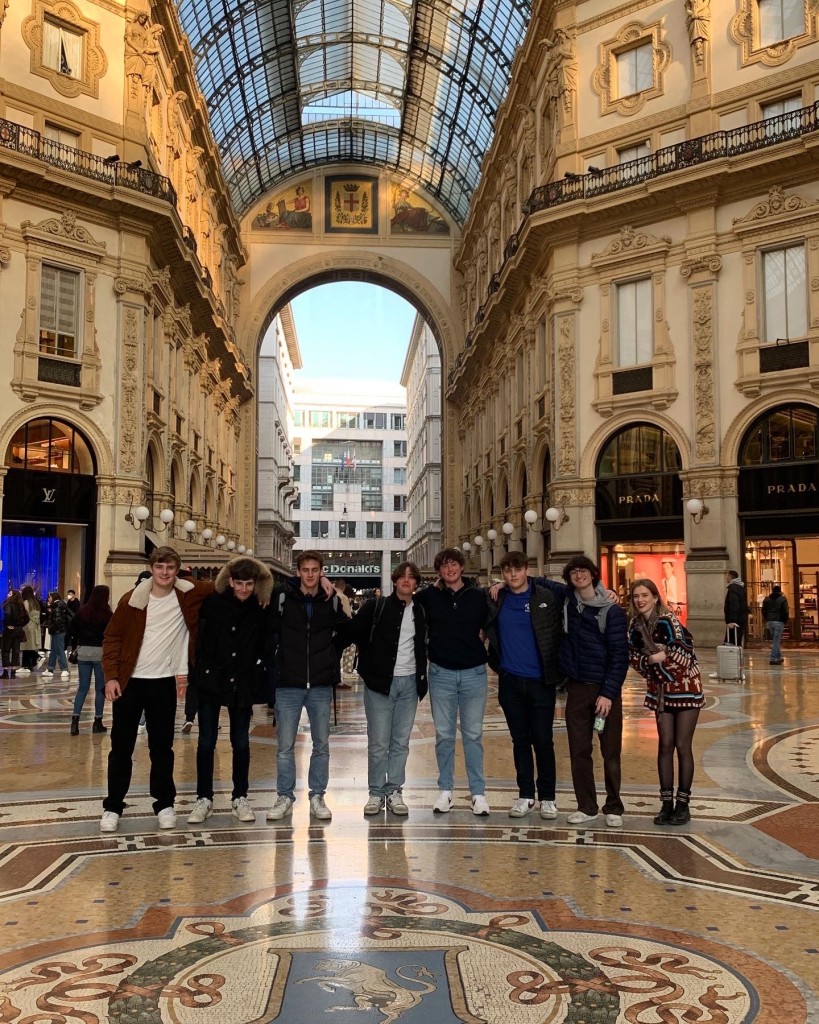 It was an early morning. Our group for the 2022 Italy Exchange Trip gathered at the DFW airport at about 7:00am. Myself, along with Jack Puorro, Avery Towns, Sam Pizza, George Horvat, Grant Richey, Tyler Pruitt, Travis Bruce, John Risinger, and Liam Placke were getting ready to spend the next two weeks traveling across Italy accompanied by Ms. Druebert and Mr. Pointer. We all boarded the plane and headed off to Newark, where we then flew to Milan, Italy.
After collecting our bags, we met up with the exchange students that Jesuit hosted during this year's first semester. I had been paired with a guy named Alessandro Conti. This was my first time meeting him since I was unable to host in the Fall. I met him and his parents, and we headed home. Everyone got settled, ate, and eventually we all met up again to play some football. I got to know all the Italians better, along with the Jesuit students I hadn't really met yet.
The next day we attended class at Instituto Leone XIII. We were present for a Chemistry class, Philosophy class, and a history class. After we were let out, we played some football against some of the guys at the school, then headed home. We went back out for dinner, and we were taken around the Galleria, and saw the Duomo.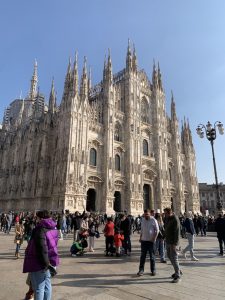 The next day, the highlight was seeing The Last Supper. It is in this little chapel near the center of Milan, and it was just recently restored. Along with that, we were taken around all of Milan by one of Instituto Leone XIII's teachers. We saw the castle in the city, many statues, and a museum holding beautiful pieces of artwork from different points in history. Afterwards, we all went out together to a pub, watched some football, and enjoyed each other's company. That night, we all packed for the next couple of days because we were taking a trip with our host brothers to go to Verona and Venice.
We woke up early to catch the train to Verona. It wasn't a long ride, and we got off in the early afternoon. The teachers took us around the center of the city, and we ended in an amphitheater not dissimilar in structure to the Colosseum, just much less grand, and far less preserved. We were then sent off with the students as our guides, and we were taken around the city where we all ate, and saw the Juliet house, which is where the story of Romeo and Juliet comes from. We then got together again so we could board the train to Venice, which is where we arrived that night. We had dinner, and were allowed some free time before bed.
The next morning was a tour of Venice, primarily of St. Mark's Square. This holds a huge chapel dedicated to St. Mark, and it is magnificently decorated on the inside with gems and lots of gold. Afterwards, we were allowed to explore the city, and I picked up a black and white rosary made of Venetian glass, which is something Venice is known for. We returned to Milan that night, and packed up since it was our last day with our host brothers.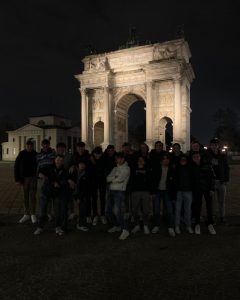 We said our goodbyes Saturday morning, and boarded the train to Florence, our next destination. That day is where our trip turned a bit for the worse. Myself, along with Sam woke up feeling sick with a stomach bug that would eventually make its way through just about all of us. It kept Sam at our hotel in Florence, and I trudged through the day not feeling well. We were taken around Florence by Ms. Druebert and Mr. Pointer, and we saw many notable things, the most important of course being Michelangelo's David. If I weren't sick, it may have been more enjoyable, but nonetheless it was an amazing thing to see. The next morning we had mass in the Duomo in Florence. We had lunch, and headed to Rome. We met up with a former Jesuit student named Reed who would be our guide for the remainder of the trip.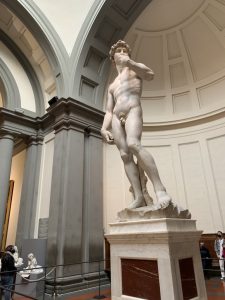 For our first full day in Rome, we toured the Colosseum, which is quite honestly smaller than it seems in pictures, but amazing nonetheless. Along with that, we walked through the Ancient Roman Forum, which was the city's center. This was extremely interesting as we were able to see the city structure, old buildings, and ruins of what used to be part of one of history's greatest empires.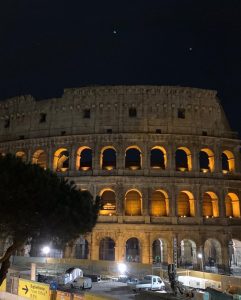 The next day was the day we got to go to the Vatican. St. Peter's Basilica is probably one of the most amazing things I have ever seen. The insane amount of skill and detail within all the statues, tombs, columns, and every aspect of the building is mind blowing. I could spend so much time in there just looking around, taking it all in. The day after, we took a day trip to Pompeii, one of two cities buried by Mt. Vesuvius' eruption many many years ago. Afterwards, we drove down to Sorrento, a coastal city that overlooks the Bay of Naples.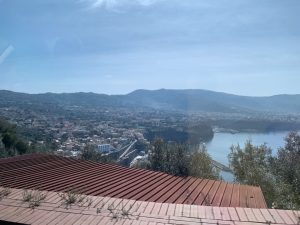 Reed took us to The Catacombs of Rome, which are underground galleries used for centuries as cemeteries. Here, the pagan citizens, Jews and the first Christians of Rome were buried after being persecuted and killed. Throughout the day, we also saw some of the ancient aqueducts, which brought water to the city. Along with that, we saw the Appian Way, which is the main road in Rome that is still in use today.
The next day was the most meaningful to us as Jesuit students. We had the opportunity to go to Ignatius' apartments, where we had mass led by two Jesuits studying in the area. We were able to see his old rooms, garments, furniture, and his work, all of which is preserved. Then, we went to the Chiesa del Gesù, which is where he was buried. It is an extremely ornate tomb, with a 16th century mechanism that lifts up a painting of him, revealing a silver statue of Ignatius. It is an amazing display, which ironically, Ignatius would most likely disprove of since he was all about simplicity and getting away from the affluent lifestyle. We said goodbye to our new Jesuit friends, and went back to our hotel, packed up, and got ready to head home.
That morning, we woke up very early, a few of us still sick from the bug going around, and we said goodbye to Italy. We took our flight back to Newark, and then flew back to Dallas where we were greeted by our families and taken home.
This trip was an amazing experience. I am not one who likes to travel much, but this was definitely a trip worth taking. I would go back every year if I could. I highly recommend being a part of the Italy Exchange Program if possible. It is something I will forever remember, and will forever cherish.