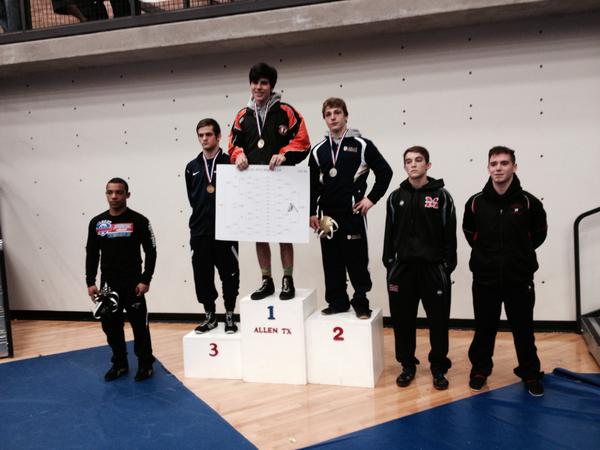 The Jesuit Rangers Wrestling team recently ended its season on a strong showing, including Senior Shane Ross' qualifying for the state tournament in Garland.
The team sent three qualifying senior wrestlers to the UIL 6A Region II Tournament in Allen in February, Seniors Dylan Yhap, Reagan Mathes, and Ross, with hopes to qualify for state.
Yhap and Mathes both came into the tournament unseeded, hoping to upset their opponents and get some victories to earn a bid. Mathes advanced far into the tournament, winning his first two matches before eventually losing to last year's 4A State Champion Stephen Dieb of Highland Park in the semifinals. He then unfortunately lost his next match in the consolation bracket, finishing 6th in the 145 pound weight class. Yhap was unable to do so, losing both of his regional matches against very tough opponents.
Head Coach Ryan Menard commented on Mathes' amazing effort, saying, "He had a great tournament. He wasn't seeded heading into the tournament, so to finish sixth is impressive."
Ross, who entered the regional tournament seeded third, easily breezed his way to the finals of the 132-pound weight class. In this match, he faced a familiar opponent from Rockwall, Andrew Hyde. It was a tough match, a battle between two highly-skilled wrestlers. In the end, Ross lost to Hyde to finish second in the tournament; however, this second-place finish secured him a spot in the state tournament in Garland.
Ross described how his defeat to Hyde impacted him: "My upsetting defeat in the regional finals truly motivated me to elevate my training and dedicate myself to the state tournament. I put my heart into wrestling and competed with a passion, honestly desiring to win."
He also reflected on the arduous journey to State, saying, "This year I competed in arguably the toughest weight class in the state. Therefore, I would say my road to the state tournament was considerably tougher than other years, due to my more skilled opponents."
At the State tournament, Ross defeated his first opponent Andrew Ulrich from The Woodlands, but then encountered some difficulty in the ensuing matches. He lost the following match to Hunter Roberts, who he had beaten earlier in the year at the Texas Outlaw Tournament, in the quarterfinals, and unfortunately couldn't redeem himself in the consolation bracket against Chase Kelley from Cibolo Steele. With this loss, Shane was officially knocked out of contention for a top five finish in the tournament.
Menard explained that Ross didn't have as much success this year as opposed to previous years because of the overwhelming strength of his weight class. "A lot of it had to do with the weight class… They were taller, bigger… His training was on, his work ethic was on, but the level of competition was better than what we've seen in previous years," reflected Menard.
To illustrate just how tough the weight class was, Roberts went on to finish fifth at the tournament. Furthermore, Rockwall wrestler Andrew Hyde, who has beaten Ross multiple times this season, could only muster a fourth-place finish, and Amarillo wrestler Talen Erwin, a 4A State champion last year, finished third. In addition, Ross had consistently beaten wrestlers who placed at State this year in the 126 pound weight class, showing how much better the competition was in this weight class.
Ross, while disappointed, responded to the result with class and optimism. "In the quarterfinals, I ran into a formidable opponent who I had barely defeated earlier in the year. He wrestled a smart match and earned a hard fought victory. Additionally, in the consolations, I also faced a tough opponent and gave up a lot of size, losing another battle. My performance was honestly extremely frustrating, as I truly feel I am one of the best kids in the state," he said. "These losses did not come as a result of my preparation or passion for the sport, as I truly feel that I had completely committed myself to this tournament and prepared myself for victory to the best of my abilities. However, sometimes life doesn't always go your way and what's important is the lessons that you learn from your losses."
Although he didn't finish the season the way he wanted to, Ross still culminated his career as one of the most decorated wrestlers in Jesuit history; he fell just short of becoming the first ever Jesuit wrestler to place in three State tournaments. A record of 109-22 over three years of varsity wrestling and two state tournament top-5 finishes are no small feats. He reminisced on his exceptional four years as a member of the team:
"My Jesuit wrestling career has, overall, been an incredible experience. Under the guidance of my amazing coaches, I have not only developed into an experienced and successful wrestler, but also learned many life lessons, such as the value of determination and passion, humility in my wins and losses, and the importance in overcoming adversity and persisting through both physical and mental exhaustion. I am truly confident that these lessons will prove immensely important later in life and know they have transformed me into the man I am today. Go Rangers!"
Menard reiterated Ross' importance to the program over the past for years, reflecting on the impressive body of work that Ross put in. He said simply, "He's had one of the best careers that I've seen during my time as head coach."
Menard also wanted to express gratitude toward those who supported the team throughout the entire season, including faculty members and friends.
Now that the season has officially concluded, the team will celebrate the season with their banquet on March 17 in the Terry Center. After that, the focus will be on improving its numbers, getting more students interested in joining the program in order to soften the blow of losing six seniors and to see better team results in matches and tournaments. With hard work and dedication, hopefully the team can surpass their performance this year and a state champion will emerge.