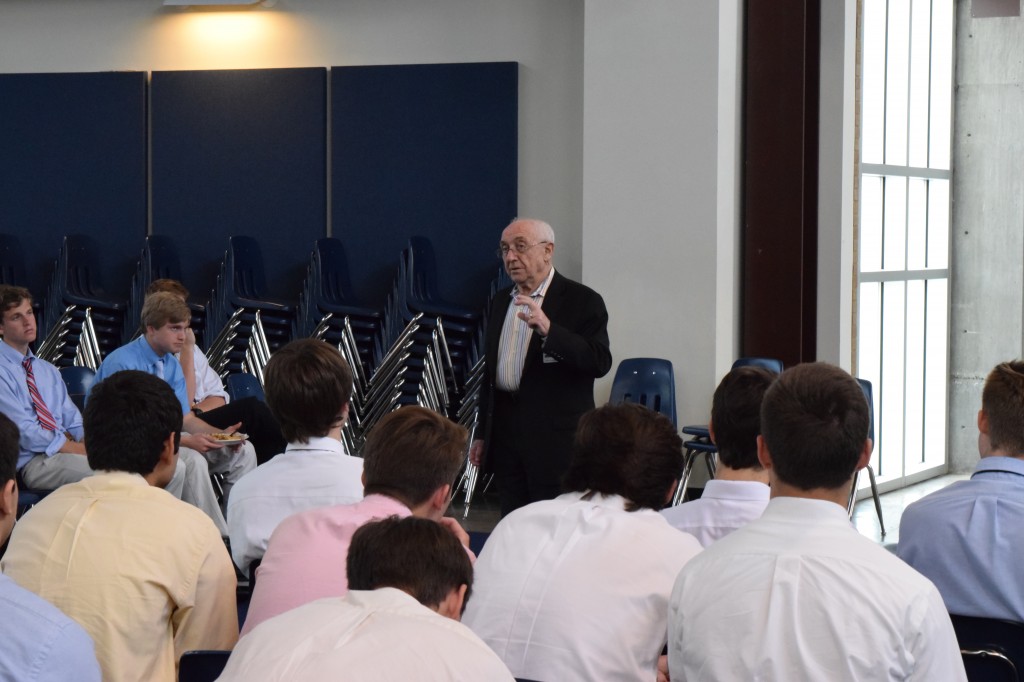 German soldiers use hand grenades to exterminate all signs of life within the homes of Jewish Poles in the Warsaw Ghetto. Failing to massacre every Jew in hiding, they send the survivors to concentration camps throughout Poland and Germany. This is one of the many events witnessed by Max Glauben. On April 7, Jesuit welcomed Holocaust survivor Max Glauben, who spoke to seniors during fifth period. Telling his powerful story of survival, Mr. Glauben made a lasting impression on Jesuit's seniors.
Mr. Glauben is from Warsaw, Poland where he witnessed the violence of the Warsaw Ghetto uprising. Along with his father, Max was sent to forced labor camps and salt mines. Transferred from camp to camp, Max wondered if his migration served only to postpone an inevitable death. Finally, on a fateful day traveling to a new camp, Max, now the only surviving member of his family, was liberated by American soldiers. In 1946, he emigrated to the United States. Max Glauben, who has had a full life, now lives in Dallas, Texas and regularly speaks at the Dallas Holocaust Museum.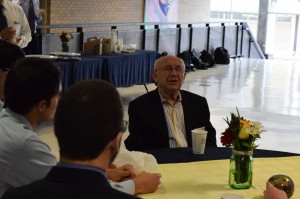 For many Jesuit students, Mr. Glauben's presentation was their first encounter with a Holocaust survivor. Connor Kerl '15 stated, "I thought it was really neat how we had the opportunity to hear from a holocaust survivor. There aren't many survivors left so it's important to teach today's generation about it." It is easy for people to think of the Holocaust as merely a distant historical event. Hearing Mr. Glauben's story allowed seniors to understand a fragment of the true horror that millions experienced during World War II. Grateful for this lesson, Jacob Maras '15 stated, "Max reminded us of the cost of apathy, of the fact that even a minority of evil can become a majority when we stand by and ignore the actions of others so long as they don't impact us." We should never forget the evil actions of those in the past for they provide insight into our future.
ASC member Pete Hudson, who was involved in planning the presentation, described the impact of Mr. Glauben's speech. As a junior, he read Eli Wiesel's Night, a novel that prepared Mr. Hudson for Mr. Glauben's presentation. Reflecting on the novel and the speech, Hudson stated, "It was so horrific to just read something like that about the events that took place, but to encounter Max and see how full of life he is and for him to get up there and share what could probably be described as one of the most horrific events in history…It was authentic." Mr. Glauben's firsthand account and joy inspired Mr. Hudson and transformed his outlook on what it means to overcome tragedy.
Seniors enjoyed the presentation and applauded Mr. Glauben's courage. Matthew Hernandez '15 stated, "The speaker's fortitude and strength through even the most difficult times was incredible. We are very lucky that he visited Jesuit." Harrison Folk '15 found Mr. Glauben's story "very interesting and touching" and hopes "he continues to share his story." Michael Lanham '15 stated, "He showed great courage and gave us unique insight into his life as well as the lives of so many other victims of the Holocaust. I am grateful he came to Jesuit to speak to us all."
Easily one of the best Capstone presentations, Max Glauben gave us a message of hope for a more accepting world. If you would like to listen to Mr. Glauben speak in person, please visit the Dallas Holocaust Museum's website. With hard work and dedication, we can enact the change Mr. Glauben hopes for and ensure that we will witness the end of tragedies such as the Holocaust.