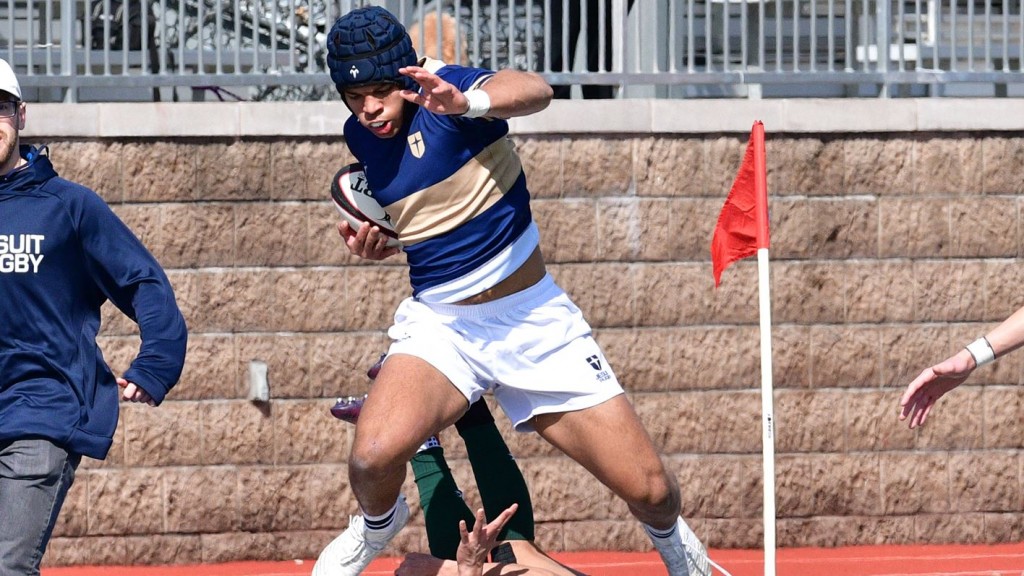 Despite many game cancellations due to COVID-19, Jesuit managed to play a magnificent season, finishing 7-0 with a Rugby Texas Single School State Championship win. As Jesuit heads on to their final game of the season against Brother Martin on May 8th, the team takes an in-depth look at Jesuit's season recap so far.
Allen Game (2/21/21)
The Rangers dominated their opening showdown against Allen in a 31-14 win. Sy Mendenhall '21 scored the first try first for Jesuit with 19 minutes remaining in the half. Jesuit followed up 10 minutes later with a powerful hit by Jack Judson '21 to allow a loose ball picked up and scored by Kyle Nolan '22. Allen responded with a late try to reduce the lead to 12-7 at the half, but Jack Judson followed with an 80-yard run to prevent another Eagle try before the half. 
Jesuit came into the second half pressuring Allen's defense, allowing Brennan Graham '22, Sy Mendenhall, and Charlie Freeman '22 to score tries to boost the Rangers to a phenomenal 31-14 win. 
Plano Game (2/27/21)
The Rangers thundered past Plano in a 61-5 win to stay undefeated in the season. Seniors Sy Mendanhall, Will Delaney, and Dimitri Papanicolau '21 scored 2 tries each. Papanicolau also managed to score six conversions for a total of 22 points on the night. Jacob Wooten '21, Jack Judson, and Andrew Charlton '22 each scored an additional try to boost the Rangers' lead. Freddie Bowhill '21 and Benoni Mesfin '22 each launched successful conversions to finish off the Ranger's highest scoring game of the season.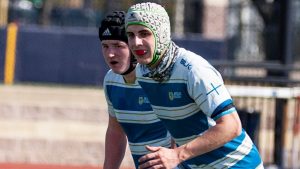 Lake Travis Game (3/6/21)
Following a long road trip, Jesuit advanced to 3-0 on the season with a 36-17 win over the exceptionally physical Cavaliers in their toughest test of the season. Alex Triantos '21 and Charlie Freeman notched two remarkable tries each. Marshall Neri '21 and Brennan Graham '22 also each scored a try. Aidan Piotrowski '21 successfully kicked three conversions to help put the Rangers come out on top in their first road game of the season. 
Allen Game (3/26/21)
In a thrilling rematch, Jesuit managed to remain undefeated following a 28-20 comeback win against Allen. Allen struck first to start the match with 10 unanswered points before Sy Mendenhall struck back for Jesuit with a try. Jack Judson followed up with a try following a line out win to put Jesuit in the lead. Allen managed to score a late penalty to cut the Ranger lead to 14-13 at the half. 
In the second half, Luke Aldinger '21 scored first for Jesuit, assisted by Papanicolau's third conversion of the day, giving the Rangers an 8 point advantage. A late-game Eagle score cut the Jesuit lead to one, but Mendenhall followed with a clutch try to put the Rangers two possessions up with four minutes remaining in the match. 
Plano Game (4/10/21)
The Rangers advanced to 5-0 on the season following an exciting rematch. Notable players include Robert Trianos '21 with two tries on the game, along with a try each from Marshall Neri, John Michael-Quinn '21, and Charlie Freeman. Dimitri Papanicolau also scored four impressive conversions to aid the Blue and Gold in yet another win.
Alliance Game (4/23/21)
The Rangers finished off the regular season undefeated with a 12-0 shutout in a defensive battle. Marshall Neri scored first for Jesuit early in the first half. Luke Aldinger scored minutes later with an impressive try paired with a conversion from Papanicolau to give Jesuit a 12-0 lead early in. The Rangers held out for 40 more minutes of back-and-forth drives before completing the complete game shutout. Jesuit's win over Alliance put them at an outstanding 6-0 regular season record before heading into the State Championship.
Rugby Texas Single School State Championship – Jesuit Dallas Vs Strake Jesuit (5/1/21)
Despite withstanding a lengthy rain delay and an inspired comeback by Strake Jesuit, the Rangers powered through a 36-28 win in the Texas Single School State Championship. Strake struck first to put the Crusaders up 7-0 early in the game. Jesuit, however, did not back down, as Jack Judson responded quickly for the Rangers with a try assisted by a conversion from Papanicolau to knot the game 7-7. Aidan Piotrowski followed up with a try of his own to give Jesuit a 12-5 lead. Sy Mendenhall padded the lead with a try to put the Rangers up 19-7 at the half.
Strake started off the second half with a try, but Mendenhall answered with an impressive try to keep the Rangers ahead by two possessions. Neil Lancaster '23 and Charlie Freeman both scored for the Rangers to put them up 22 points late in the second half. The Crusaders ate into the lead with a pair of late tries, but the Rangers' formidable defense kept Strake at bay to secure the win. 
This victory over Strake Jesuit marked the third state title in team history and the first program championship in 11 years.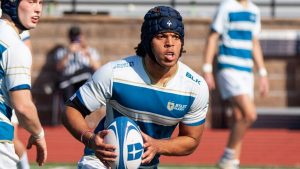 Final Thoughts
Despite all of the complications created by COVID-19, the Rangers powered through one of the best seasons in team history with an impressive undefeated record and State Championship under their belt. The hard work put in this season by its players, coaches, and staff has the team ranked number one in the nation, as cited by the Goff Rugby Report.
Tune into The Roundup for more Rugby updates!