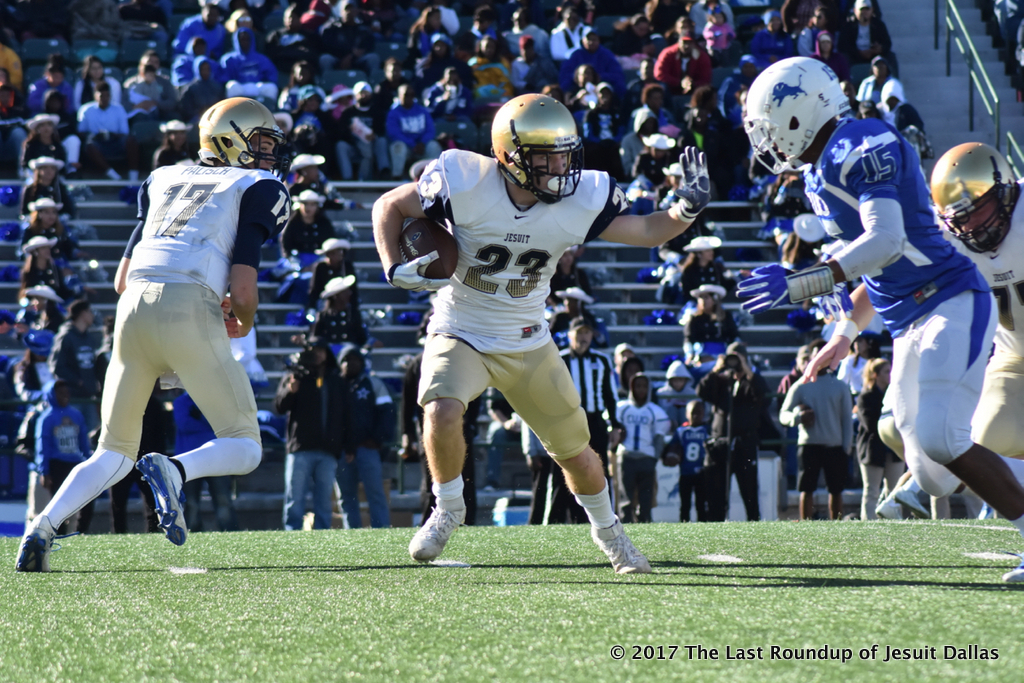 Unbelievable. Jaw dropping. Close but no cigar. All adjectives/descriptors of the home Jesuit Varsity football game vs Desoto last night.
As both teams trotted onto the field in their untested uniforms and equipment, neither surely could've anticipated the brutal yet equal clash before them. Especially Desoto. In fact, the 6th best team came into the game expecting an easy win, yet they were dead wrong.
However, it wasn't until the second half Desoto recognized their mistake. In fact, in the first half, Desoto got what they originally expected, a win by a great margin. It started off quite slow for the Jesuit team as they found themselves down by more than 30 points at the half.
But by the second half, something must've clicked, because the Jesuit varsity came back to lose only by a 5 point deficit.
Mounting an impressive comeback just to come up short, the boys in blue and gold lost the game 36-41. Now admittedly, I failed to support Jez nation as I should've as I left the game at half, but I got what I deserved. The real show started in the second half of the game, a spectacular display of teamwork that I missed. Parker Towns '18, starting quarterback for Jesuit was quite enthusiastic as he thought back to the game, "I don't think the result matters. What matter most was how we come together as a team you know? This game will make us stronger for the rest of the season and I think that was the most important part."
Fletcher Rosenbleeth '18, also felt that the game was a positive experience; " We can learn a lot from this game. We saw how they moved the ball and will be ready for them next time. But most of all we learned that we are a team that can play ball. A team that can compete with the harder teams. We should play better this season because of Desoto."
While it is unfortunate that Jesuit still lost, there is a positive spin on what's happened. We will perform as a team with improved chemistry in the upcoming weeks and we may even beat Desoto next time our cleats step foot on the same field.
Until then, good luck Jesuit Varsity.
Photos by Jowdy Photography