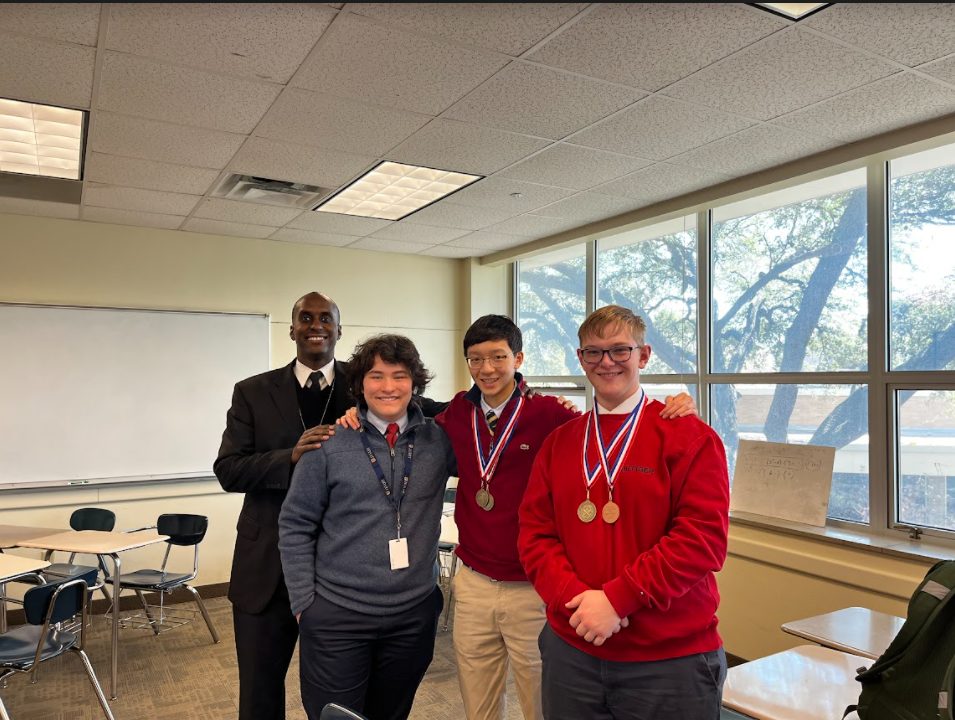 It was March 26nd. First, after arriving at Irving High School on a cold and windy day, the Jesuit competitors entered the campus. Next, the anxious contestants had the opportunity to relax for a bit before entering their respective test rooms. Then, the contestants were hurried into their rooms by moderators. Now, the competitors began to block out all distractions and concentrate on what they have learned in preparation for the exam. Finally, at the strike of the clock, the competitors began to read their problems and prompts in a race against time.
COMPUTER SCIENCE
This event challenges students to study a broad range of areas in computer science and has both an individual and a team component. The event consists of a 45-minute written exam for both components, along with a two-hour programming contest for teams.
Coached by Mr. Trost, juniors Kevin Babu, Reagan Spickard, Elliott Huang, and Saikrishna Gujjarlapudi competed in Computer Science. In the end, the team achieved 3rd place while Kevin Babu placed 3rd for individuals. As a result, Kevin Babu will be advancing to the regional competition.
READY WRITING
This event gives students two hours to write expository compositions. The students decide to write an essay over one of the two prompts. These prompts consist of excerpts from literature, past and present publications, and speeches.
Coached by Ms. Farrell, juniors Joshua Lim and Jonah Timmons compete and place in their events. In the end, Joshua earned 1st place and Jonah earned 3rd place. As a result, they will be advancing to the regional competition.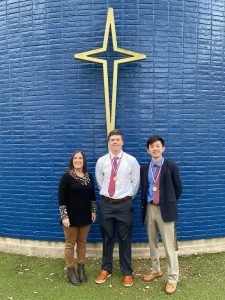 SPELLING AND VOCABULARY
This event consists of a three-part test. The first part is a 15-minute section of 30 multiple choice questions focused on vocabulary and proofreading. The second and third sections concentrate on a student's spelling skills.
Coached by Mr. Nielsen, Elliott Huang competed and won his event. As 1st place, Elliott will be advancing to the regional competition.
CURRENT EVENTS
This event focuses on a basic knowledge of current state, national and international events and issues. The competition consists of 40-minute multiple choice questions and a well-developed essay. Common topics in the competition include current events occurring regarding Texas, education, awards, science, technology, economics and politics.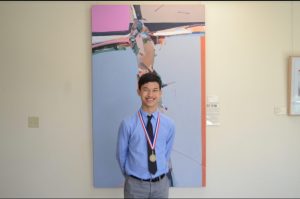 Coached by Mr. Yohannes, three students entered the competition. The competitors for Jesuit were sophomores Anthony Nguyen and William Spicer, and senior Luke Harrison. In the end, the team received 1st place. Meanwhile, Anthony Nguyen took 1st, William earned 2nd, and Luke filed in for 3rd. All three of them will be advancing to the regional competition.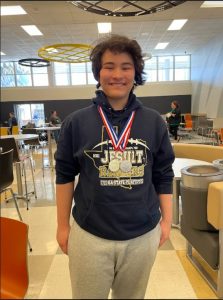 NUMBER SENSE
This event involves a 10-minute, 80 question mental math test covering all high school mathematics courses.
Coached by Mr. Billingham, Elliott Huang enters his third competition along with junior Benjamin Fernandez. After a hard-fought battle, Elliott and Benjamin did not medal in their event. However, they are eager to return next year and medal in their event.
MATHEMATICS
This event consists of a 40-minute, multiple choice test with 60 questions. This event covers all content from Algebra I and II, Geometry, Pre-Calculus, AP Calculus BC and AP Statistics.
Coached by Mr. Billingham, Elliott Huang enters his fourth and final competition alone. After a long day, Elliott capped off his districts events with a 4th place finish.
COMPETITORS' THOUGHTS ON DISTRICTS AND PREPARATION FOR REGIONALS
After the competition, I had the opportunity to interview three competitors who all placed in their events.
Elliott Huang
"Overall, I was pleased with my own performance, especially my performance in Spelling and Vocab. For the computer science competition, Jesuit came in 3rd as a team. What I appreciate about this contest is that, for the spelling portion of the test, the majority of words come from a word bank of 1500 words, and so I can know exactly what to expect. First, the spelling portion is pretty simple and straightforward when it comes to preparation. Second, I have access to an online program that gives me questions similar to those that I will face on test day. Finally, there are a plethora of practice questions and I foresee time as being my only limit."
Joshua Lim
"First of all, I felt confident in my performance at the UIL Ready Writing competition. Mrs. Farrell's guidance prepared me mentally for the rigor of a two-hour long open write. Even so, the freedom of the prompts allowed me to write an essay that expressed my unique insights on various themes. Then, in order to prepare for regionals, I am planning on reviewing the judges' comments on my district essay. Finally, by understanding how my performance was judged, I can convey my ideas in a more comprehensive and digestible style."
William Spicer
"First of all, I am extremely pleased with my team's performance. Next, in to prepare for regionals, I plan on going over the several news quizzes provided by popular news outlets. These sources will help me answer questions about current events and allow me to write a properly informed essay providing a highly debatable thesis with evidence and reasoning."
CONCLUSION
After a successful day, seven different students placed in their events. They will all move on to compete in their respective regional events in UIL Academics on April 23 at UT Arlington.
Stayed tuned to The Roundup for more UIL Academics news!