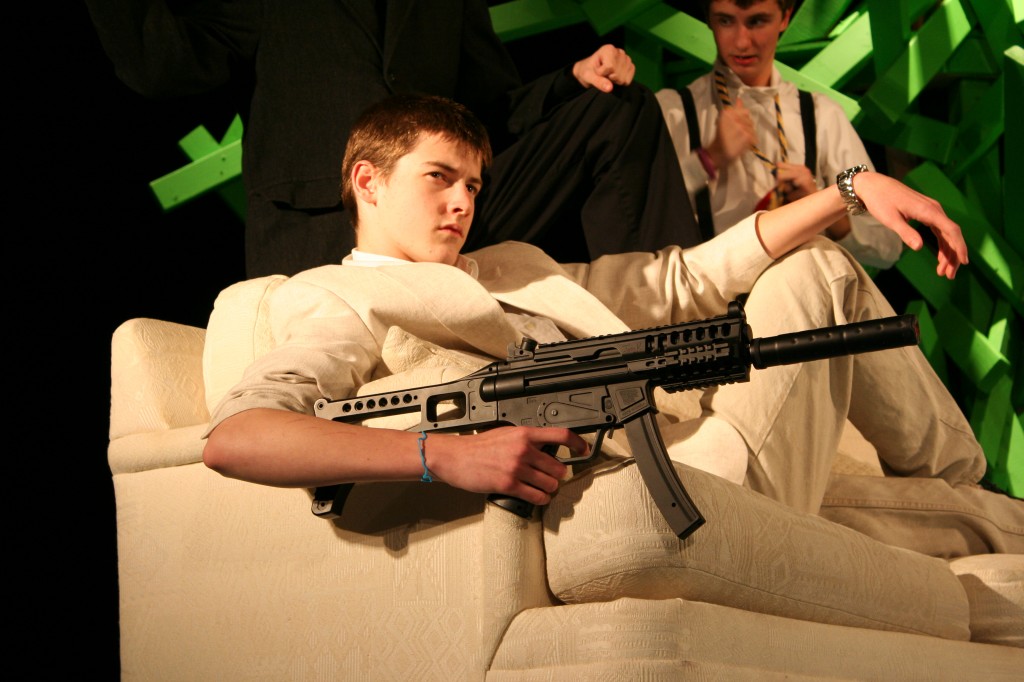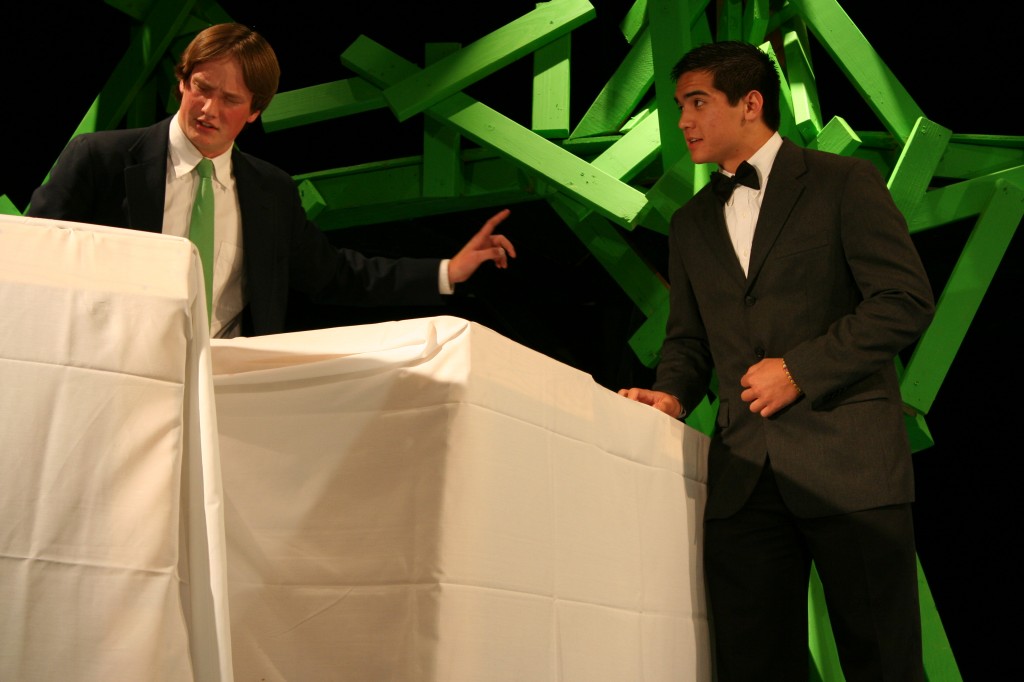 This past weekend, January 13-15, Jesuit Theater presented the first round of Jesuit Senior One Acts, the winter set of shows.  The plays, keeping up with previous years of One Acts, had the audience roaring in laughter.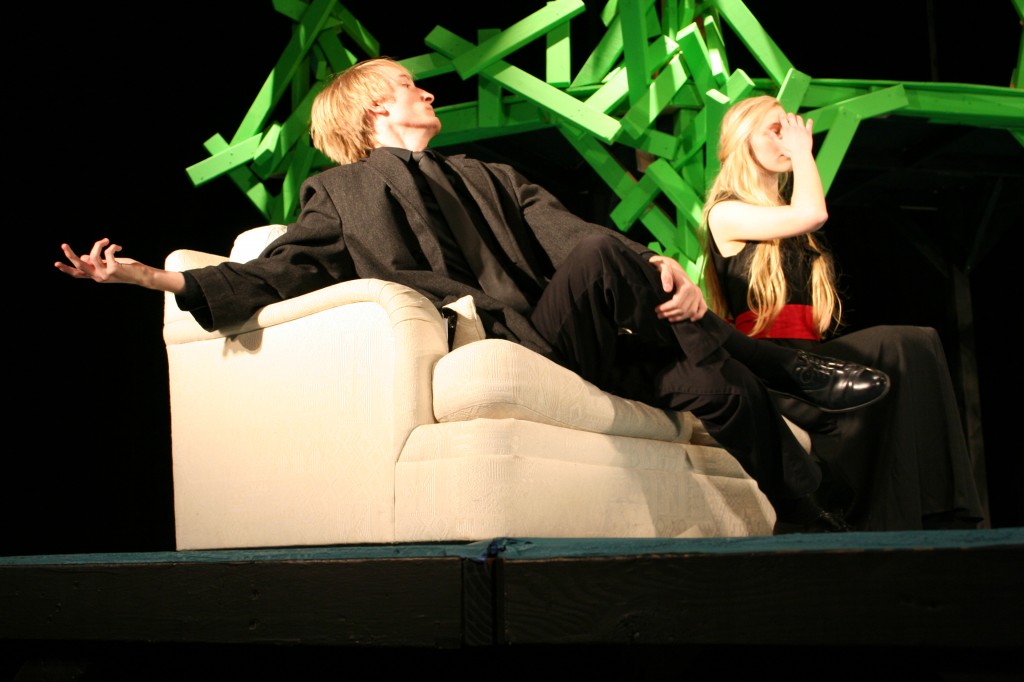 Providing an interesting stage atmosphere, the technical centerpiece of the show was the "Green Monster," an enormous wooden platform in the center of the stage that had two-by-fours branching off in every direction, all painted a lustrous green.
Whether you came to see a poorly written play, an enthusiastic and corny game show, a Monty Python sketch, a group of monkeys typing, a woman about to jump off a building, or a group of adults talking about childish things, you got what you desired and more.  The six show themes listed above, all comedies, offered boundless entertainment.
One of the most interesting dynamics of these One Acts, as always, was the size of the cast and the diversity of actors.  With about forty actors and actresses from Jesuit, Ursuline, and Hockaday, the casts included many new faces, both young and old, displaying their previously unseen talent.  In particular, the final play, Controlling Interest, directed by Mark Ross and Connor Capetillo, involved several first-time actors, including seniors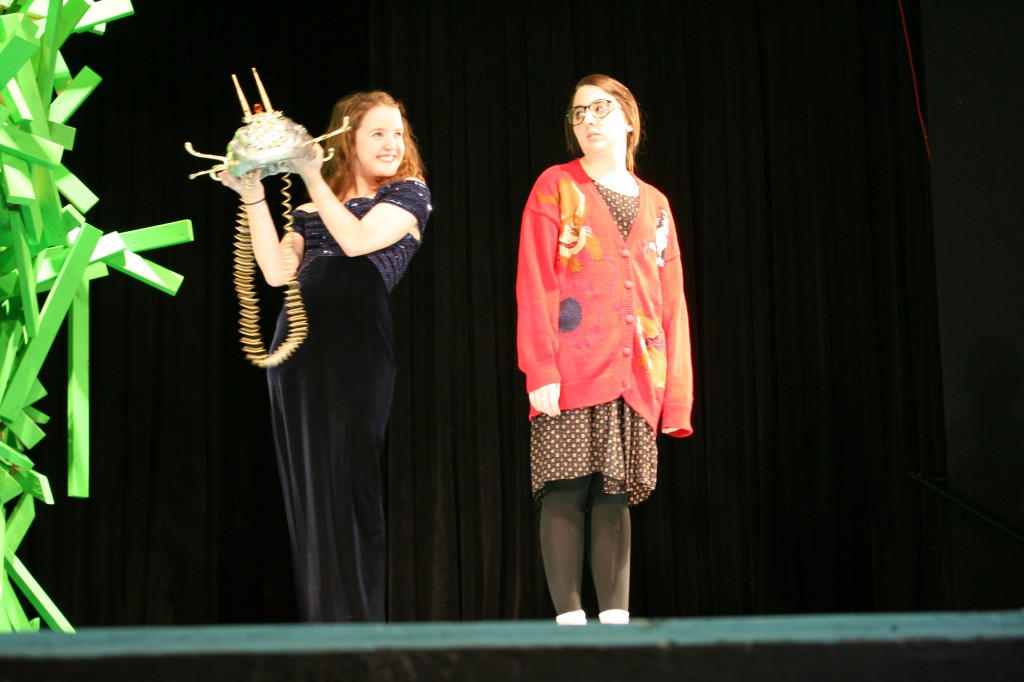 John Anderson, Andrew Weaver, and Clay Salinas, all of whom stunned the crowd with their incredible comedic timing.
Five of the six shows were directed by a pair of Jesuit Seniors, while the sixth was handled masterfully by Mr. Brooks Oliver of the Alumni Service Corps.  The students spent the fall semester in Theater Directing class learning basic concepts of theater, directing, and people skills (a subject we can all use some help on.  The student-directors typically spent more time preparing for this class than they did for any other class, an arduous but necessary preparation process.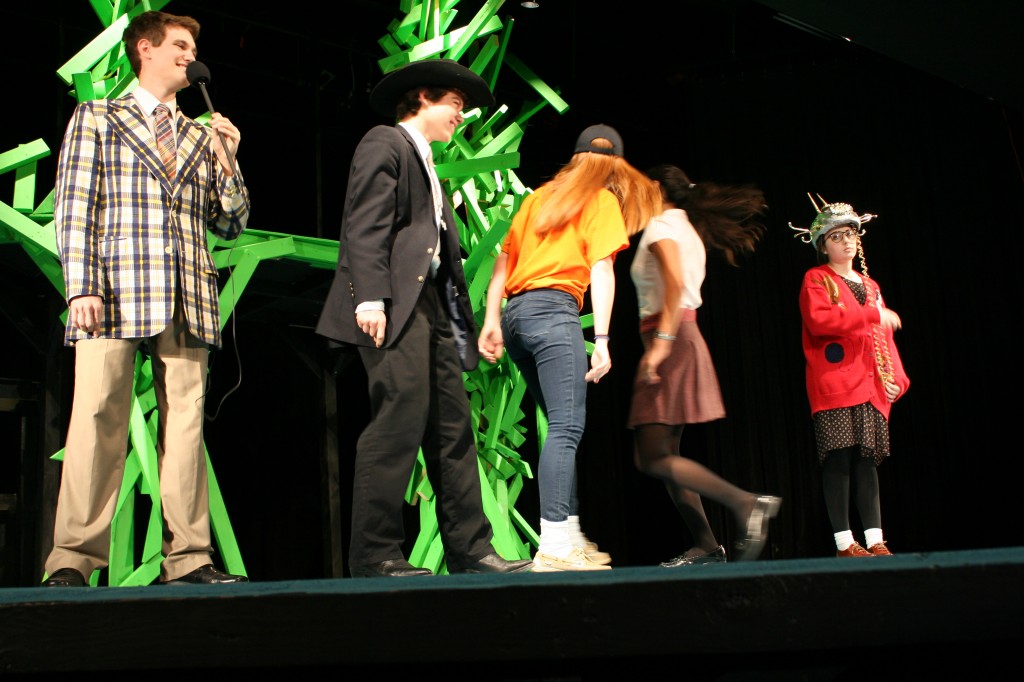 The months of rehearsal came to a head at show time last weekend, and the strong preparation was evident in the six superb shows. The directors included Chase Scott and Justin Buskmiller (The Potboiler), Patrick Jones and Luc Johnson (Attack of the Moral Fuzzies), Ray Wilcox and Cameron Brown (Buying an Ant), Kevin Kolker and Joe Kaplan (Words, Words, Words), Mr. Oliver (Play-wrighting 101: Rooftop Lesson), and Connor Capetillo and Mark Ross (Controlling Interest).
Each show did an excellent job, especially in the final week of the rehearsal process, of achieving the hilarity that students have come to expect from Jesuit One Acts.  There was not a single show that failed to evoke laughter from the audience.  The enjoyment of this years' set of shows clearly was passed on by word of mouth, as the audience grew from a sizable Thursday showing to a much over-sold Saturday night show.
Photography by Jeffrey Artigues '11