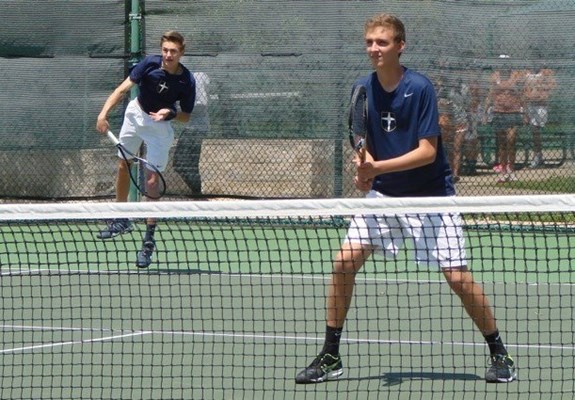 The Jesuit Tennis team did not let Spring Break extinguish the flames of its season-long hot streak, as the team rolled through the second half of the spring season. The athletes returned to participate in the Jesuit Spring Invitational tournament at Hockaday. The tournament was created four years ago in order to expose the Rangers to an array of tough competition before the District and Regional tournaments at the end of the season. With dominant teams like Highland Park and Greenhill, Jesuit has never managed to emerge victorious in the tournament; that is, until this year.
Doubles duo Campbell Frost '16 and Hayden Kissee '17 duplicated their dominant play this spring to claim the Doubles title for Jesuit. Easily defeating Greenhill's top doubles team in the final 6-2, 6-1 after cruising through their first two matches, the pair has simply been unstoppable this year with their elevated level of play.
Pierre Craig '16 turned in yet another stellar performance in the Singles bracket of the tournament, winning the Singles title of the Invitational quite convincingly. Craig managed to reach the semifinal match without any hiccups, and, in a hard-fought match, pulled out a victory over Highland Park's Bill Hickock 7-5, 6-3 to reach the title game. Here, he went head-to-head with Greenhill opponent Hayden Vos. Despite the newly-arrived sweltering weather, Craig swept Vos 7-5, 6-3 in the match after only an astounding 25 minutes of rest.
Craig has clearly been Jesuit's top dog this year, winning all three spring tournaments he has competed in after an undefeated fall campaign.
He praised his teammates for providing him with the level of competition necessary to succeed. "My practice and preparation heading into these tournaments has ultimately helped me get to the finals and win these tournaments I have played in. When I'm surrounded by a group of players on my team that are just equally as good and talented as I am, it helps to improve my skills as well as theirs. The district tournament should be fairly easy, but going deep into the regional tournament will require me and the whole team to tune-up are skills to make sure they are above the level of our future competition."
The team's performance in the tournament foreshadowed its dominant performance in April's UIL District 9-6A tournament, where the Rangers handily won the District titles in both the singles and doubles tournaments.
Simply put, the Rangers destroyed their competition at the tournament, putting teams in the each of the finals. On the singles side, Pierre Craig defeated exceptional sophomore Clark Shannon to take the title. His victory was almost expected at this point in the year, considering he went undefeated in the fall and played in the finals of all three spring tournaments. Similarly, Frost and Kissee once again were victorious in the doubles tournament, winning over senior duo Thomas Carrier and Jackson White, who won Districts last year. All of the aforementioned players qualified for the Region II tournament in Waco due to their strong play.
"Our confidence going into Regionals was at an all-time high," said Frost, reflecting on he and his teammates' outstanding performances. Similarly, head coach Paul McDaniel shared high hopes for the duo heading into Regionals: "I felt like on our Doubles team, we had a great chance of being one of the top four teams."
However, unlike at the District tournament, Jesuit faced extremely tough competition at Regionals, as they play in arguably one of the most competitive regions in the state. The Rangers knew they were going to have to play their best in order to have a shot at advancing to the State tournament. "The schools that we are dealing with… are areas where the best tennis players are coming out of," said McDaniel.
In the singles bracket, both Craig and Shannon started off strong, playing with confidence and heart, but unfortunately their competition proved overwhelming, and each lost soon after, Craig to the eventual runner-up from Austin Bowie and Shannon to the Regional champion.
The doubles side held a little more hope for Jesuit. Frost and Kissee breezed through their first match to advance to the second round, where they met formidable rivals from Highland Park. After a hard-fought battle marked by supreme skill and passion, they were able to pull out the win, moving on to the Semifinals, the farthest Jesuit has advanced in eight years. "Really, really good tennis, quality opponent. The level of play was really high… it was a fun match to watch and be a part of, and even more fun to win it," McDaniel commented. However, the duo's journey would stop there, as they succumbed to a team from Austin Westlake.
Despite not being able to break the State tournament drought, the Rangers' performance at Regionals was extremely positive, giving the team hope for their chances next year. Shannon reflected, "I thought that Regionals went pretty well, despite no one making it to state, which was mainly because we have a very tough district with a lot of good schools playing. We had much better results than we have had in the past couple of years, so it looks like we are going to keep doing well. For next year I'm looking forward to someone on the team, and possibly more than one, making it to the state tournament, and for me personally to make it back to Regionals and try to do even better next year."
McDaniel reflected on the season in general, noting that despite the team's youth, they were able to perform and exceed expectations: "This was a really young team. We hoped that this was going to be a positive experience and that they would meet the challenge, we just didn't know. But we certainly surpassed expectations as far as that goes… It was a very successful year, what we had hoped it would be… To have this much success at Districts and Regionals sets us up really well for next year."
It was clear what the big goal for next year is: State. The athletes will be fine-tuning their skills during the offseason, doing everything they can to improve their games and get to that State tournament which has proven unreachable for the past decade or so. With the team coming off of this exceptional season, Texas better watch out next year!