His chest palpitating from his rapid heartbeat, the swimmer eagerly steps up onto the rough, gritty block preparing for the 4×100 relay. His goggles firmly tightened and his cap pulled tight over his head the swimmer lowers his shoulders into the ready position to begin the race.
Led by Coach Doug Moyse and Coach Meagher, and Senior Captains Sam Steffler, James Savarese, Blake Butz, and Alexander Hung, the swim team is set to continue the two-year undefeated season for another outstanding year. 
Jesuit Vs. Bishop Lynch:
At the first meet of the season, the Rangers dominated Bishop Lynch in a convincing 129-34 over the friars. In the first event, the 200 free, Senior James Savarese and Junior Leonardo Pelaez raced in a close battle, resulting in Savarese out-touching Pelaez by 1 second. Sophomore star, William Savarese, took victories in his individual events, the 100 free and the 100 breast. All Jesuit A relays, consisting of Alexander Hung '22, James Savarese '22, Leonardo Pelaez '23, and William Savarese '24, won the 200 free and 400 free relays. The Medley relays, consisting of Flyn Hughes '25, Sam Steffler '22, Blake Butz '22, and Charles Henderson '22 also clocked first.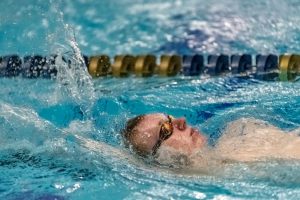 Flower Mound and Plano West:
In the most anticipated meet of the season, the Rangers outscored swimming powerhouses Flower Mound and Plano West. The Rangers defeated Flower Mound, 217-166, and outlasted the Wolves, 204-175 to move to 3-0 on the year, after placing second in Ranger Relays overall. The meet took place in the famous Westside Aquatic Center in Lewisville, Texas.
To start the day off, Leonardo Pelaez '23 touched first in the 200 free with a new season-best, clocking a 1:46.63. William Savarese dominated the 200 IM in an outstanding 1:55.75, also setting a new season-best. Sam An '24 placed first in the one-meter dive before Palmer Bowman '23 dominated the 500 free in a commanding 4:57.01. The freestyle powerhouse relays, Alexander Hung '22, James Savarese '22, Leonardo Pelaez '23, and William Savarese '24, placed first in both 200 and 400 free.

Captain's Thoughts: What do you think of the season so far?
Sam Steffler '22- I think the team is headed on the right track. We have a great group of guys who are working very hard and I believe that we will have a great season this year. Having gar natatorium if greatly beneficial and has been nothing but positive so far. I'm very proud of the work that everyone has put in and I hope to complete a great season!
James Savarese '22- From a team standpoint this year has been awesome. With the new pool we have been able to have everyone train at the same place and  time without there being an overflow of people in one lane. The guys have been able to actually get to know the others in their lane much better and it has been awesome watching those friendships flourish. 
From a competitive standpoint, we are as strong as ever. Going into this year, Coach Doug and I were unsure of how the season would turn out having taken such a big hit with the graduation of the class of 2021. However, a lot of our guys have stepped up big this year and have helped us keep our undefeated streak alive. On top of that, based off of how some of our top swimmers have been performing, we have a legitimate shot at getting multiple relays to state this year. It's not very often that Jesuit has four swimmers of this caliber attending the school at the same time and it would be great for the team if they were able to see some of their teammates competing in the fastest high school meet in the state.
Alex Hung '22- I think that the swim team so far has been doing great! We've never had more members before and the integration into the new Segal natatorium was also amazing. The swim team is excited about our upcoming meets and that in the long term plan, we hope to send a relay to state. Overall, we would love to have anyone join the team and that our year has just begun.
Blake Butz '22- "Having a swim team as massive as we do now has created a whole cluster of logistical problems. But that being said, I love getting to know so many guys. They're all great and have some serious potential inside and outside of the pool."
Conclusion
As the rangers have just started their amazing swim season, there are many more powerful teams to compete against, such as our rivals Highland Park and Frisco Wakeland. The work these rangers put in every day in practice at The Gull portrays the excellence shown at our meets. As Coach Moyse once stated back in 2019, "Great work so far, but we got to keep focused because we have bigger fish to fry!"
A special thanks to Don Chamblee for the pictures!
Stay tuned to The Roundup for more Athletics content!