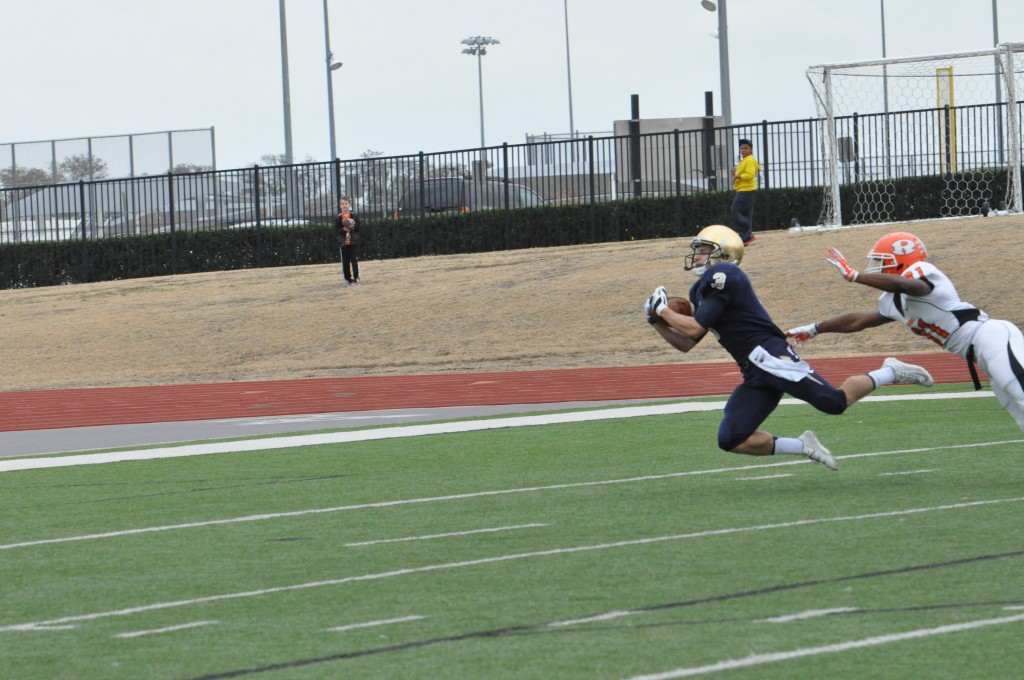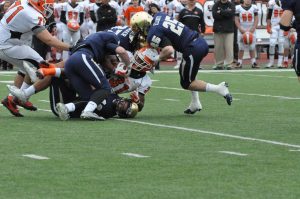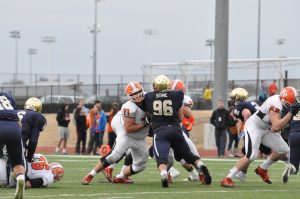 Jesuit competed in the second round of 6a division playoffs against Rockwall, an undefeated Texas power house this year. Last year in the second round, Jesuit faced Rockwall in the Cotton Bowl stadium and defeated them to move on to play against Lake Travis in the third round. Thirsty for revenge, Rockwall triumphed over Jesuit 48-27 on Nov. 22.
In the first quarter, Jesuit received first and marched down the field into Rockwall territory to the 30 yard line. Then University of Central Florida commit Bo Schneider '15 connected with Garrett Amy '15 on a 30-yard pass to put Jesuit up by 7 right from the start. Although Rockwall was a little shaken, they got right back on their feet on their first offensive  drive and threw a 45-yard touchdown pass over the Jesuit secondary. On their second drive Jesuit scored yet again, this time off a field goal from Connor Lanpher '16.  Unfortunately, Jesuit could not stop Rockwall's running style of offense the next drive, which set the Yellow Jackets  up for an easy screen play to put them ahead of the Rangers 13-10.
In the second quarter, it looked as though Rockwall was going to pull away from the Rangers when they had a long run for 6 points, extending the lead to a two possession game. However, the Rangers stayed focused,. Just four plays later, Schneider hit Charlie Eikenberg '15 on a post route to make it a two-point game. Following the Rangers' long touchdown, Jesuit's tremendous defense locked down Rockwall on a much needed stop. Then Jesuit took advantage of the opportunity to take the lead with another field goal from Lanpher '16. The score going into half time was 20-19, Jesuit.
In the second half, Rockwall's quarterback found one of his receivers wide open on the first play of the third quarter, resulting in 7 points for Rockwall. Jesuit retaliated as they pushed their way down the field on the following drive with a quick paced offense. Eventually, Schneider found Eikenburg a second time  for another 6 points to put Jesuit back on top 27-26. Unfortunately, those would be the last points Jesuit would score. From that point on, Rockwall's aggressive running game pulled them ahead of Jesuit. Rockwall would go on to score another touchdown in the third quarter to give them the lead for the remainder of the game.
In the fourth quarter, Jesuit desperately tried to get something going but came up short. With two turnovers and only a couple of forced punts from Rockwall, the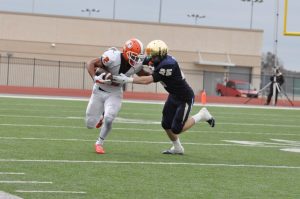 Yellow Jackets' offense was just too much for Jesuit, resulting in a Ranger loss.
Although the Ranger's defense struggled in the fourth quarter, they held their own throughout most of the game and put up a great fight. Regarding the defense, starting secondary player Nate Thompson '16 said, "We played alright, we came out fired up and ready to pay some wood. What killed us was a few big plays that they either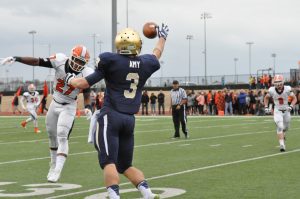 scored on or almost scored on. We were in it till the end and I'd say for the most part it wasn't a bad game, we definitely could've played better though." Like he said, Jesuit was in it 'til the end and displayed great talent offensive and defensively.
Offensively, wide receiver Dane Bender '16 stated, "No offense can play the perfect game. There is always room for improvement and as an offense we saw that room against a good playoff defense versus Rockwall." Connor Lanpher '16 thought, "We competed well. We had opportunities and we took them. We made the best of the game but didn't come out victorious." The offense was able to score through a well balanced pass/run game, but when it came down to it in the fourth quarter, Jesuit failed to keep up their tremendous offense going.
On the season, Jesuit finished 8-4 and made it's 5th consecutive playoff appearance. Bo Schneider led the area in touchdown passes with 45 total complemented by 3,492 passing yards. Garrett Amy '15 caught the most touchdowns among Jesuit receivers this year with 18. Overall, Jesuit played a competitive, well rounded style of football which led to their success. Bender thought, "Over the season, we competed and hustled to get to a place few experience, the playoffs. Jesuit holds our team to a high standard and we know that we can always do better. Having said that, we had a successful season making it two rounds in the playoffs." Congratulations to the Rangers for the great season and the next will surely be anticipated by the Jesuit community.