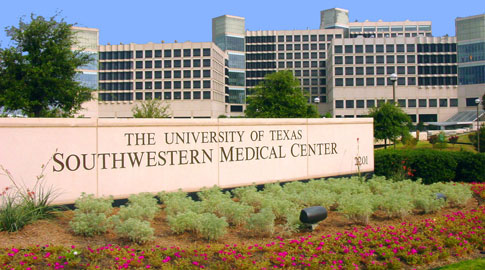 From the streets of Guatemala, to the streets outside of UT Southwestern Medical Center, Medical Society has led many students to vastly different environments. Known for its informative and hands-on experiences, the Medical Society offers many informational opportunities, from dissecting a cat to listening to guest speakers talk about delivering anesthesia to patients, the Medical Society has it all. Existing as one of the biggest clubs at Jesuit, it's not surprising that many of its members develop a strong passion for the medical fields, and with the help of Medical Society that passion can lead students in different directions, such as being in Guatemala for the annual medicine drive. But others may find themselves on a different path, one that led three Jesuit juniors to apply and be accepted to the prestigious STARS program offered by UT Southwestern Medical Center, where they will spend 8 weeks over the summer conducting research in their specific fields of interest.
Three Jesuit students, Joe Carver '17, Erik Sanchez-Perez '17, and Noah Sherer '17 were accepted to the STARS program. As UT Southwestern describes it, the STARS program is a program committed to "giving teachers and students an opportunity to work side by side with a faculty host in a research laboratory." (http://www.utsouthwestern.edu/education/programs/stars/programs/summer-research-opportunities.html)
The STARS program, or Science Teacher Access to Resources at Southwestern program, was established in 1991 with the intent of providing students with a hands on experience with proper medical technology in a modern biomedical research laboratory. Depending on their interests, the research students may conduct while going through the STARS program can differ drastically, evident by the Jesuit students that applied. Each of the students share their thoughts on their acceptance in the program and their passion in the medical fields.
Joe Carver is a junior at Jesuit, and his interests lie with biological functions. Carver decided to apply for the STARS program because, "The previous participants [of the STARS program] did presentations on the entire medical society, and it always interested me so I decided to join." Upon discovering that he was accepted into the program, Carver was "relieved, but also a little nervous" about the program. Carver's project over the summer will involve analysing the behavior of mice for "research on circadian rhythms," which he described is "pretty much just the rhythms that dictate most of life, so like the sleep schedules as well as biological functions and such." And while the STARS program is considered an intern program, Carver's '17 research will largely be "contributing to the overall research" of UT Southwestern Medical Center.
Erik Sanchez is a junior at Jesuit whose interests are in the field of Molecular Biology. After receiving the news of his acceptance into the STARS program, Sanchez-Perez "re-read the email a couple of times before going to the kitchen and showing [his] parents … [they] couldn't stop smiling." Sanchez-Perez claims his interest for STARS comes from being able to "work in a lab where I could conduct my own research … while meeting other students my age who share the same passion for science." The details of Sanchez-Perez's project that he will be working on this summer aren't clear yet, but his plan is to work in the Molecular Biology Department, where his main tasks will be to work with bacteria. His personal goals for the summer program is to "learn as much as [he] can from the professionals in [his] lab and [to] enjoy [his] time in the program."
Noah Sherer's '17 interests lie in the field of neurology, which led him to apply for the STARS program. Sherer comments on the acceptance, saying that he was "both excited and surprised upon learning of my acceptance into the program," and that he is also "very glad that all three of [the students] who applied from Jesuit got in." When asked about Sherer's desire to join the STARS program, he responded with, "In short, I wanted to be a part of the STARS program in order to experience medical research. Through medical society, I have experienced the clinical side of medicine (through rotations), and through STARS I can experience the research side." Over the summer, Sherer plans to be working in the field of Radiology with a mentor, to basically look "through a lot of MRI's and [try] to find a specific case happening." While at STARS, Sherer plans to just learn as much as he can in the field of medicine and is considering pursuing "a vocation in medical research."
Although each student holds different interests, each student having their own story and reason, they each share a common beginning: the Medical Society. Each student credits medical society for the growth of their interests in the medical field. Carver described his beginnings and relationship with Medical Society, saying that he "was always kind of drawn towards medicine, so Medical Society has really opened [his] eyes to all the different options that [he] could go into within the medical field." Likewise, Sanchez-Perez credits Medical Society with his consideration of a medical career, stating that, "Medical society has been one of the best organizations that [he] has ever joined. Medical Society has given [him] a view into what a career in the medical field would look like through incredible guest speakers." Similarly, Sherer supports these ideas and the enthusiasm for Medical Society, claiming that "the Medical Society has allowed [him] to continue and deepen [his] knowledge of medicine," and has generally made him "want to pursue a vocation in the medical field." With such passionate members willing to expand their knowledge of medicine beyond the walls of a classroom and get accepted into such a prestigious program like STARS, it's obvious that many love Medical Society due to its academic lectures of professional doctors and its interactive learning experiences, opportunities that flourish friendships and encourage students to be open to growth.