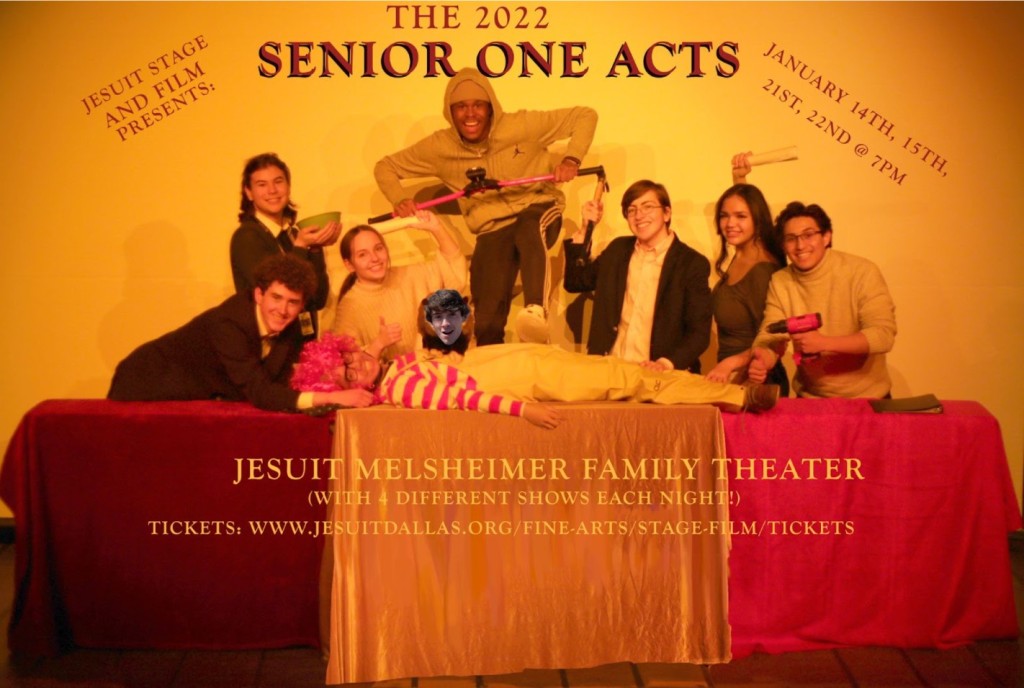 Last month, nine Jesuit and Ursuline seniors debuted eight originally written and directed one acts on the Jesuit stage. For years, I've heard the stories of creativity and chaos surrounding Jesuit's Senior One Acts—this year, I got to experience the fun myself as a first-time co-director. From the hodgepodge of thrift-store paintings drilled to the fragile wooden set to the mess of scheduling conflicts due to COVID or otherwise, we managed to put together a remarkably hilarious and imaginative show.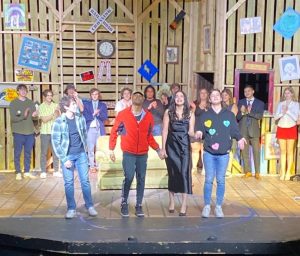 While I did not get to see my own show through tech week and its two performances (Omicron), my fellow directors did, successfully evading the January wave of COVID. I spoke with a few to get their perspective on this year's One Acts:
How did you go about writing the show you wanted to direct?
Mario Lopez ("The Silver Lining"):
"By looking back. All the past One Acts at Jesuit were nothing but phenomenal in comedy. Some of the greatest one acts though, in my opinion, are hardly remembered because that's all they were—funny. So, I wanted to make something controversial in a fun way, something what would push the boundaries, and something that would impact people, which I think my fellow directors and I did."
What was your favorite part of your show?
Mario:
"Seeing my actors proud and happy of their work, especially since they had worked so hard."
Elena Velasquez ("The Spanish Telenovela"):
"My favorite part of the One Acts was when Daniel (Brannon) absolutely destroyed the set on accident."
As a director, what was your greatest challenge?
Mario:
"Scheduling. (T.T)"
Elena:
"My greatest challenge was working around my actors being quarantined. The week of the shows, my main actors got quarantined and I had to fill in. Grant (Richey), who was originally playing a side character, learned the lead role in two days, and I added a new actress to my show at the last minute."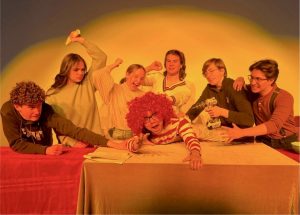 What is your favorite memory from this year's One Acts?
Mario:
"When my actors acted out the scenes I had written for the first time. It was exactly how I imagined it playing out."
Elena:
"My favorite memory was my cast's excitement during their performances and watching them bring their roles to life."
And finally, my favorite question, which both directors answered unanimously:
Which painting/picture hung on the set was your favorite?
Mario:
"Maintenance and Engineering Crawfish Boil 2002."
Elena:
"The one I picked out—the collage of the Maintenance and Engineering Crawfish Boil."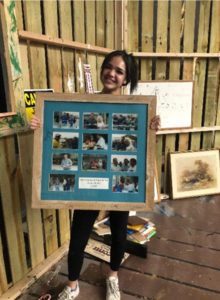 Final Thoughts
Each One Act brought out all creative stops, and I'm immensely impressed with the talent and comedy that each cast and director brought to the table. From intriguing settings like the pits of Hell to the Texas State Fair, inspiration from Franz Kafka's Metamorphosis to Spanish telenovelas, and characters like Ronald McDonald, Captain Snowflake, and even Mr. Acevedo himself, the 2022 Senior One Acts has truly been one for the books.