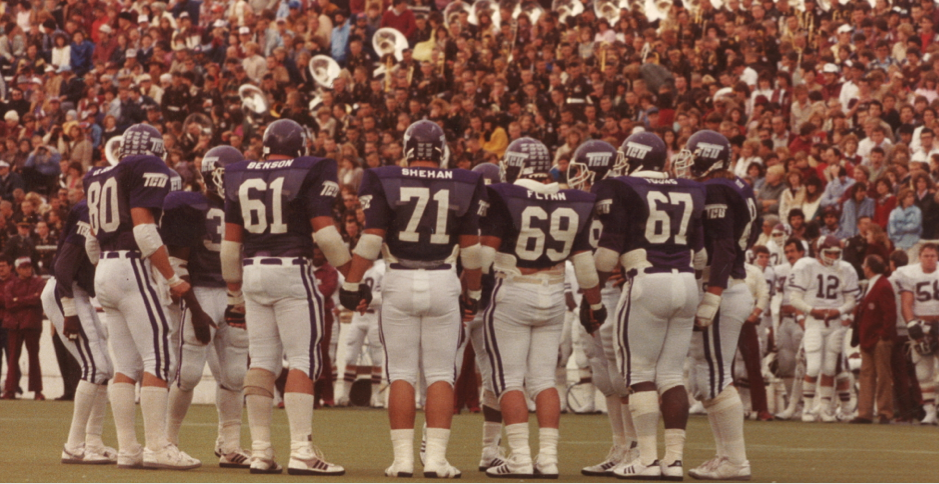 Before he was a four-year starter for the Texas Christian University football team, Mike Flynn '79 was a proud Jesuit student. Before he founded Southland Property Tax Consultants, Inc., he roamed the halls of the Inwood Campus. Before he had such a wonderful wife and four daughters, he was part of the Jesuit family. And now, with a record that speaks for itself, Flynn will be inducted into the Jesuit Sports Hall of Fame at the 16th annual Blue and Gold Dinner on Saturday, May 3.
In many ways, it is no surprise that Flynn will be inducted. Since his early childhood, he has had a great passion for sports, one that ran in his family. "My father enjoyed sports, and encouraged me to play at a young age," said Flynn. "We would play catch, basketball, and I would challenge him to a race. Although I didn't realize it at the time, he would always let me win just enough to keep my competitive drive going."  He even remembers "playing a game with my grandfather, when I was five or six years old, where he would name a city, and I would identify the name of the NFL Football team in that city." Flynn's path to the gridiron seemed to be certain.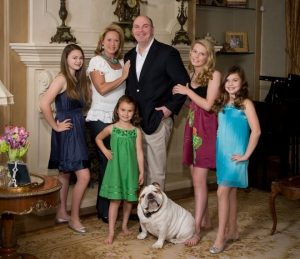 But at times, Flynn's enthusiasm for the sport was a bit advanced. His elementary school in Houston, Holy Ghost Catholic School, surprisingly had a "full-contact" second grade football team that played in Sharpstown's "Fun Football League." Flynn, at the beginning of first grade, excited to get to play as soon as possible, asked his mom if she could sign him up to play. He said "After inquiring, she told me that you had to be in second grade to play; I was devastated. It was the longest year of my life."
Flynn moved to Dallas the summer before he entered 7th grade, and attended St. Monica Catholic School, where he really began to develop his skills. "I had the good fortune of playing for legendary Head Football Coach Dave Gross, who has coached at St. Monica for more than 50 years. Coach Gross toughened us up, taught us how to block, tackle, and compete, which prepared us for Jesuit Football," said Flynn. "In doing so, we learned a lot about how to succeed in life. Coach Gross and Coach Gary Pasqua, were instrumental in any success I had on the gridiron, and I am very thankful I had an opportunity to play for two legends of the game."
Jesuit provided the perfect place for Flynn to pursue the great passion he had for football. "Attending Jesuit, was a dream come true for me," said Flynn. "I had to adjust to the academic rigor initially, but was assisted by the incredible faculty who helped me balance academics and athletics." Although he gained great repute as a football star, Flynn remembers the people who helped him achieve so much during his time at Jesuit: "The selfless dedication and assistance of teachers like Betty Bomar (former Jesuit math instructor), helped me to realize that I could succeed in the classroom and on the playing field, if I was willing to put forth the time and effort. I will forever be indebted to Ms. Bomar, and many like her at Jesuit, who sacrificed their time to help me, and many others, succeed."
And Flynn and his teammates did succeed. From "running out on to the field at Haggar Stadium for the first time, as a freshman" to winning the 1978 TCIL Football State Championship as a senior, he accomplished a great deal in his four years. "There are so many fond memories," Flynn said.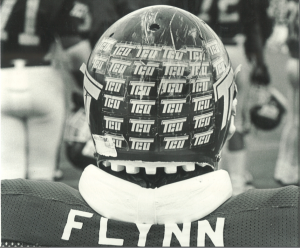 Nonetheless, a state championship stood out among them, what Flynn described as "icing on the cake." Reflecting on the team that had so much success, he recalled "We had some great athletes on our team, and even more athletes who were 'over-achievers.'" Playing at fullback and outside linebacker, Flynn stood out and earned recognition for his ability on the field. Despite a smaller student body, Flynn helped lead an incredible team: "We defeated most of the larger public schools we played, and came close to beating Cincinnati Moeller, the No. 1 rated team in the country…at Nippert Stadium in front of 37,000 people," a highlight of his career.
Ultimately, everything came together for the 1978 team: "We were blessed to have great coaches who always had us prepared for the team we were playing. We had a great group of guys who collectively achieved our goal. "
And yet, Flynn did a lot more than play football. In addition to his time as a fullback and outside linebacker, he was a part of the Varsity Mile Relay Team. From humble beginnings, the team worked its way up. "Our freshman year, we had three freshman and one sophomore on our Varsity Mile Relay team. During one of the larger public school track meets, we came about 100 yards from being lapped," he said with a laugh. "During our junior year we made it to the State finals, and lost to Strake Jesuit, who had the fastest time in the country that year." Having come from a team that almost got lapped to one in contention for the state title, Flynn said "The progress we made over that three year period was inspirational and gratifying to our entire team."
As a player named First Team All-State while earning national recognition as an All-American, Flynn was destined for a future in Division I football. Although his success would continue at TCU, it was not without a bit of a hiccup. Two days after graduating from Jesuit, Flynn was diagnosed with mononucleosis, a disease which caused him to lose thirty pounds. Unfortunately, he could not get a Medical Redshirt because he had not started classes at TCU. He remembers "When I reported to TCU, I weighed 163 pounds. You should have seen the coachs' faces when I got on the scale…"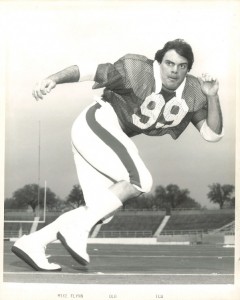 After recuperating and putting on some more weight, Flynn played outside linebacker his freshman year and part of his sophomore year. He was eventually moved to nose guard and defensive tackle, a shift from his original recruitment as a running back and linebacker. When Coach Jim Wacker was hired, Flynn was moved to center, and played that position during his last two years at TCU. Since he entered the university, Flynn gained more than 100 pounds, weighing 268 pounds during most of his senior year.
During his senior year, in 1984, the Horned Frogs were ranked as high as 9th in the country. They were 8-1 heading into their final two games against Texas and Texas A&M, but unfortunately lost them both to finish 8-3. "If we had beaten one of those two teams, we would have been Southwest Conference Champions," noted Flynn.
Even so, they set numerous TCU and SWC offensive records, and led the nation in total rushing yardage. Their running back, Kenneth Davis, was a finalist for the Heisman Trophy and the team was invited to play against West Virginia in the Bluebonnet Bowl on New Year's Eve. It was TCU's first bowl game in more than twenty years. As Flynn described it, "The entire City of Fort Worth caught 'Frog Fever.'"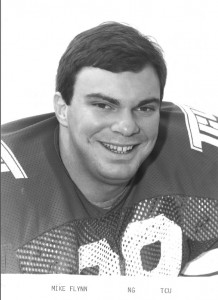 Just as he had at Jesuit, Flynn made a lasting impact at TCU and really stood out in the community. As a result, he was recognized with the Grassy Hinton Most Conscientious Award, an award that in many ways reflects the tradition of being a "man for others" he learned at Jesuit. Flynn attributed much of his success to the foundation he established at Inwood: "Jesuit had a profound impact on every aspect of my life. The academic and athletic rigor at Jesuit helped me prepare myself for college and life in general. The work ethic developed during my years at Jesuit and continued during my time at TCU. The faculty at Jesuit, helped me cultivate a work ethic that has served me well throughout my life. I feel very blessed to have received a Jesuit education."
Upon graduation from TCU, he was hired by his TCU accounting professor. He worked for his professor's consulting firm in Fort Worth for two years. At the time, Flynn was single and had no financial obligations. He always had an entrepreneurial spirit, and dreamed of having his own company. In 1987, he co-founded Southland Property Tax Consultants, Inc., which today is one of the largest property tax consulting firms in the DFW area, with offices in Dallas and Fort Worth.
Flynn has been married to his wife, Jan, for 21 years. They have been blessed with four wonderful daughters McKinzie, Kendall, Brenna and Delaine. McKinzie is a sophomore at TCU, Kendall is a junior at Nolan Catholic High School, and Brenna and Delaine attend St. Andrew's Catholic School.
His wife, is an avid tennis player, played volleyball in college, and competed in the Miss Texas Pageant after college. Brenna and McKinzie, following in their mother's footsteps, competed in the Miss Teen Dallas and Miss Dallas Pageants, respectively, on March 27. Kendall, a star on the Nolan volleyball team, was selected to Prom Court this year as a junior. She has excelled at every sport she ever played.  "[She] has been a joy to watch compete, over the years," said Flynn. Delanie enjoys dance team, and looks forward to being a cheerleader when she gets older.
Flynn takes great joy in being a parent, saying "It is fun and gratifying to watch your children develop and mature. Jan is a wonderful mother, and has helped our daughters develop into wonderful young ladies."
With such incredible career and personal accomplishments, Flynn still remembers the impact the blue and gold had on him: "I was positively influenced in so many different ways, while at Jesuit." The "concept of becoming a 'man for others' was impactful during my days at Jesuit, and continues to be so today. The quest to achieve that goal continues through one's lifetime."
His time at Jesuit truly taught him some valuable lessons that he integrated into his character. He very clearly fits the criteria of the Hall of Fame inductee, which recognizes individuals for their "playing ability, sportsmanship and character, contribution to teams and games in which he participated, significant athletic achievements at Jesuit and beyond, and support for the proud tradition of 'Men for Others.'"
And his illustrious athletic career, for which he is being recognized, brought him more than the glory and happiness of the moment: "Sports have impacted every aspect of my life. In my experience, sports helped foster my spiritual, physical, mental, and work ethic development. It provided many opportunities in life that I probably would not have been exposed to, otherwise."
A man with a wonderful family and a decorated career, Flynn has lived out the Jesuit principles and is an excellent inductee for the Jesuit Sports Hall of Fame.